The road, then dirt, had hedges on both sides. On the right half of the panorama, at the modern buildings, this road intersects with the road to Brussels. It was near the intersection that a elm tree stood. After observing the fight at Hougomont, Wellington rode to the tree in response to the French bombardment. Between this intersection and where the photo was taken, a battalion of the 95th stood. To their front, beyond the woods not there during the war, was a piece of higher ground with a hedgerow followed by a sandpit, then the strong point at La Haye Sainte.

Between the point where the photo was taken and the circa 1929 Fichermont Convent stood a five battalion brigade of Dutch-Belgians under Bijlandt behind the road and hedges. Bijlandt's brigade contained a large percentage of militia, and it was directly exposed to the fire of Napoleon's grand battery. Much of the rest of Wellington's men, however, were on the reverse slope, threatened mainly by howitzers. These men were in battalion columns about 100 yards behind the road, on the far left and far right of the panorama - two brigades of British infantry. Kempt's brigade of three battalions stretched from the Brussels road to just behind the right flank of Bijlandt. Starting near the modern convent and stretching in this direction was the four battalion brigade of Pack. A gap between these two brigades did exist, extending for about half the length of Bijlandt's line. Near the modern convent were Best's Hanoverians with a battalion of Nassau troops to their front. About 300 yards behind the Bijlandt's brigade was the cavalry of the Union Brigade.

D'Erlon's attacking I Corps was composed of four infantry divisions supported by cavalry on the the west side of the Brussels road. Standard French tactics during the Napoleonic Wars involved each battalion forming a column to advance, then deploying into line close to the enemy. Perhaps because of Wellington's success against these tactics in Spain - attacking the columns as they deployed, D'Erlon investigated other options. Most histories state the D'Erlon had each of his four divisions form a large column with one battalion in line followed by the others. A division, therefore, was about 150 to 180 men wide and 24 ranks deep. In "The Battle", Allesandro Barbero states otherwise, that the French attacked in brigade sized columns and that Lobau's VI Corps moved to support D'Erlon only to find Prussians on the flank.

Bijlandt's brigade fired on the approaching French columns, but then many of the men began to fall back on their own accord. Then, Picton brought his British battalions forward to the line. He was soon shot through the head and killed. His monument is on the right of the panorama to the left of the road and a hay bale. The British and French troops volleyed at each other across the road and hedges.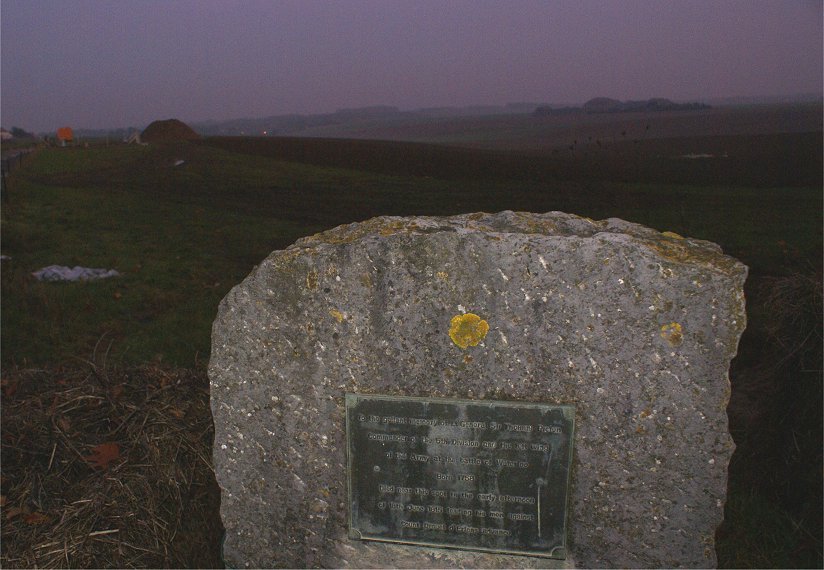 Where Picton Was Killed