Logistics





Over the course of the war, logistical needs increased dramatically. By the end of the war, the size of artillery bombardments was measured in train loads. Trains were an important part of the supply system, both regular and narrow gauge. Closer to the front, many items were transported from railheads by trucks, then by wagons. Signal Corps photos document the logisitcal system.


---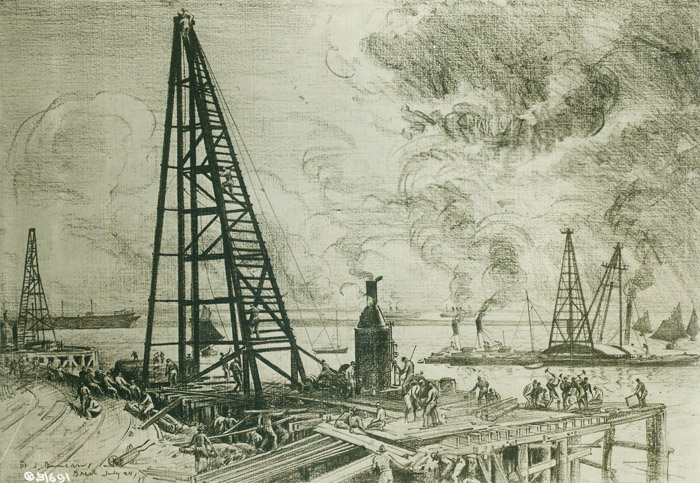 The Construction of Docks at Brest by US Engineers


---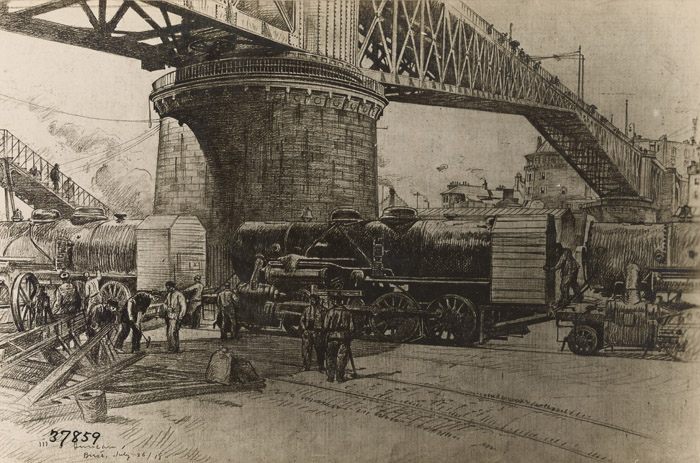 Baldwin locomotives unloaded as shipped on the wharf at Brest, thirty seven complete with rails in one hold.



---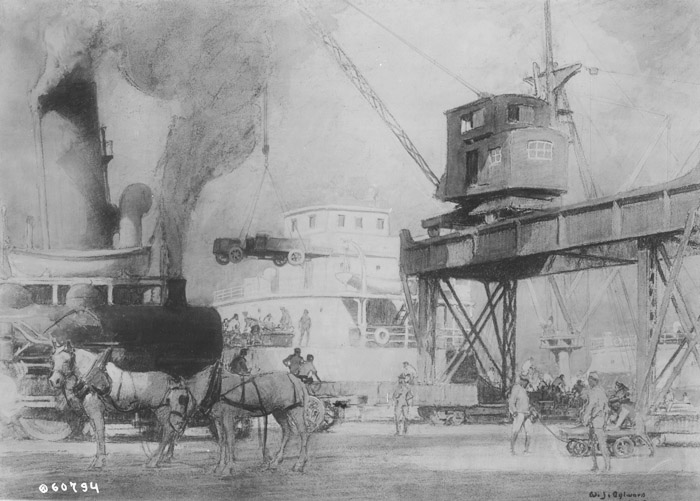 Unloading Ship at Bassens Docks, Bordeaux


---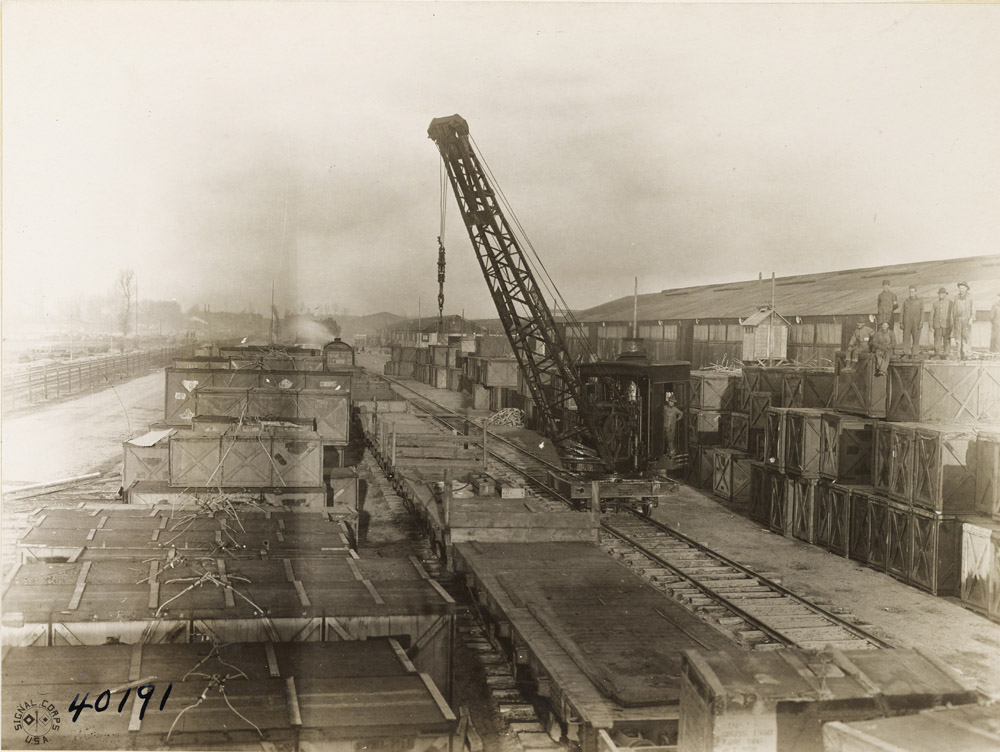 Unloading boxes containing parts of 500 D.H. 4 planes with liberty motors from flat cars at plant, preparatory to being assembled. Romorantin, Loire et Cher.


---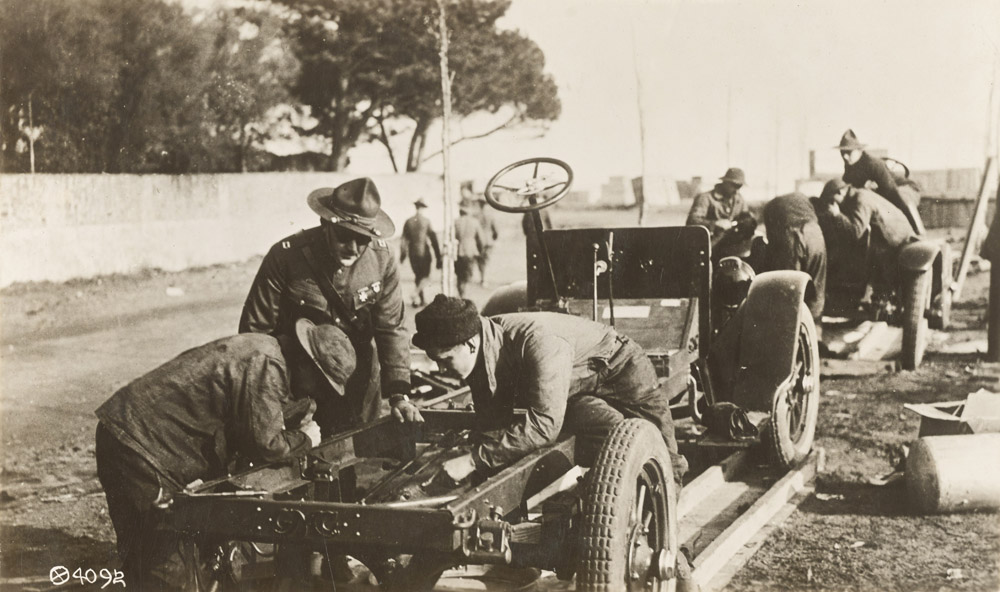 Assembling a GMC truck, assembling camp, St Nazaire.


---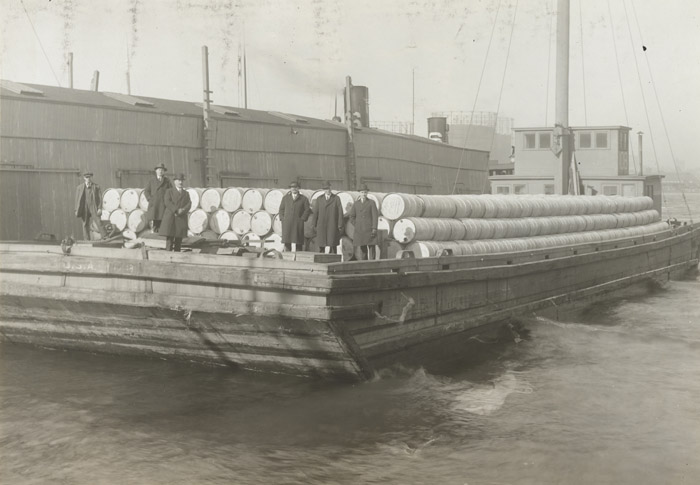 Barge loaded with government steel barrels containing Socony motor gasoline for shipment to AEF.


---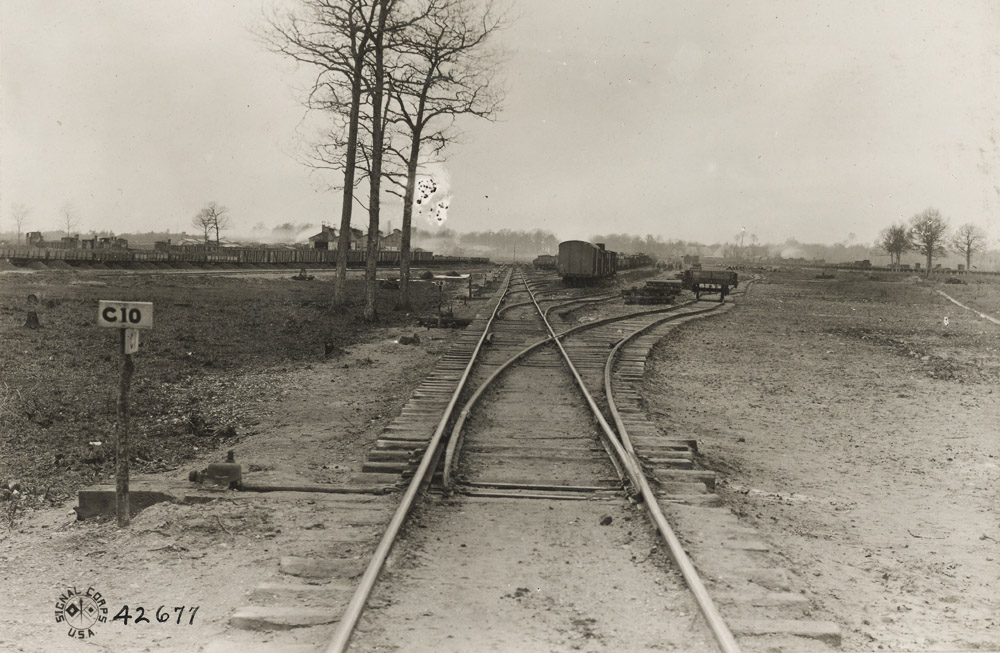 RR Tracks. Monturchaume.


---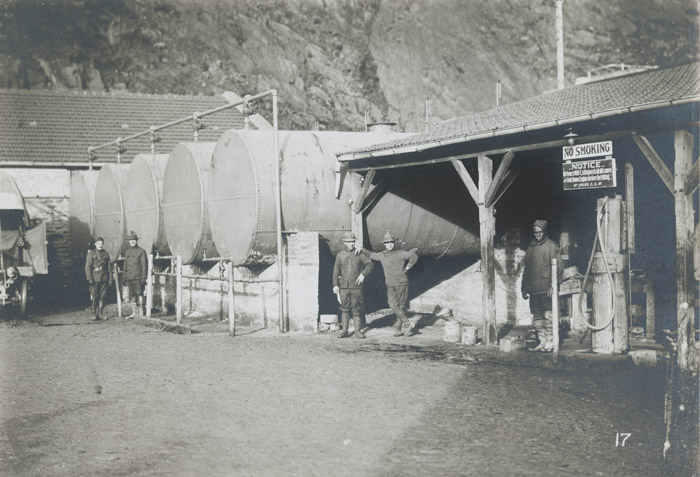 Gas distribution station, sowing tanks. Brest.


---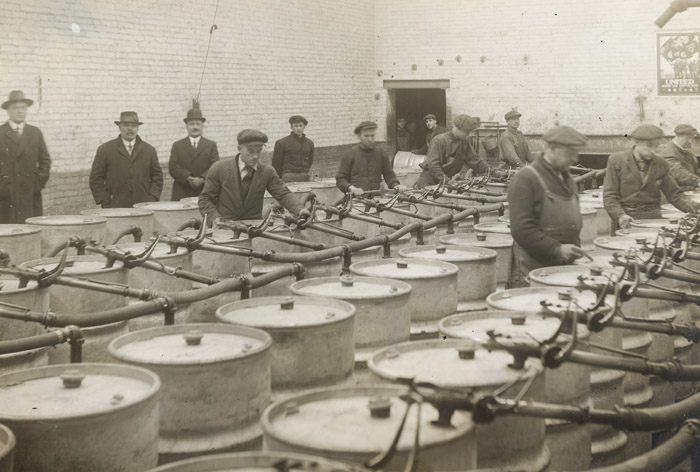 Oil manufacturing for government use. Standard Oil Co. of NY. Filling Socony Motor Gasoline in steel drums for overseas shipment to AEF.


---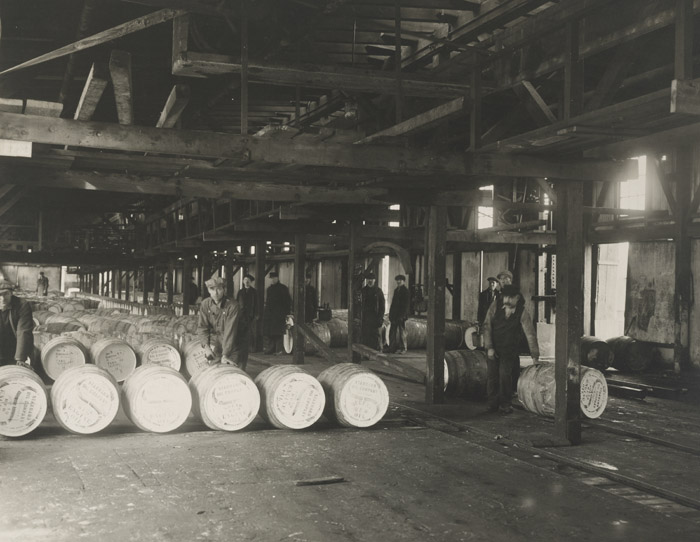 Packing and shipping of gasoline and oil for military uses during the war. Sealing the barrels ready to be shipped to military areas, at the Standard Oil Co, NYC.


---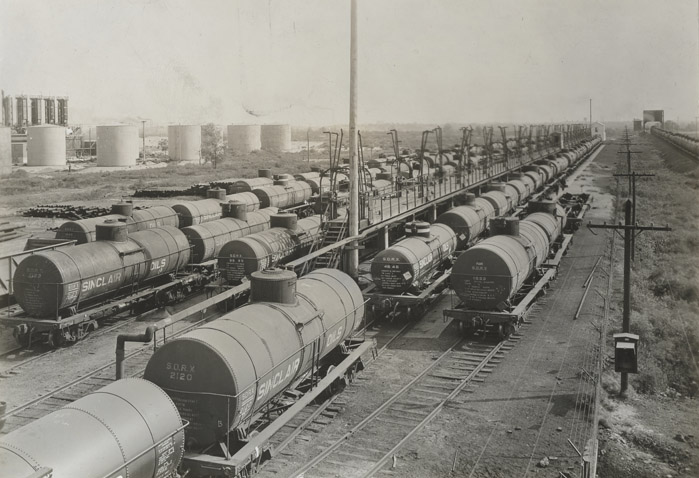 The latest development in loading tank cars for shipment.


---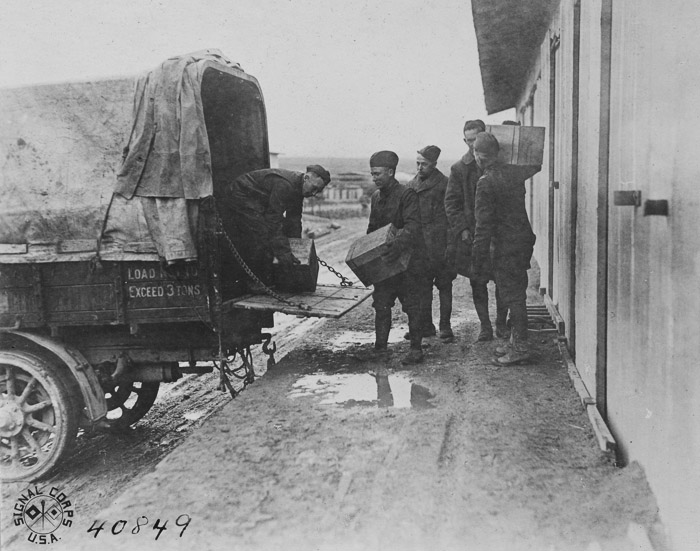 Loading supplies from railhead for sales commisary unit, 316th QMC, 35th Div, Sorcey.


---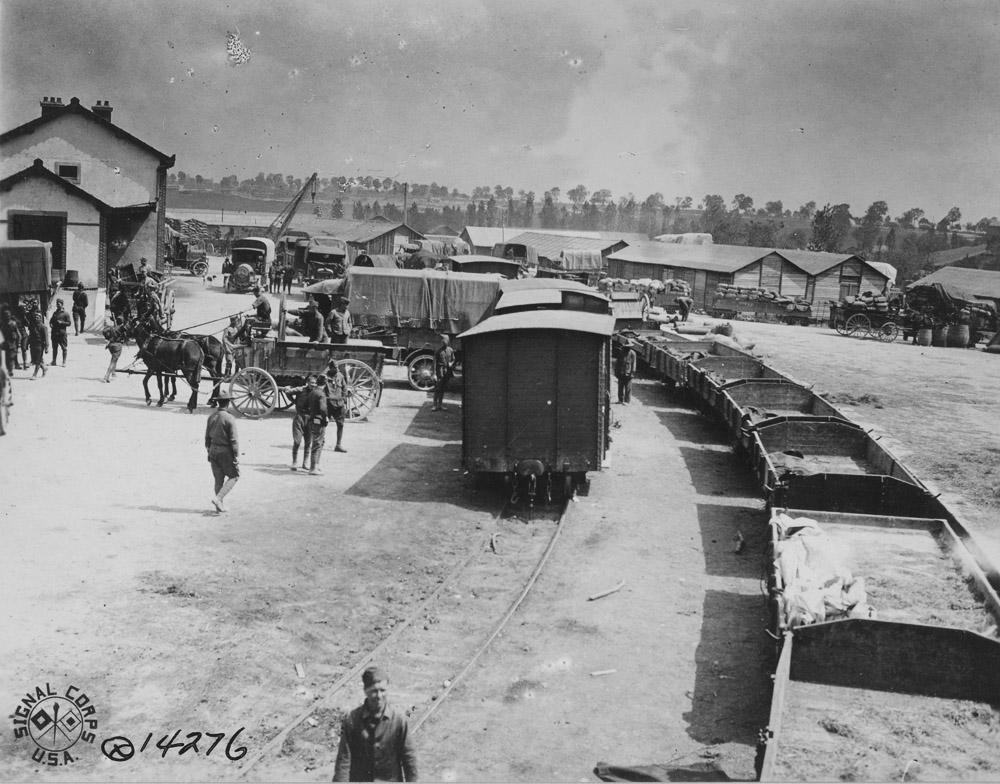 View of railhead and quartermasters depot of 26th Division. Menil-la-Tour.


---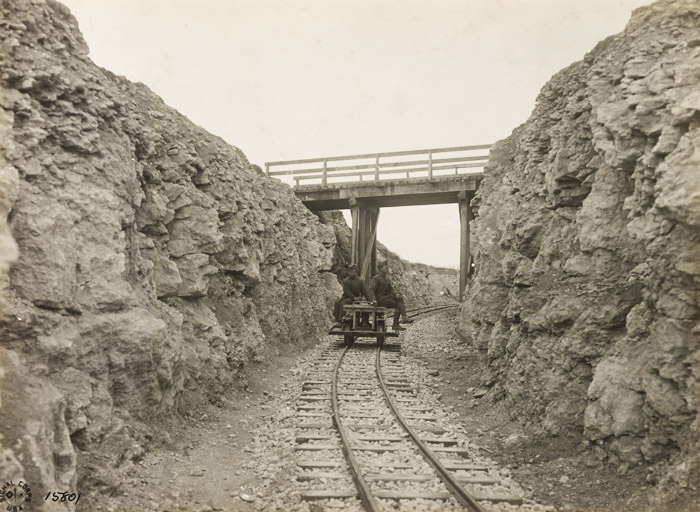 Rock cut on 60cm railway and highway bridge looking north. Headquarters Camp 21st Engineers. Sorcey.


---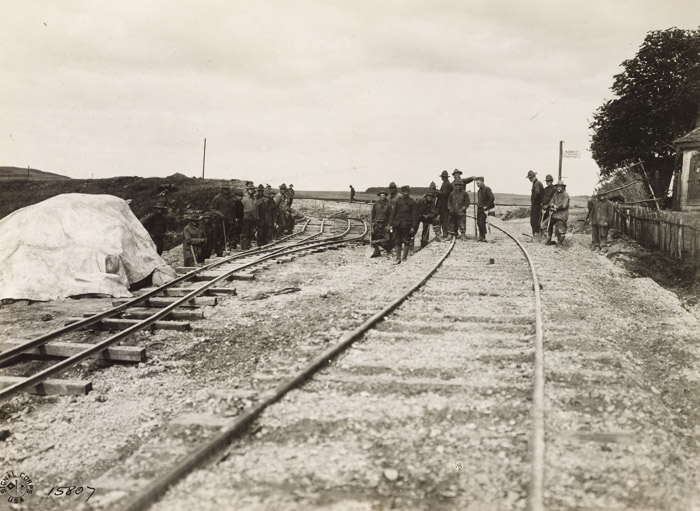 View looking up No. 1 track to Chamin de Fer de L'Ost Abainville.


---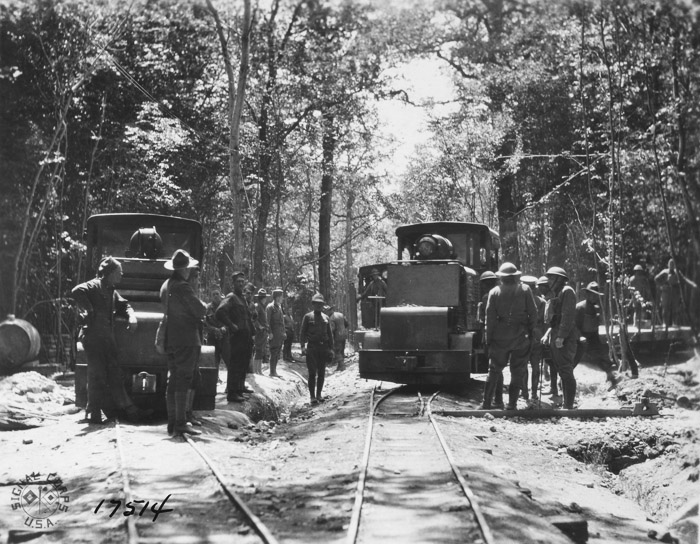 Switching; men and officers of 21st Engineers at work. Light Railways. Nauginsard.


---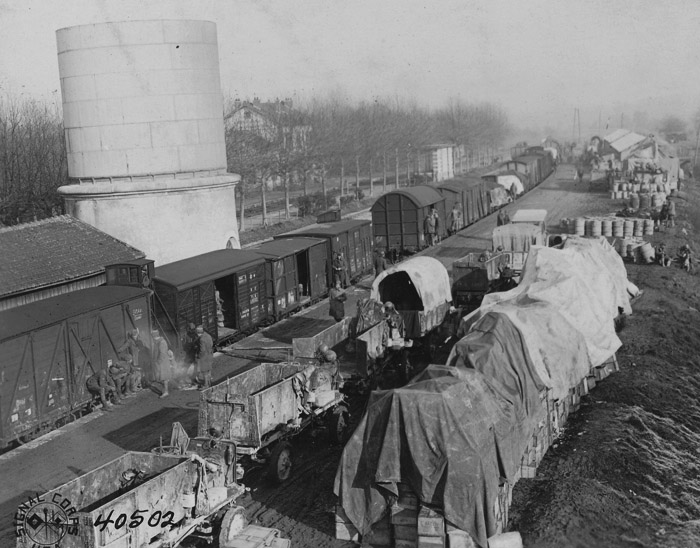 Railhead of 36th Div, showing railroad, warehouses, and trucks. Ervy.


---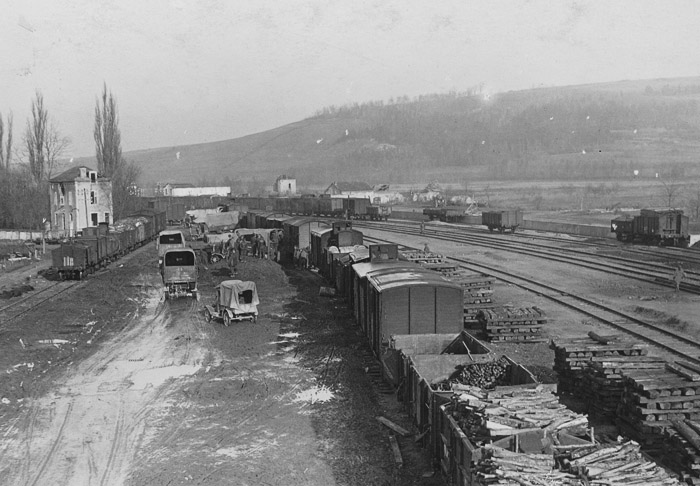 Railhead St Mihiel. 35th Div.


---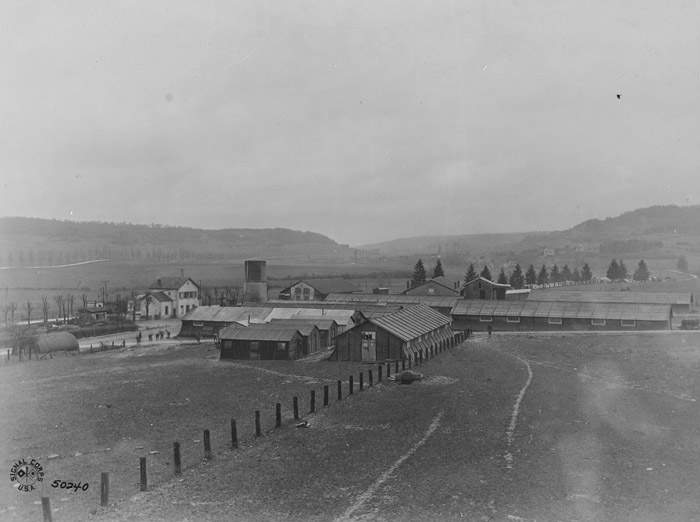 General view of railhead at Beaumont. Station of 305th Labor Bn.


---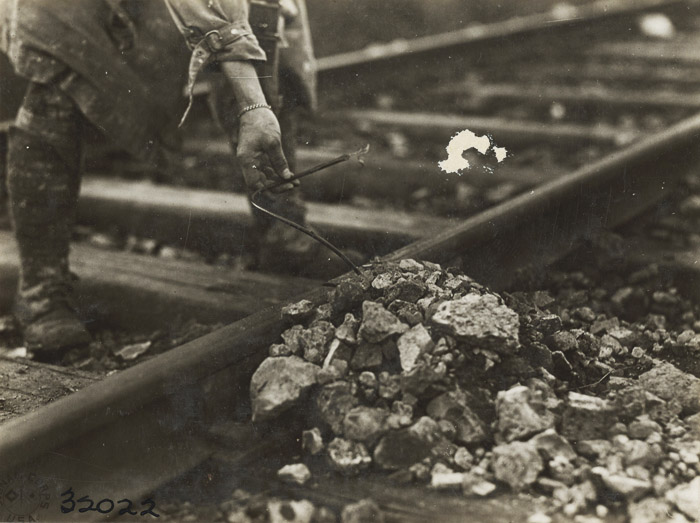 Mined railroad track showing one of the mines used by the retreating Germans to destroy the track. Harricourt Railroad Station.


---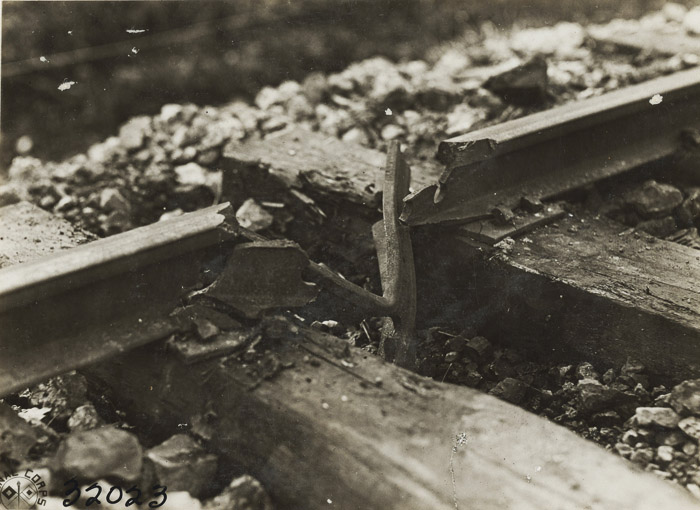 Mined railroad track. Harricourt Railroad Station.


---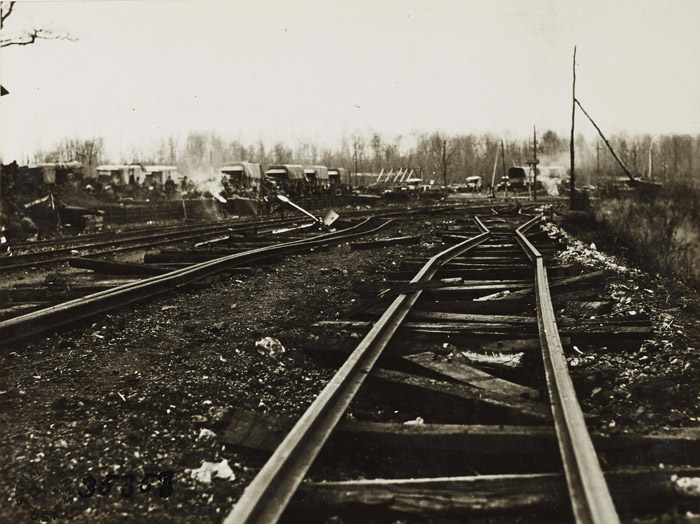 Twisted track at railhead center destroyed by the Germans at Bois de Beliers.


---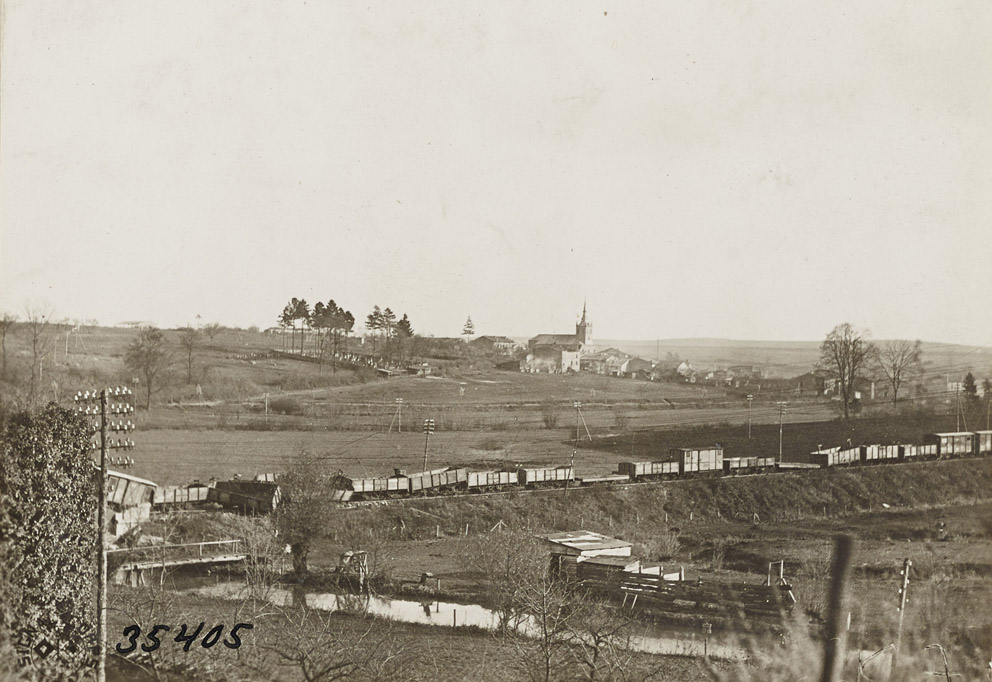 Town of Remonville, 1/2 km from Louppy.


---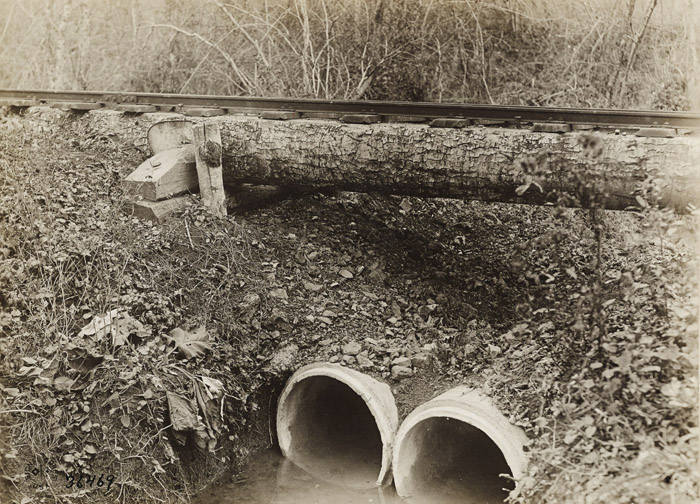 Narrow gauge railroad repaired by engineers after being blown up by the Germans. Note drain and trestle. Near Haucourt.


---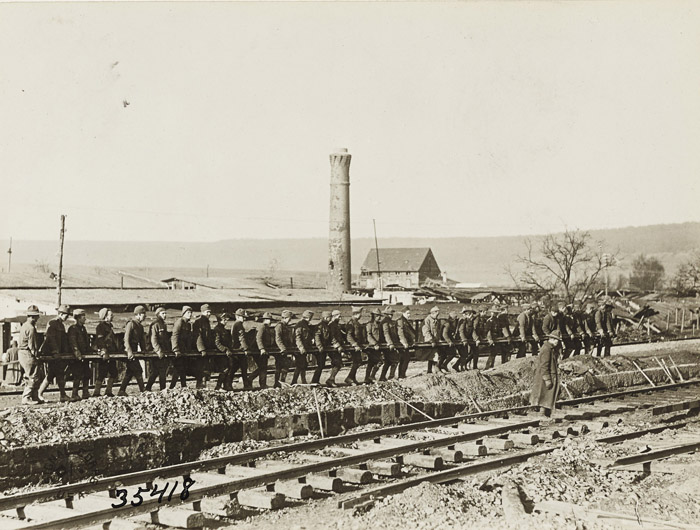 Repairing switch demolished by the enemy in their retreat. Co B 16th RR Engineers. Dun sur Meuse.


---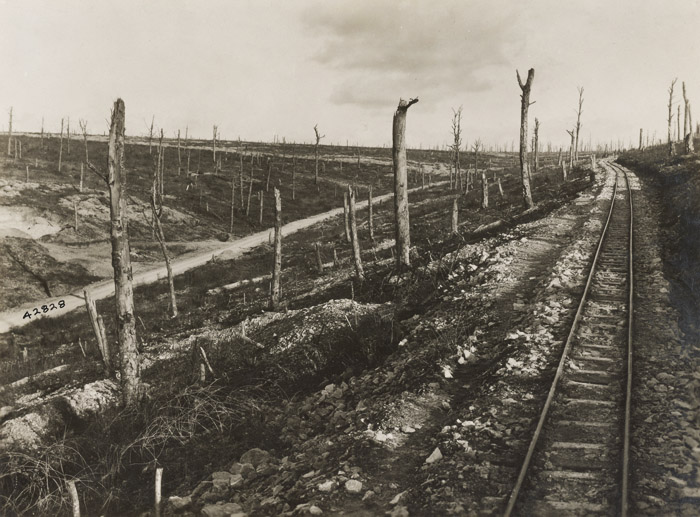 Lokking towards Grand Trachee Road beyond Mouilly. Shows shell torn ground and bare trees. Field Ammunition Office, Ordnance Dept. 1st Army.


---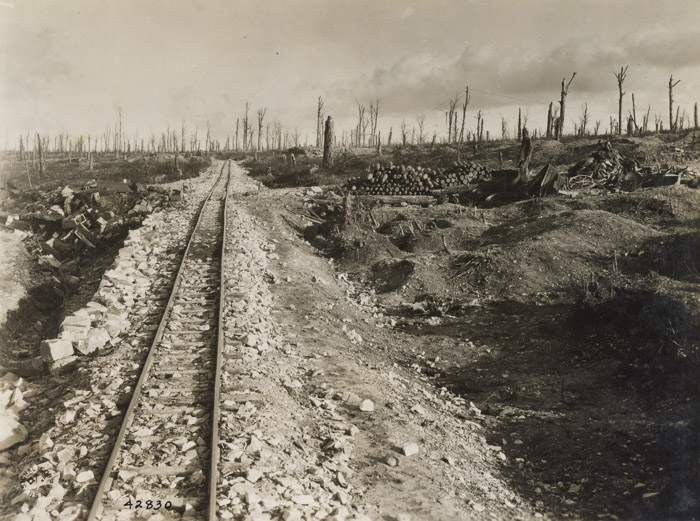 Shells to be hauled away stacked beside tracks of 60cm railway in No Man's Land. Mouilly.


---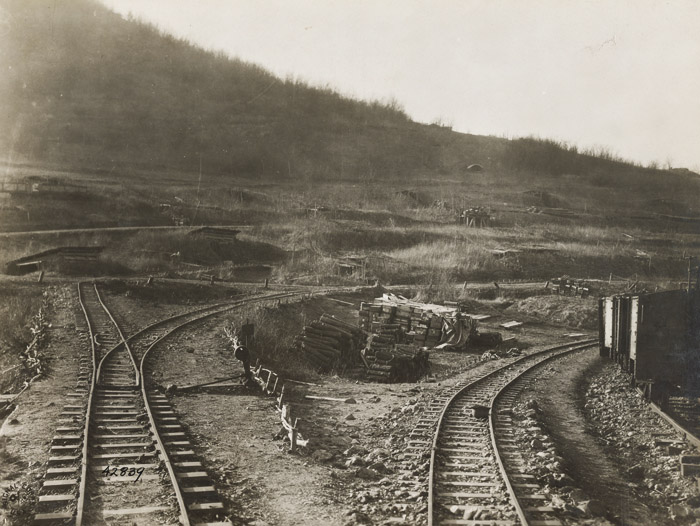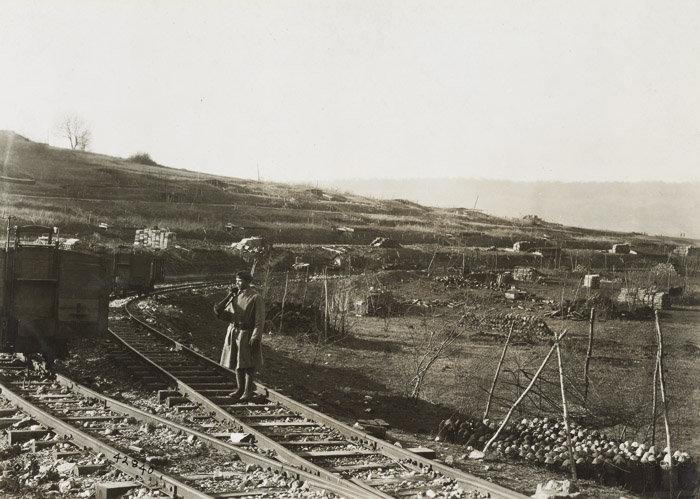 Panorama of German ammunition dump at Brandeville where immense quantities of ammunition are stored. This ammunition is to be exploded by reclamation and demolition men of field ammunition office, Ordnance Dept, 1st Army.


---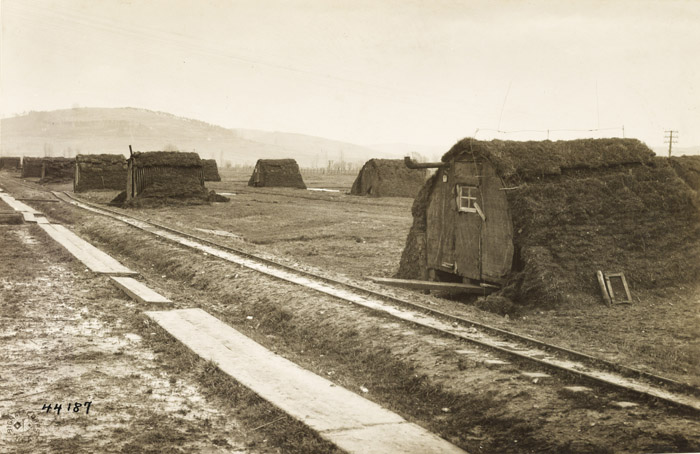 German ammunition park now used by Co A, 304th Engineers Regt, 79th Div for billets, made of elephant iron and covered with sod and grass for camoflage. LeTraye.


---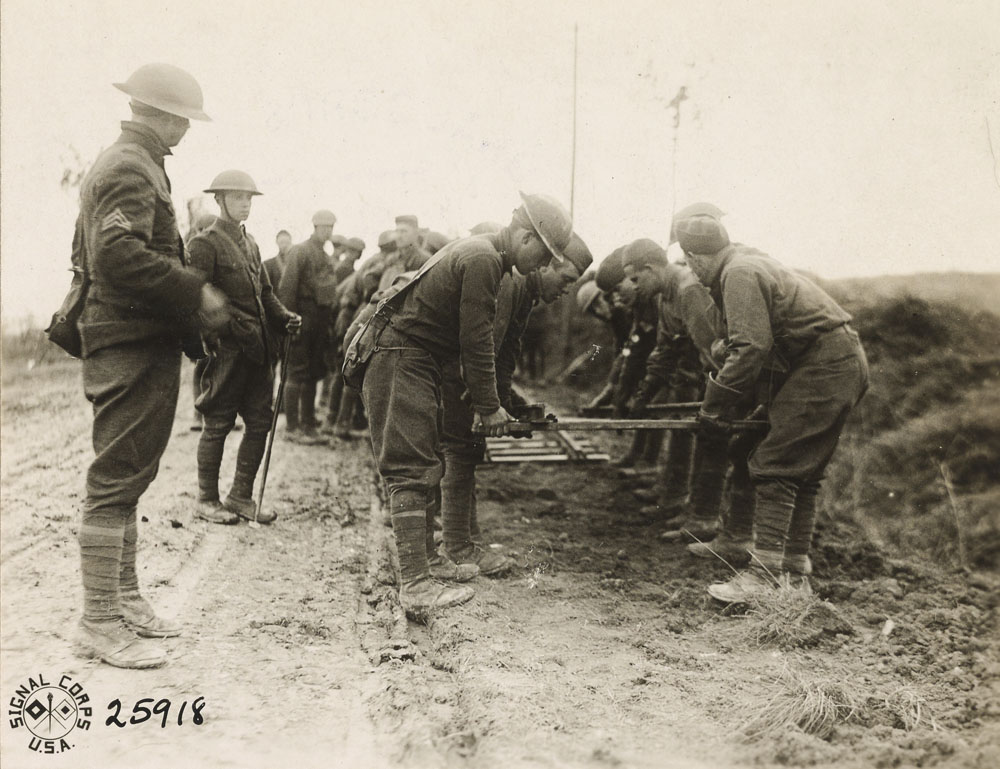 22nd Eng attached to 5th Army Corps, Maj FW Henrice CO laying track to reach captured German narrow gauge road. Near Vauquois Mountain. Oct 2, 1918 2:25pm.


---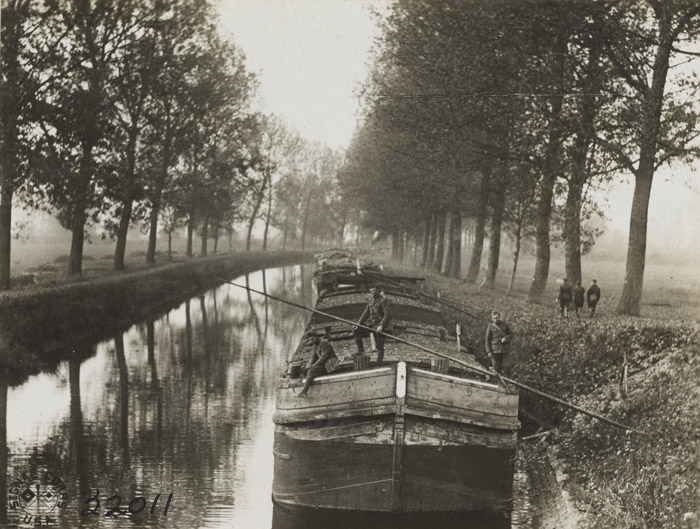 Members of Co A 108th Military Police, 33rd Division, on canal boats in the canal of the Meuse and Rhine. Transporting supplies to the front. Troyon.


---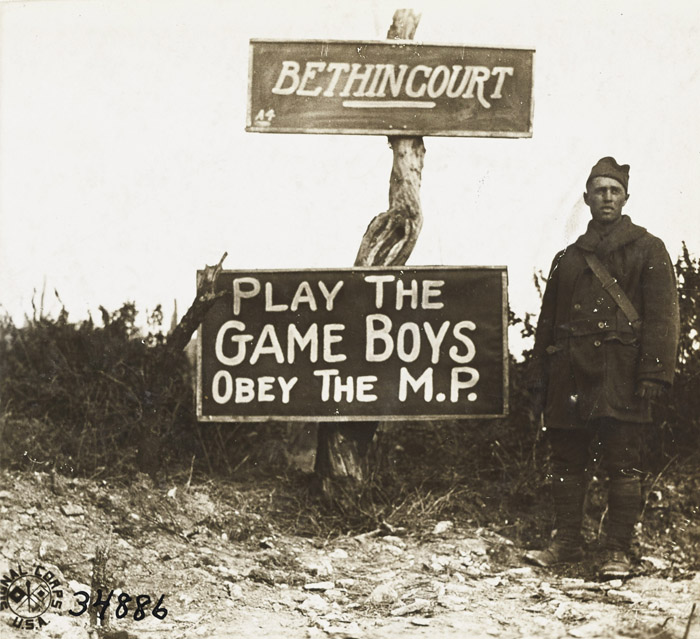 Sign posted in Bethincourt by engineers of 3rd Army Corps. The Engineers post such signs in all the towns they enter.


---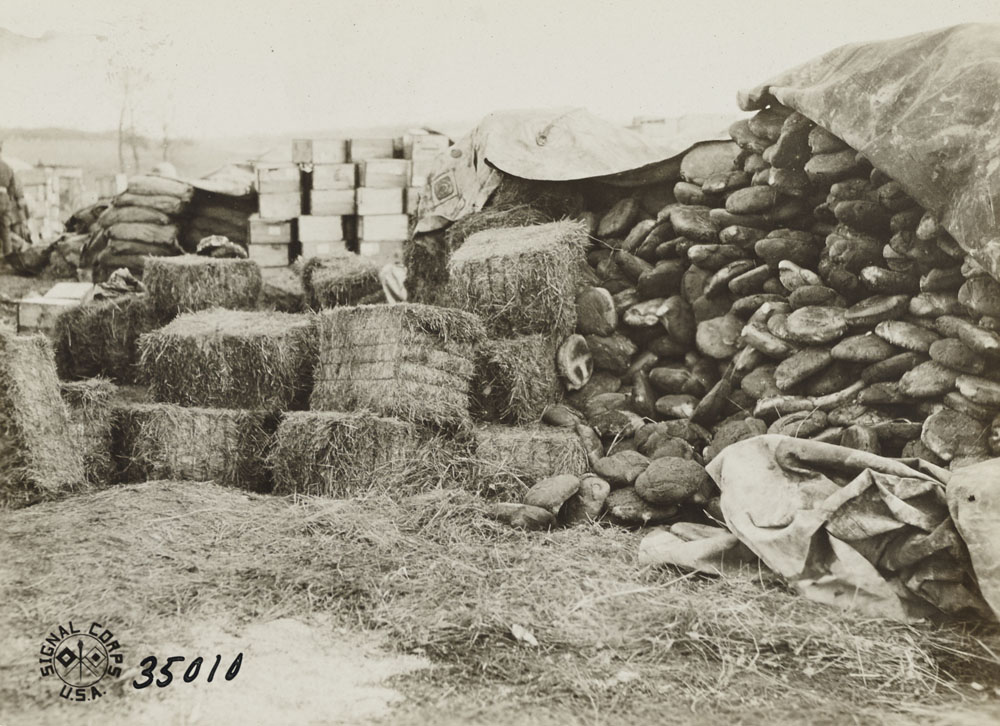 Rations and Forage at the railhead of the 89th Div, Cierges.


---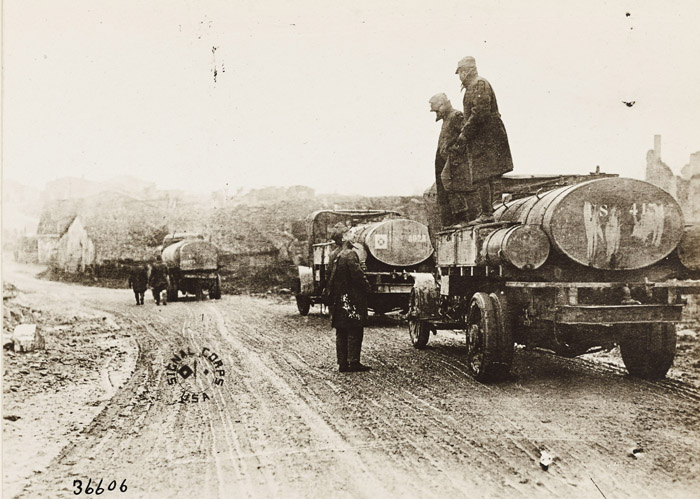 Congested traffic at Dun sur Meuse.


---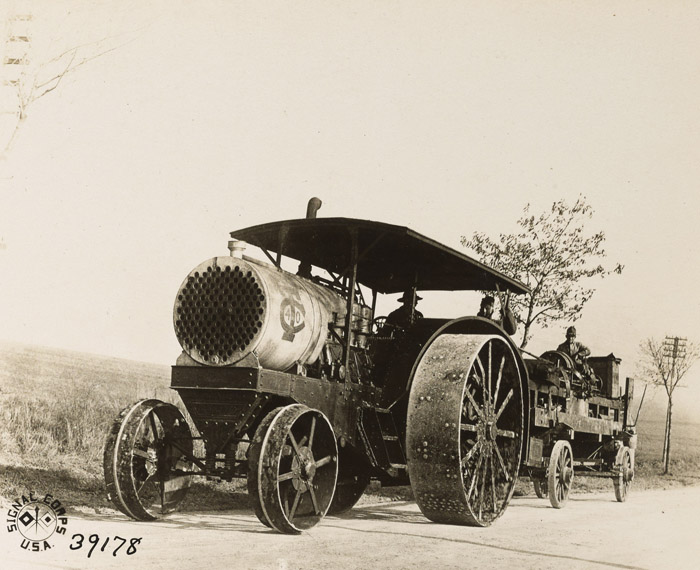 15th Company, 20th Engineers, moving their portable sawmill with 40 HP Twin City Oil Tractor. Near Pagney.


---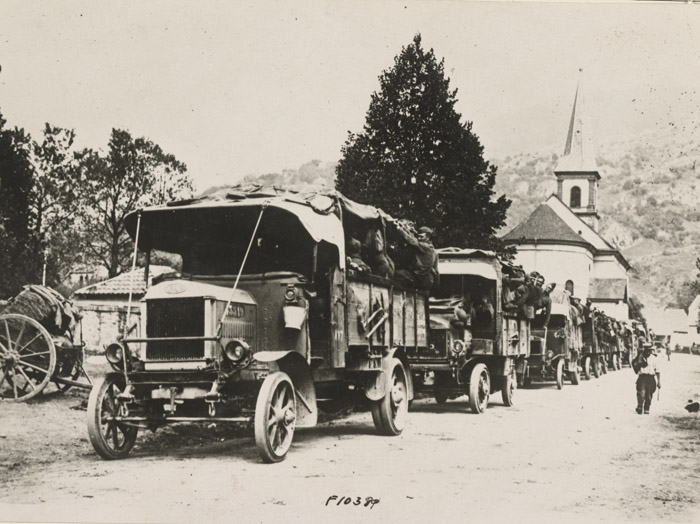 The almost endless line of automobiles, trucks, etc conveying American soldiers to the field of action. Sept 18, 1918.


---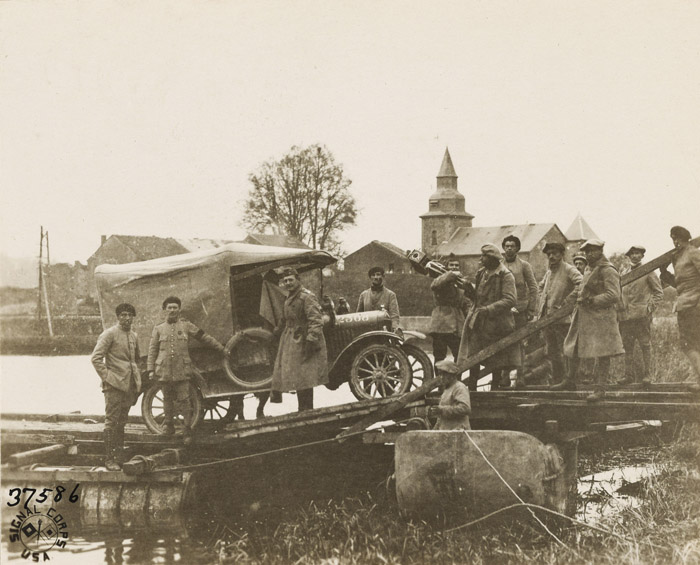 Running 5th Army Photographic Car off ferry. Viller Devant, Mouzon


---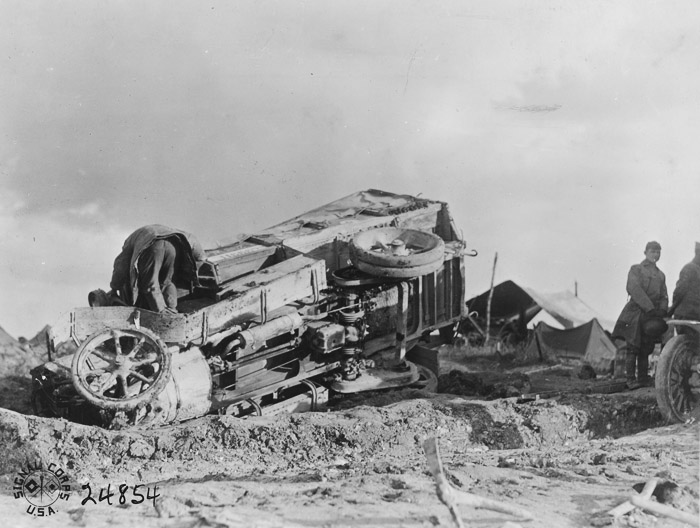 French truck tipped over at the side of the road. On a one-way road, when a truck breaks down and cannot be repaired immediately, it is tipped over, as there are so many shell-holes that it cannot be run off to one side. Taken on the road between Malancourt and Cuisy. Oct 1, 1918.


---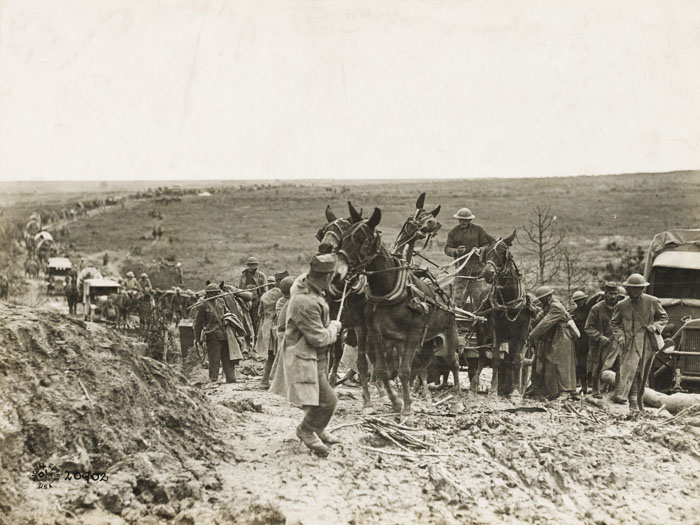 Capturing the St Mihiel Salient. An American ammunition wagon northeast of St mihiel stuck in a bad place in the road, holds up the advance of a whole column. 1st Division area, St Baussant.


---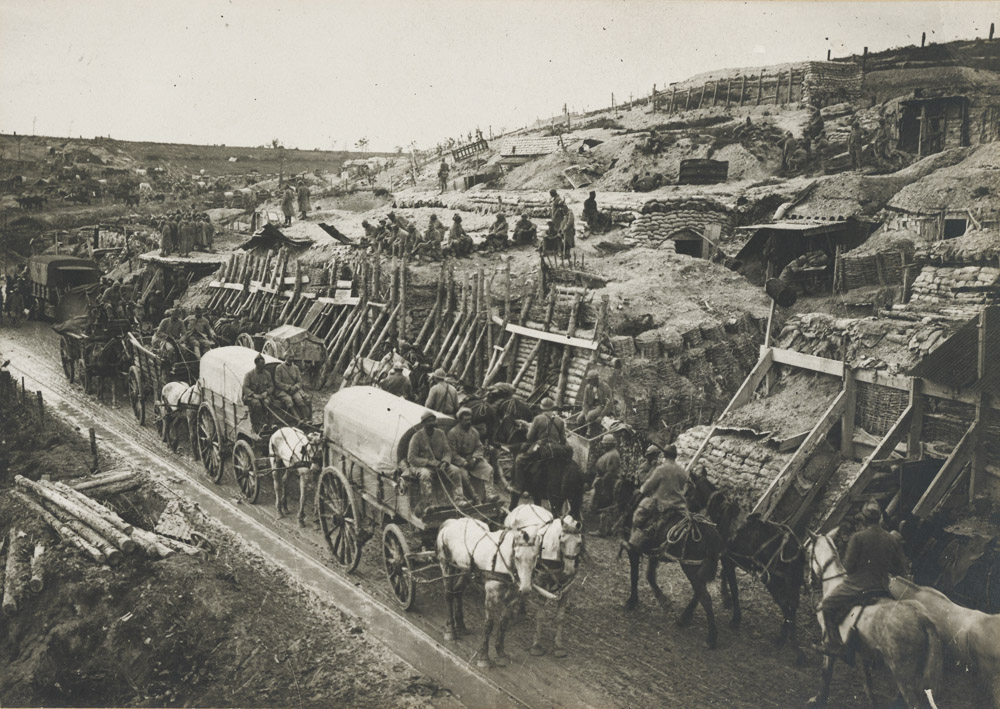 Wagons of supplies on way to Champagne to aid in offensive, region of Cahure.


---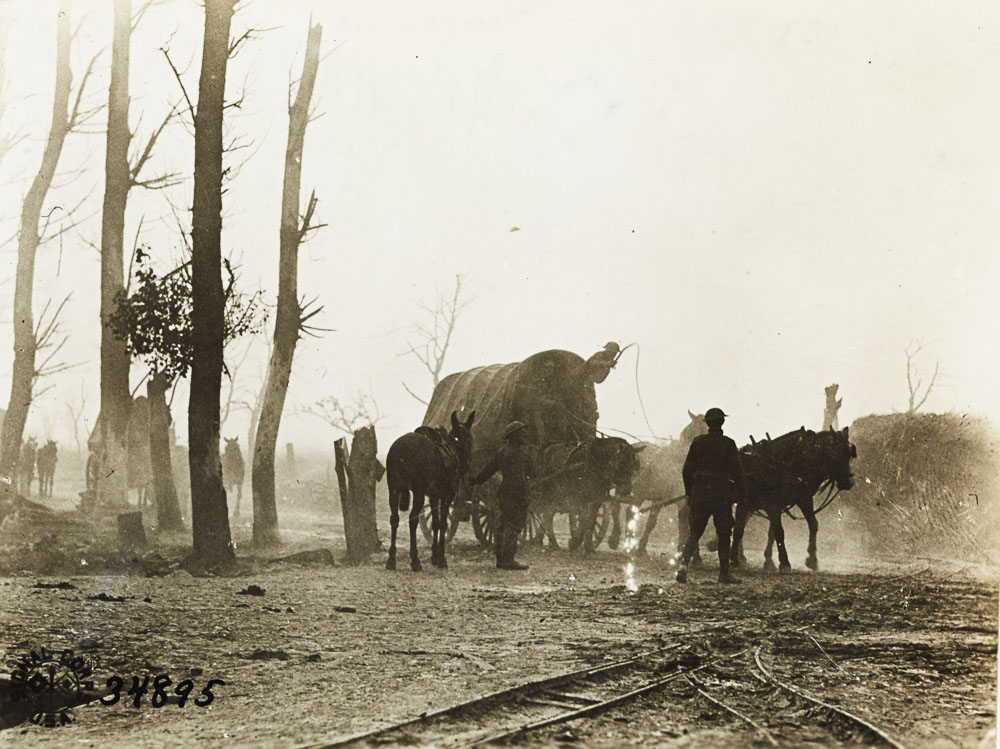 Supply train of the 315th Field Artillery, 65th Brigade, 33rd Div near Chattancourt making its way to the front with ammunition. The early morning fog is just lifting. Sept 26, 1918.


---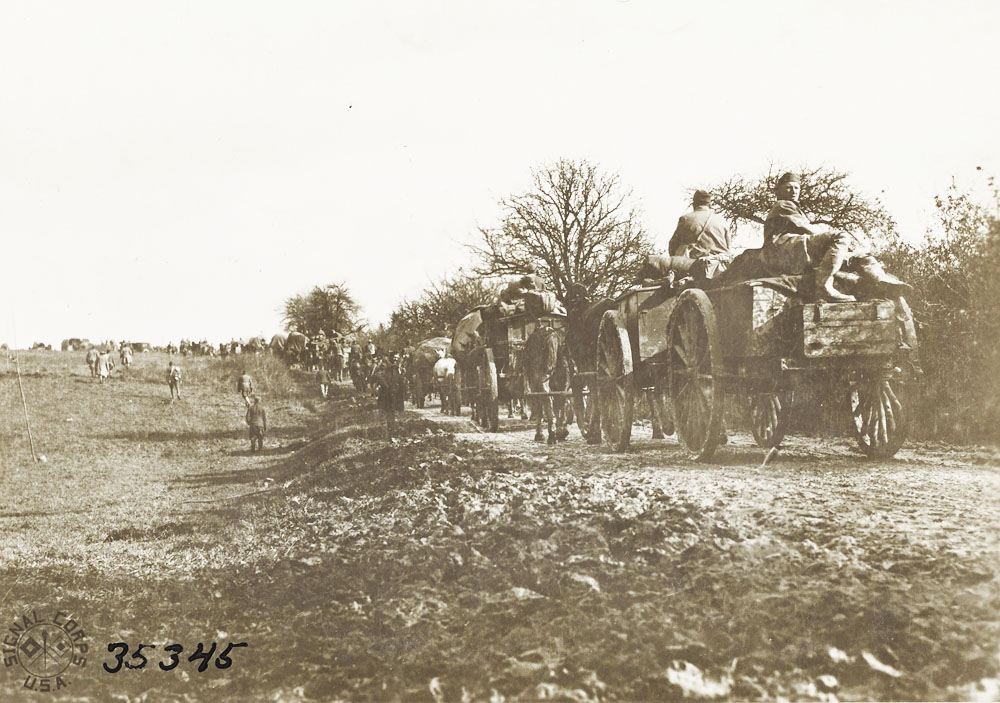 Supply train of the 18th Inf, 1st Div moving forward toward the front. Near Barricourt.


---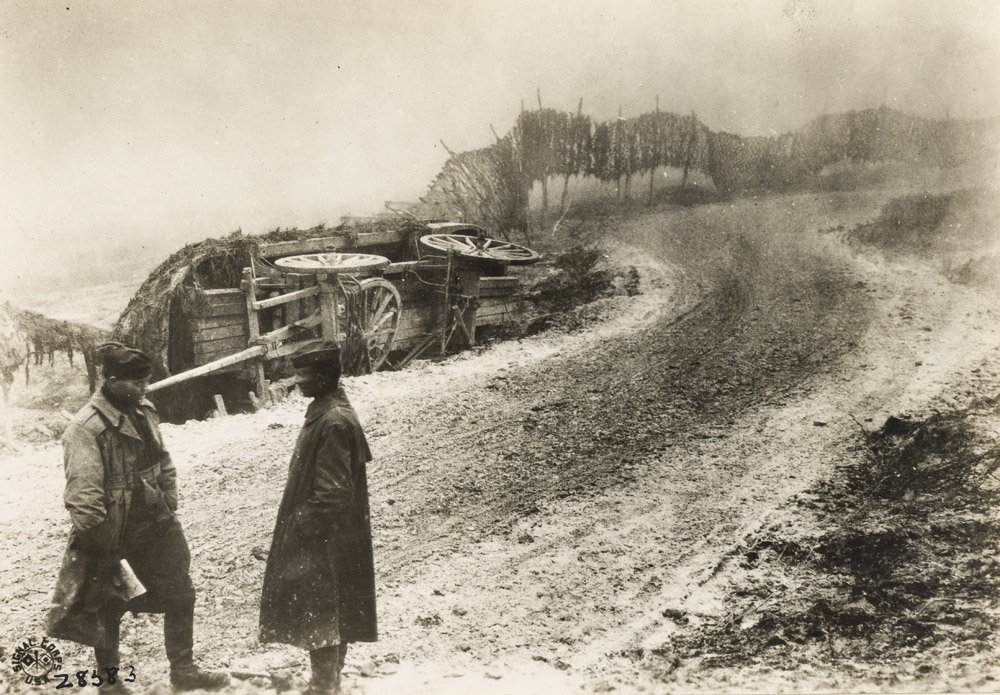 Between Malancourt and Esnes. This has been No Man's Land almost since the beginning of the war and all roads are in very bad condition. When the Americans advanced and crossed the Meuse it was necessary to bring forward enough pontoons to build bridges at various points. Photograph shows a pontoon covered with camoflage overturned at a bad curve in the road. On account of the conditions of transportation it was not practicable to stop traffic lonf enough to right the pontoon and pull it forward.


---


A street corner in Esnes, 3rd Div HQ, with the sign "Play the Game, Boys - Obey the MP". Wagoner Walter Duncan, 2nd Co , 3rd Army Corps MP on duty.


---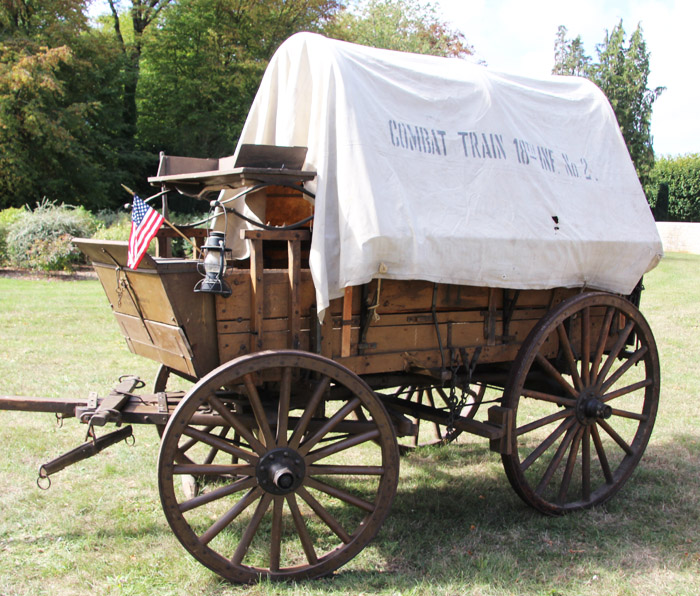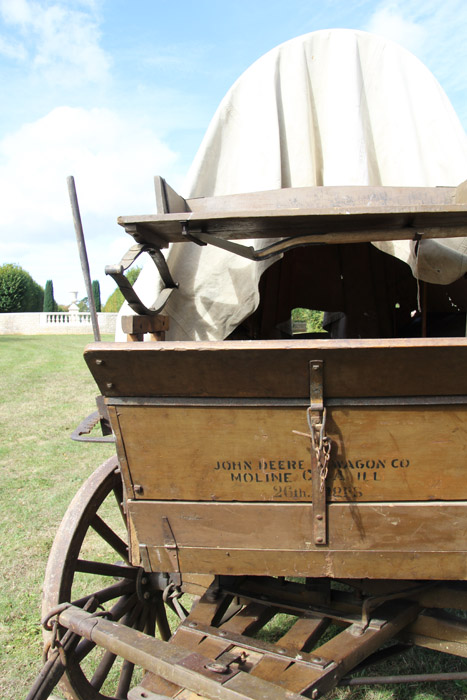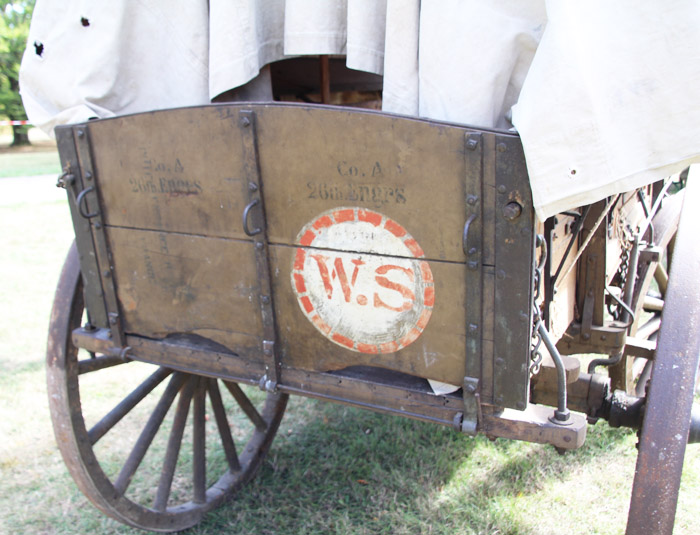 Wagon at 100th Anniversary Event at St. Mihiel National Cemetery


---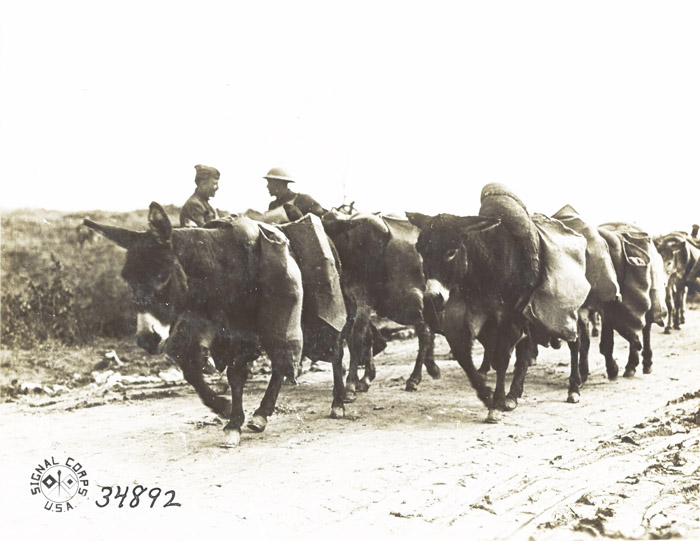 Donkeys of the 304th Ration Train carrying food to troops in the lines near Malancourt in the drives of Sept 26, 1918. The donkeys were very useful as they can go over bad roads without difficulty.


---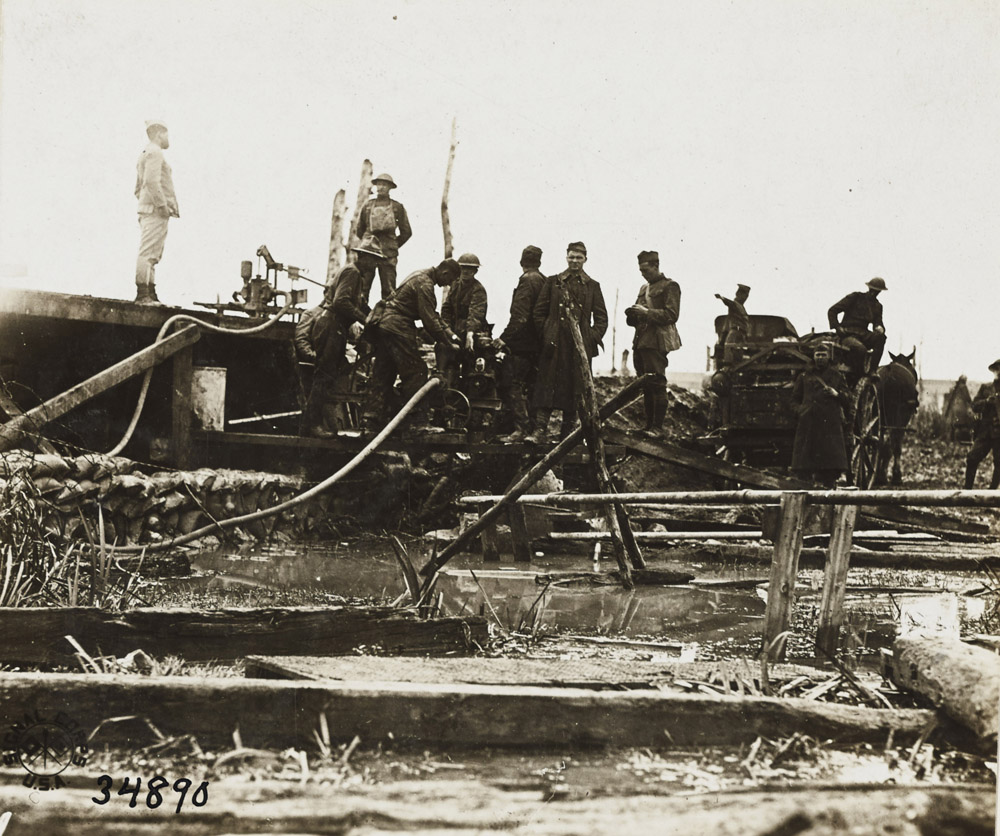 26th US Engineers (non-combatant) supplying advancing troops with water, Bethincourt. Sept 29, 1918.


---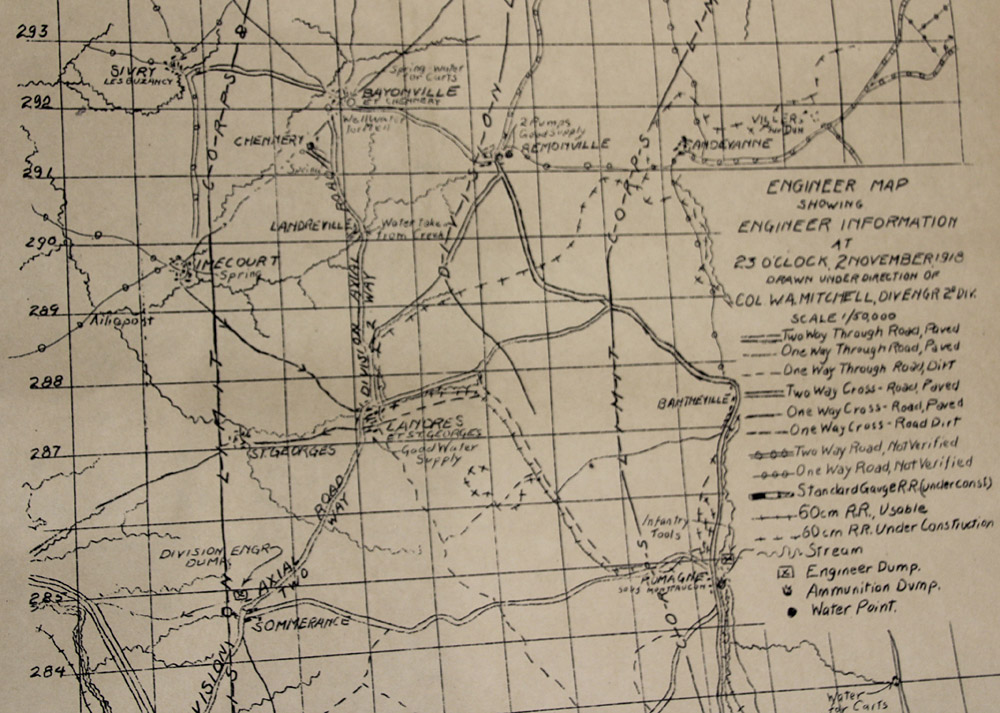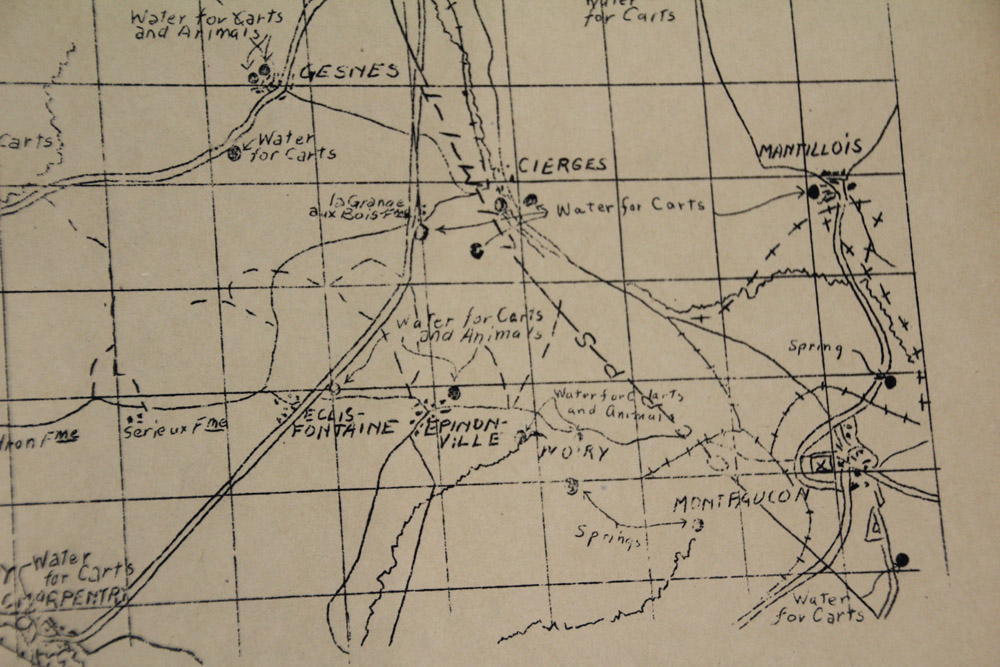 From 2nd Division Operations Book - note that sources of water for both man and horse are noted


---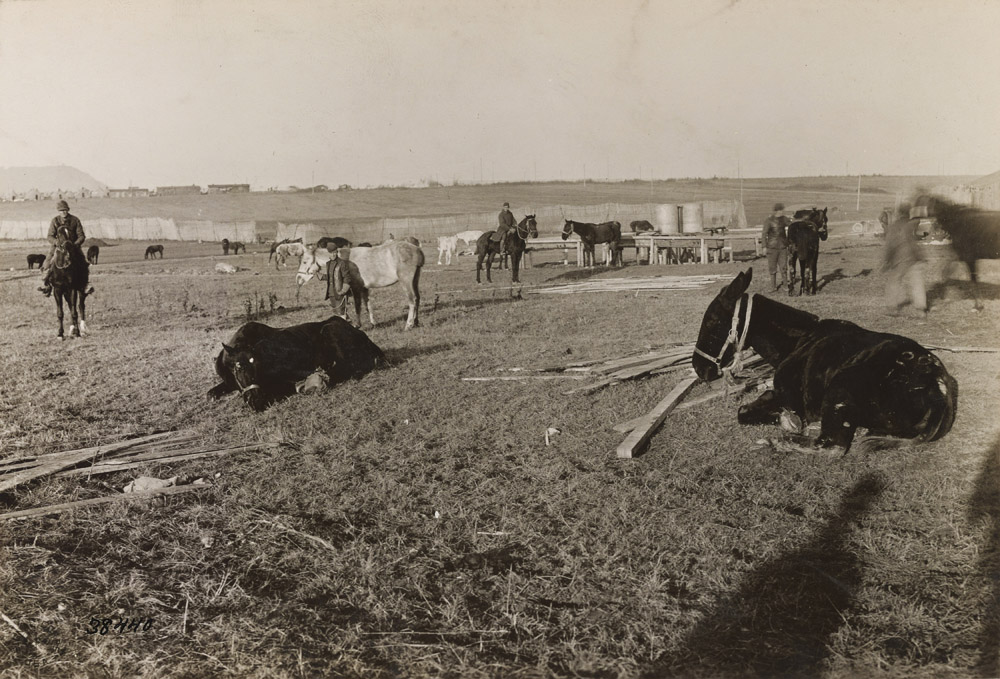 "Their first rest". Note system of watering, also two sick animals in foreground. near Woinville.


---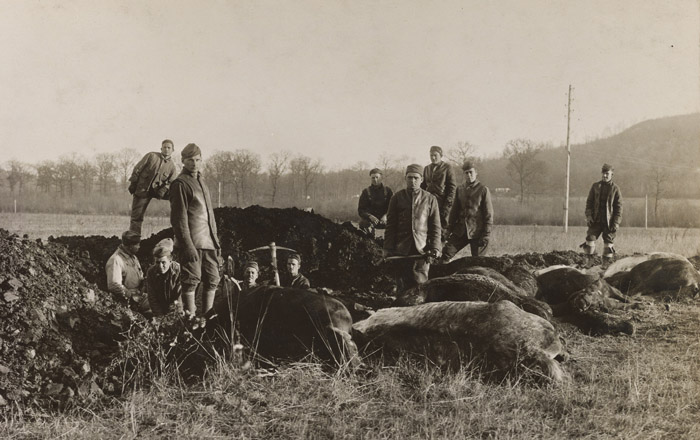 Burial ground of hospital. Note dead horses. Near Woinville.


---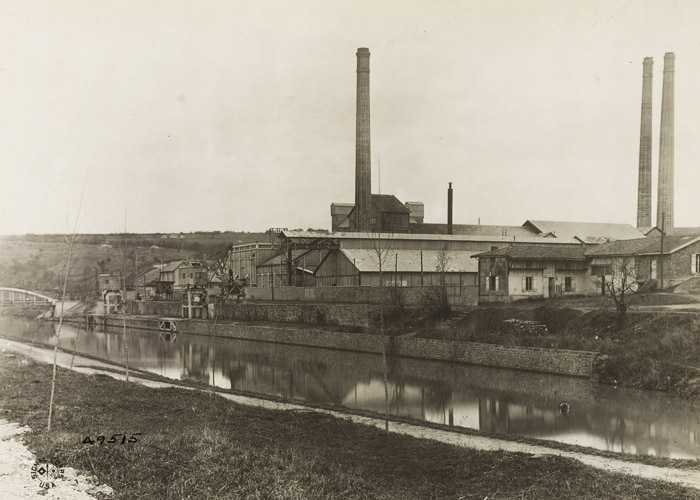 General view Cement Plant No 4, operated by American engineers, Army Service Corps. Gouvret.



---