Weapons, Tactics, and Innovation





In many people's minds, the Great War is THE outstanding example of military incompetence, but the truth is that the war spurred an enormous amount of weapons development and tactical innovation.

Although the war is associated with the machine gun, the majority of the casualties were inflicted by artillery. Artillery became vital in neutralizing machine guns and enemy artillery. Aerial observation became vital for artillery targeting, and this led to observation by balloons and fixed wing aircraft. This, in turn, led to the air war. The lethality of artillery and machine guns led to a dispersal of infantry and the transformation of infantry from riflemen to a combined arms team with a variety of weapons - automatic rifles, grenade launchers, trench mortars, flame throwers, sub-machine guns, and armored vehicles. Modern warfare was born between 1914 and 1918.



---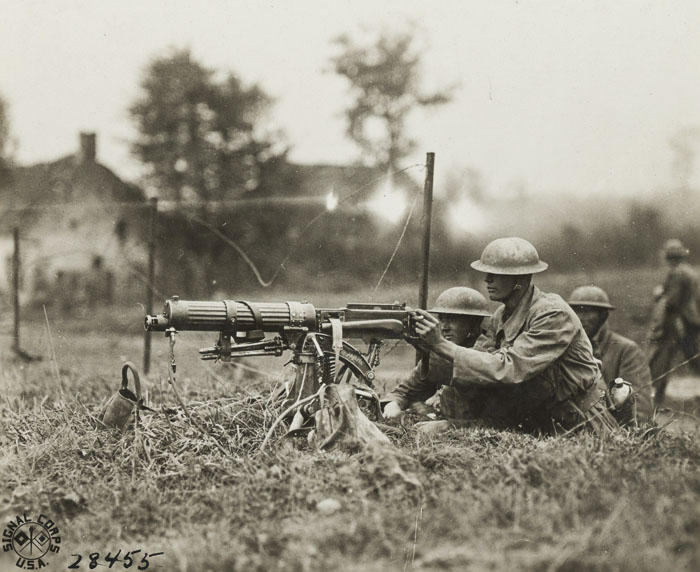 The first team, of the 1st platoon, company B, 115th machine gun bn, 30th Division.




---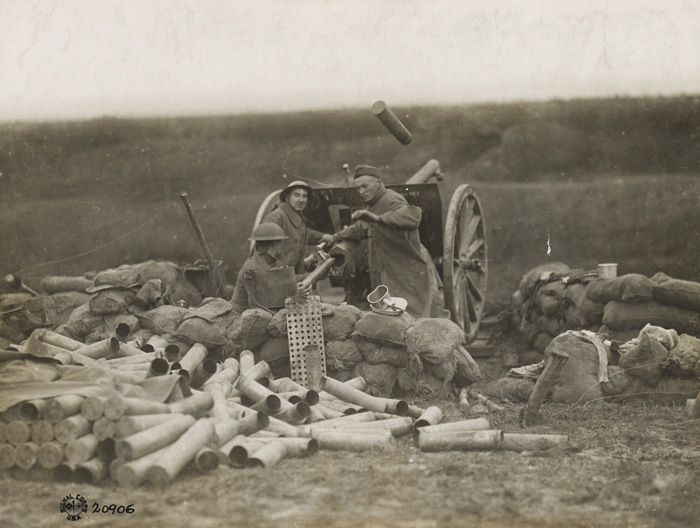 American gunners, working at top speed. They did their work well in the St Mihiel salinet to encourage the German withdrawal. This photo graphically shows the speed with which the American artillerymen worked. A shell case flying through the air and a new shell sliding into the breech in the same fraction of a second.


---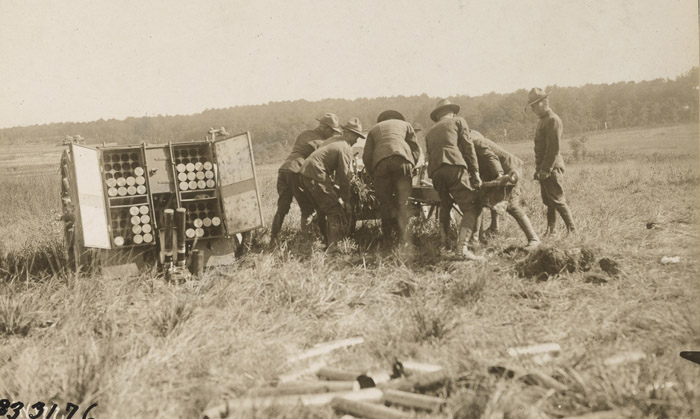 Artillery Drill


---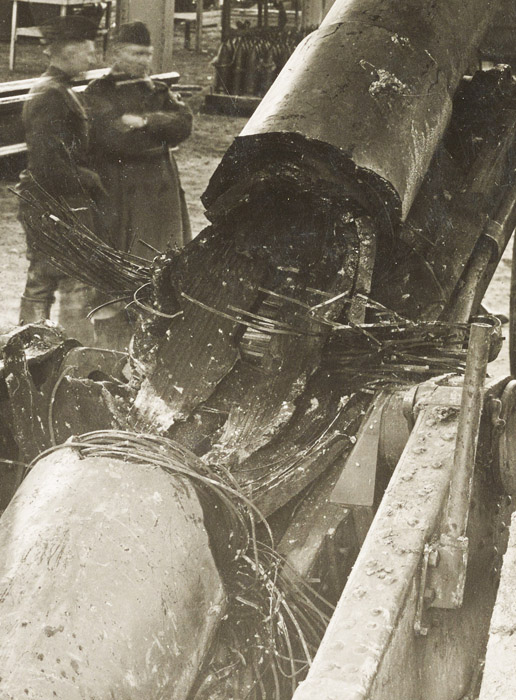 Eight Inch Howitzer, Mark 7, Nov. 437 Gun received at Ord. Repair shops showing effect of premature explosion. Mehun, Cher, France.


---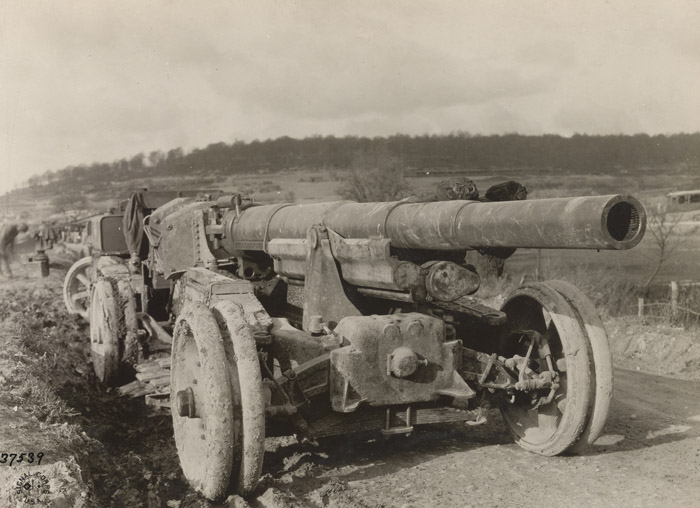 155mm G.E.F. gun in travelling position. 146th Field Artillery.



---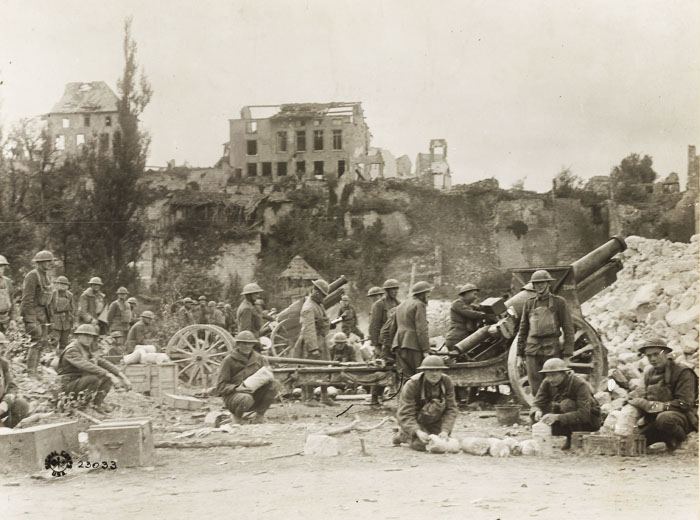 An American battery of 155mm howitzers firing upon the columns of the retreating Germans from a position in the ruins of the captured town of Varennes.


---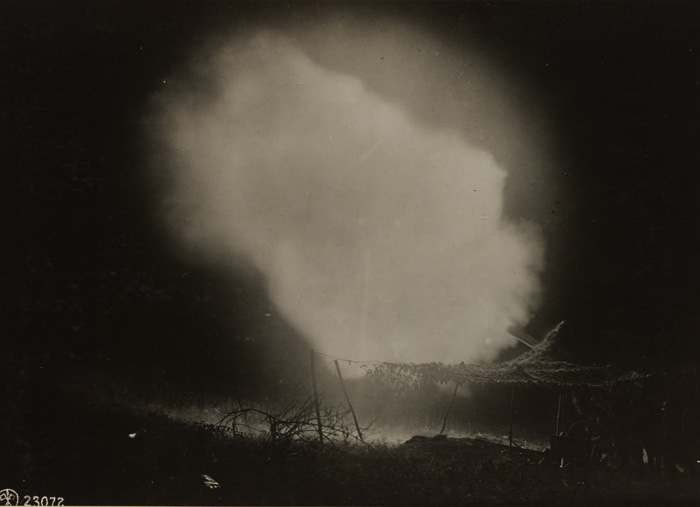 ---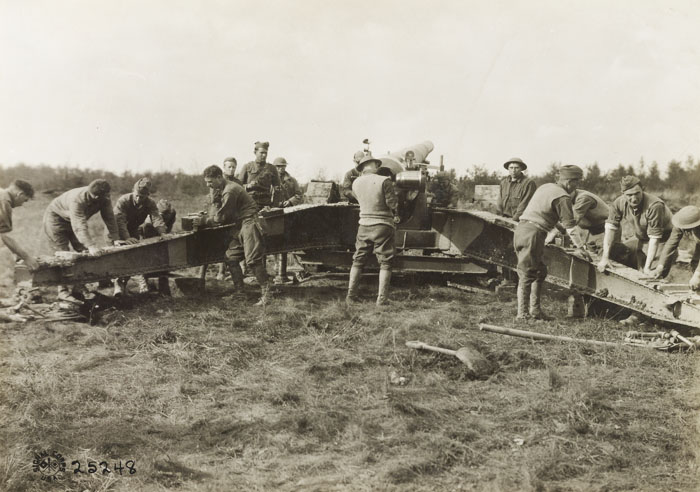 Men of the coast artillery corps opening tail of a 155mm gun near Flirey.


---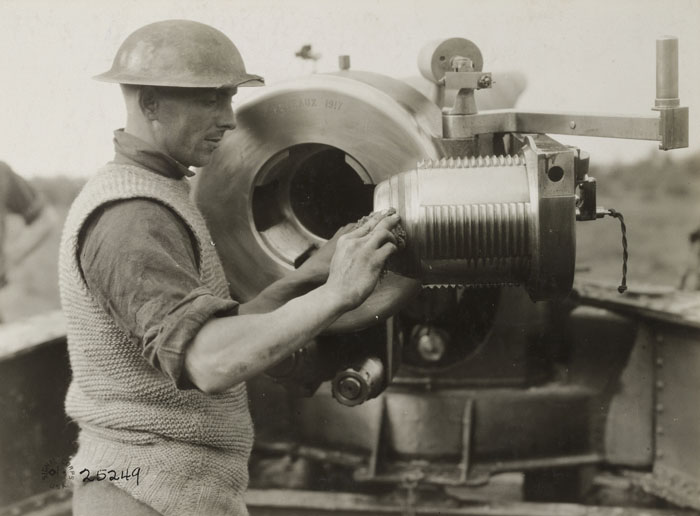 Polishing the breech of a 155mm gun. Coast artillery corps.


---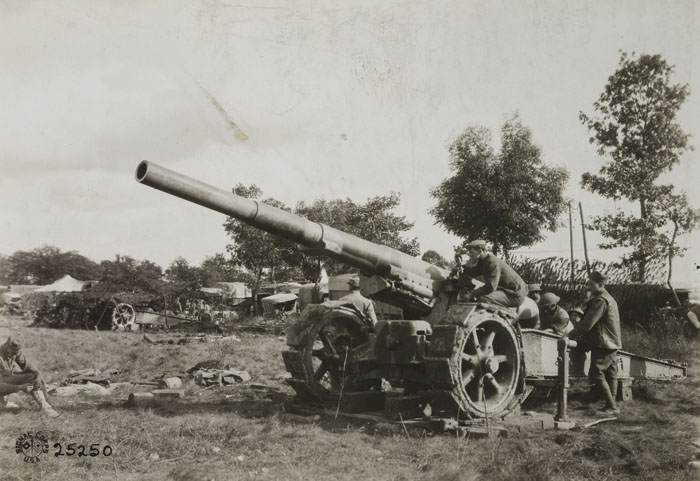 This piece of artillery was the first gun to be turned over to the US by the French. It is numbered "U.S.A." No. 1, (French number 171). It was purchased by the US in Dec 1917, and was the first gun of its type fired at the Germans by the Americans, in the battle of Seicheprey on May 26, 1918. Near Flirey.


---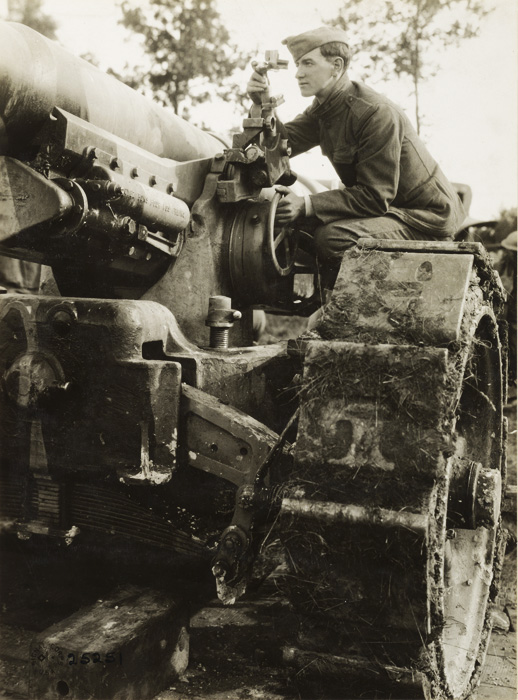 Enlisted men looking through the sight of a 155mm gun. Near Flirey.


---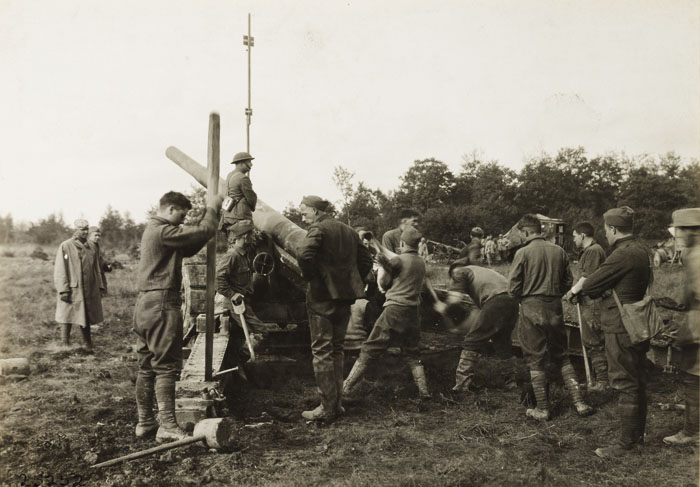 Determining the position of 155mm gun for ranging. Near Flirey.


---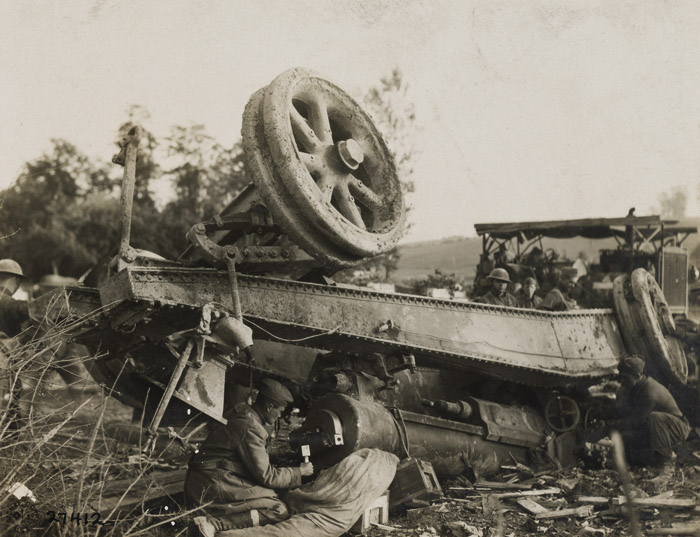 One of the grande porte filloux 155's and tractor hurled 40 feet then turned over and muzzle of gun buried by a direct hit.


---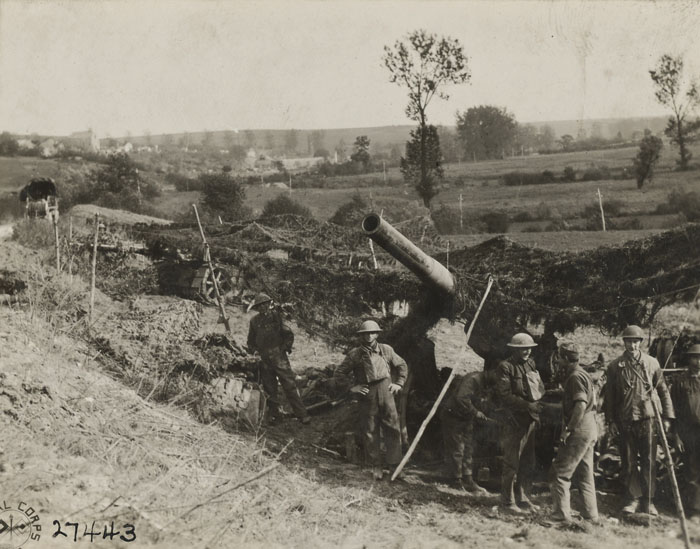 Battery E 56th Coast Artillery Corps, 1st Division with 155's.


---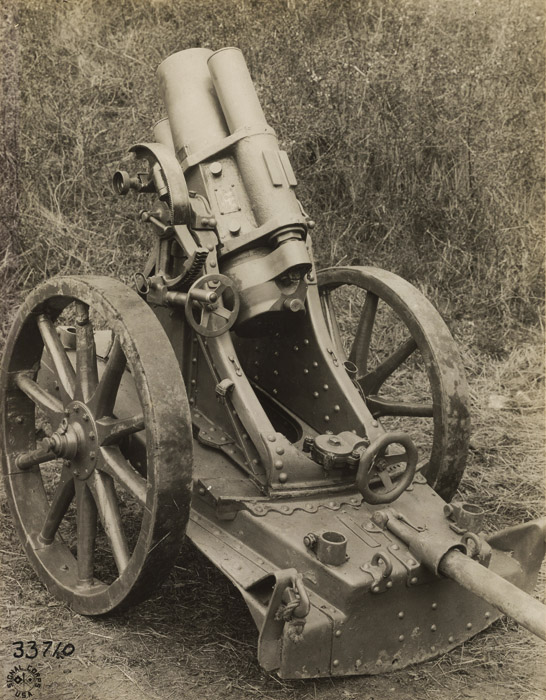 Captured 17 cm medium German "Minnenwerfer", Model 1914.


---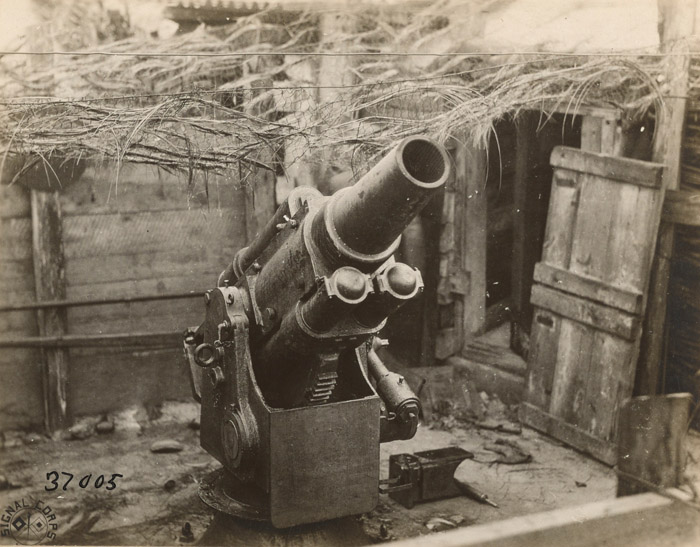 15cm howitzer


---


Sights of 210mm Mauser


---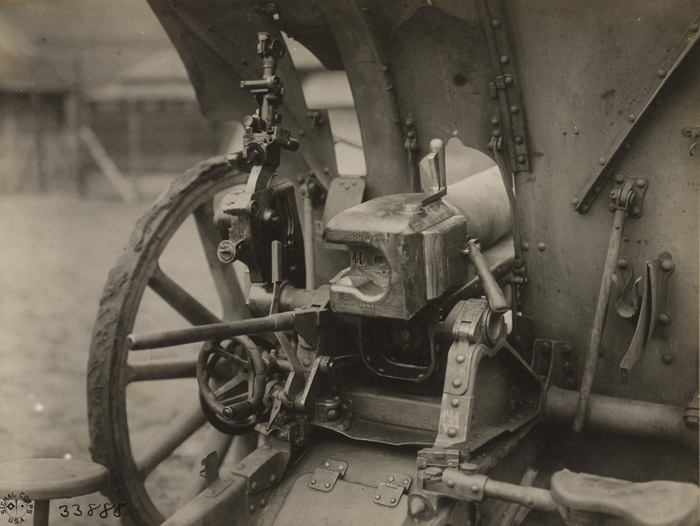 Breech and sight of German 77mm gun, 1916 model. with long barrel.


---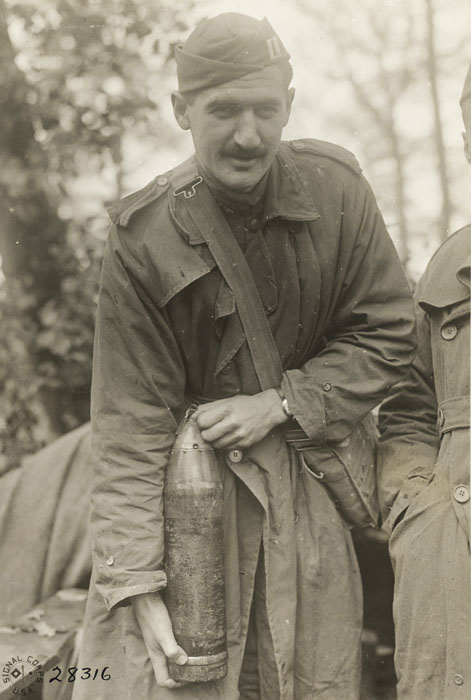 Cpt AM Fisher holding the new German gas shell which is marked with a blue cross and a red band which identifies it as being a high explosive shell containing Diaghenylcyanarsine, commonly known as sneezing and vomitting gas.


---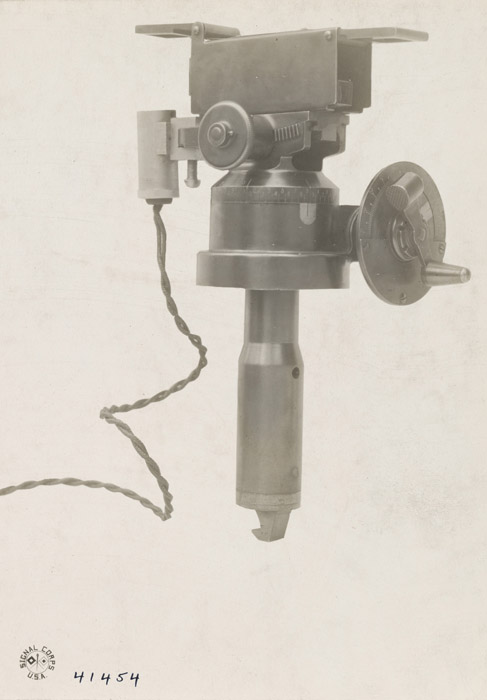 Light for howitzer gun sighting device.



---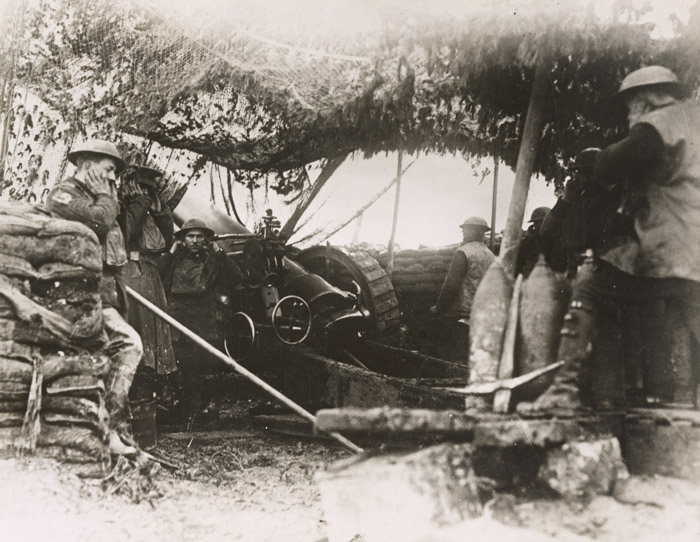 British howitzer hidden by camoflage in action against the Germans. The gun crew standing with hands covering ears.



---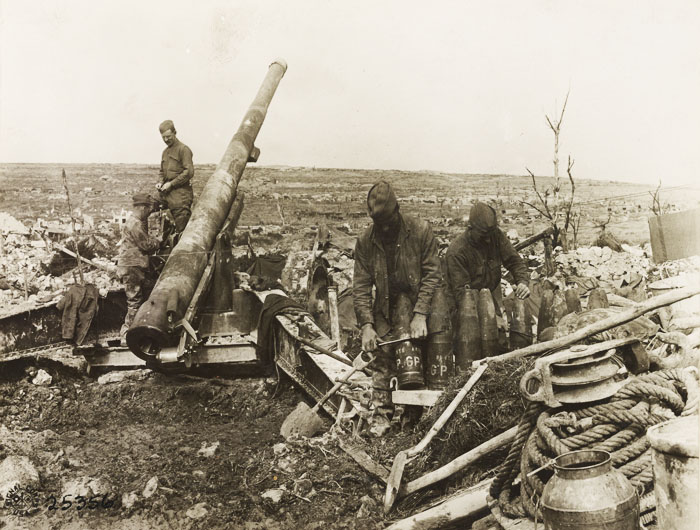 Members of the 145th FA cleaning the rust and dirt from the shells. A dirty shell is not accurate. In the background may be seen the boys cleaning the gun in which these shells are to be used. Esnes, France.


---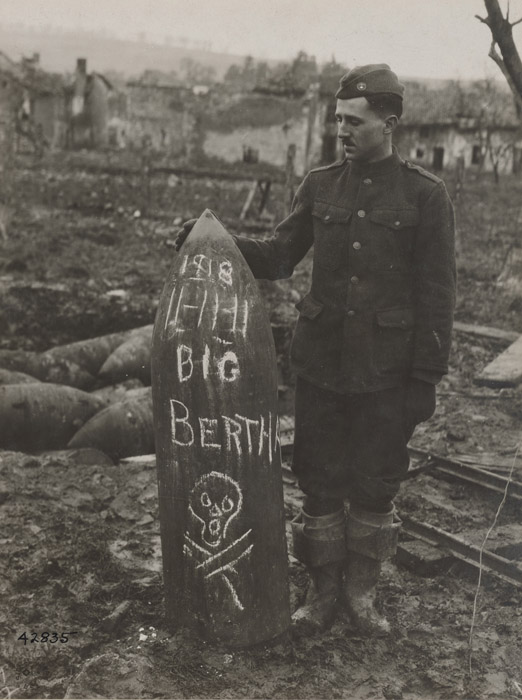 Pvt Ambrose B McWaide of Ordnance Dept standing beside German 15 inch shell, which is 4 1/2 ft high and weighs 1400 pounds. Dannevoux.


---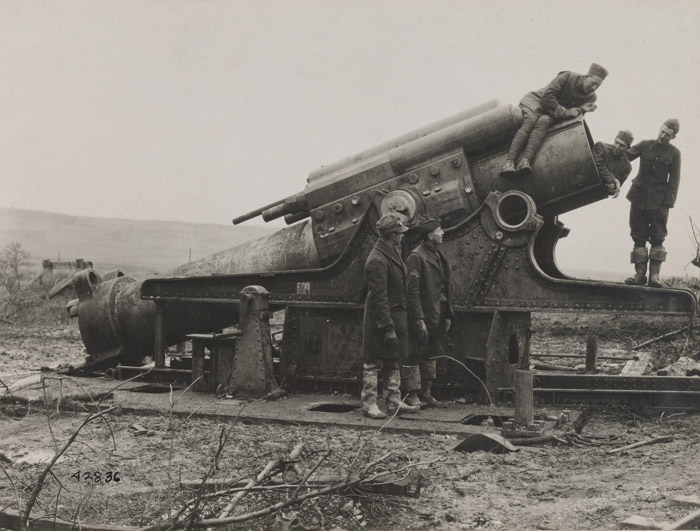 German gun used in shelling Verdun left behind at Dannevoux when Germans retreated. Howitzer type and built on steel platform has chain heist for shells. Shells used in this gun 4 1/2 ft high and weigh 1400 pounds.


---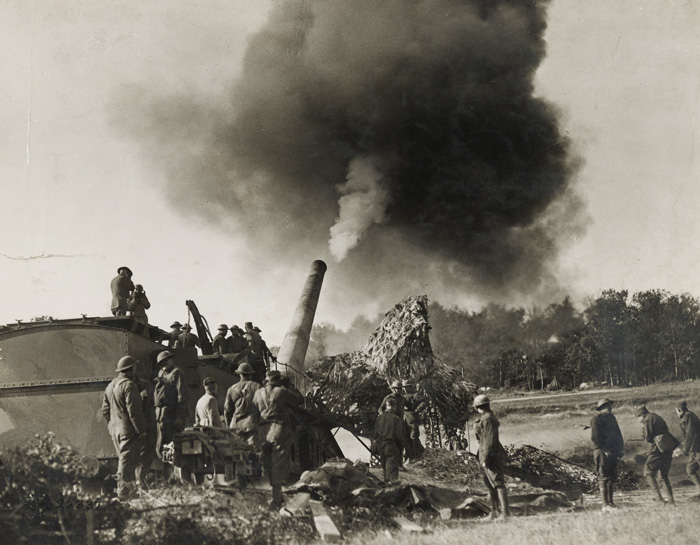 With a deafening roar this fourteen inch railway gun, manned by American coast artillerymen, sends its projectiles twenty miles away upon a German railway and troop movement center, such, at least, is the report of the airplane observer working in liaison with the gunners. While a set of these photographs was being snapped, the observer reported four clean hits on the distant target.


---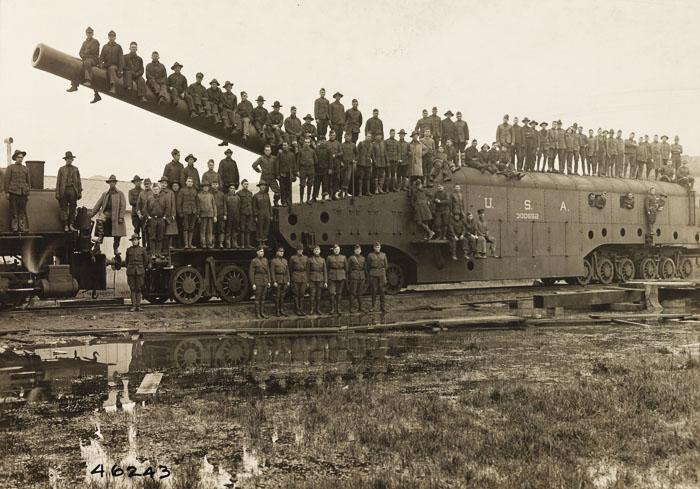 Railroad artillery ordnance detachment, and one of big 14 inch railway guns. Just before it was taken into shop to be disassembled and shipped back to US. Engine at left emphasises size of gun. Bassens, Gironde, France.


---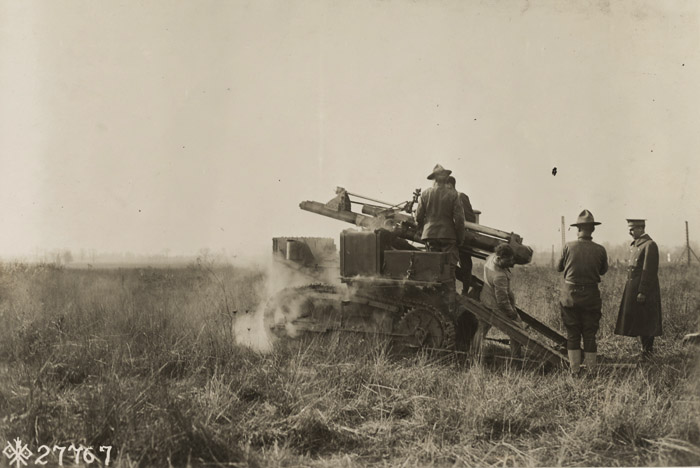 Aberdeen Proving Grounds. American 75mm gun in action.


---


Aberdeen Proving Grounds. American 75mm motorized gun going up hill.



---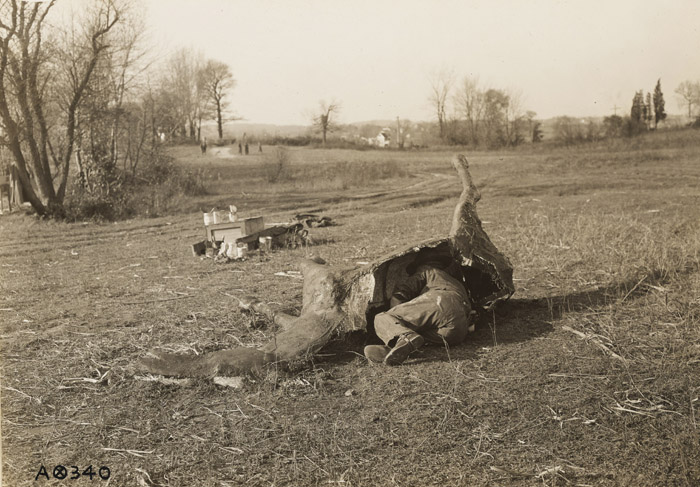 Soldier emerging from listening post camoflauged as carcass of horse.


---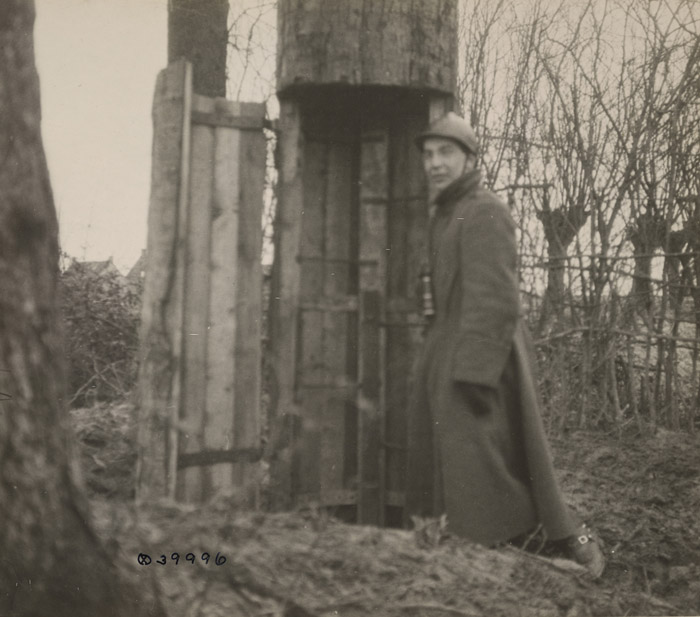 The door to the same tree, showing the ladder for climbing up. This tree was so small that when climbing up, the hands had to be held directly above the head. The tree was constructed by the Engineers of the 1st Belgian Division out of boards and odd materials, and is an example of what can be done within the Division at the front. It was erected during the winter of 1915-16, and was successful.


---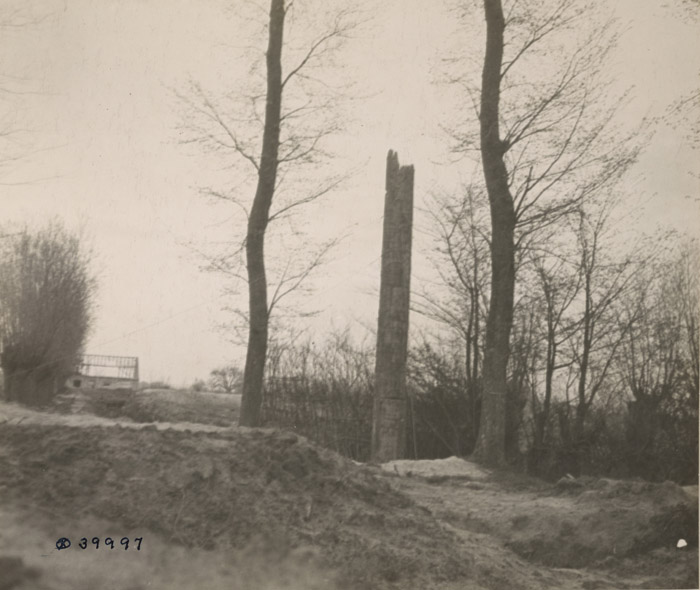 Artificial observation tree taken from rear.


---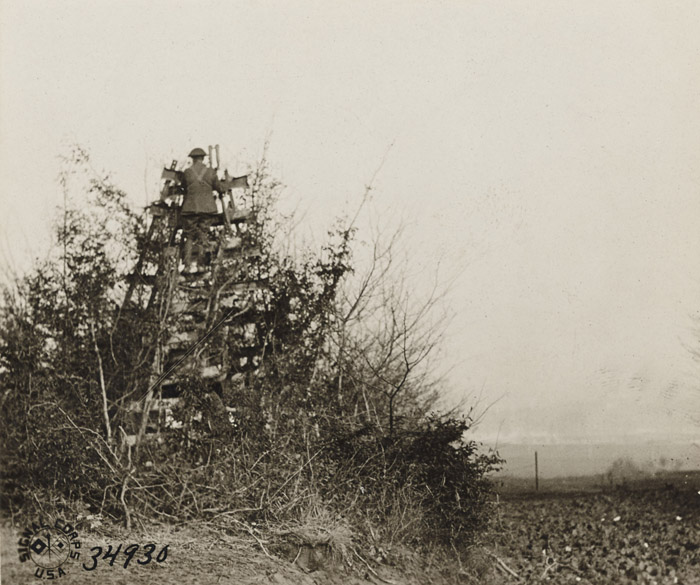 Observing post (tower) made of sections of light railway track, overlooking Laneuville sur Meuse and Stenay.



---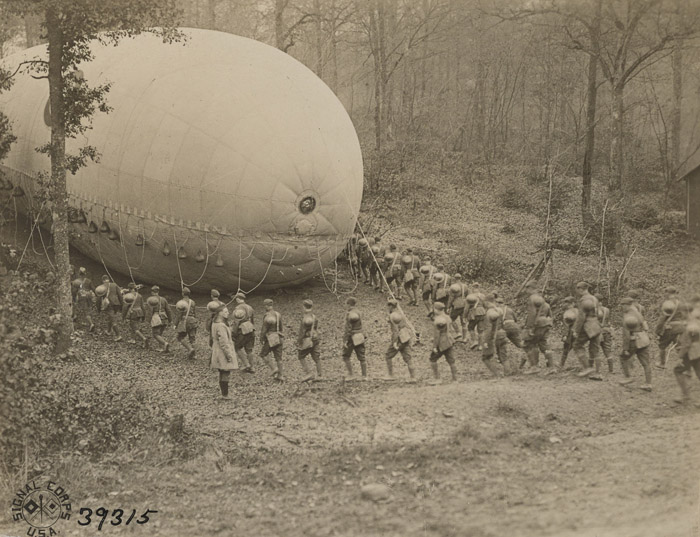 Maneuvering squad taking places at balloon.


---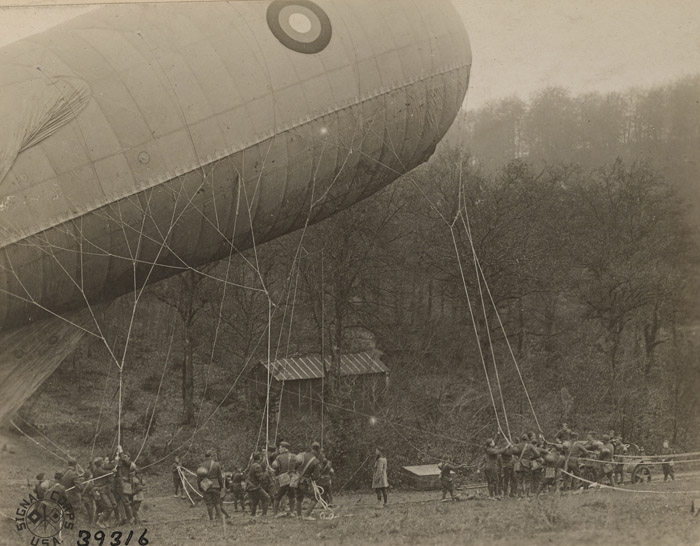 Ascension.


---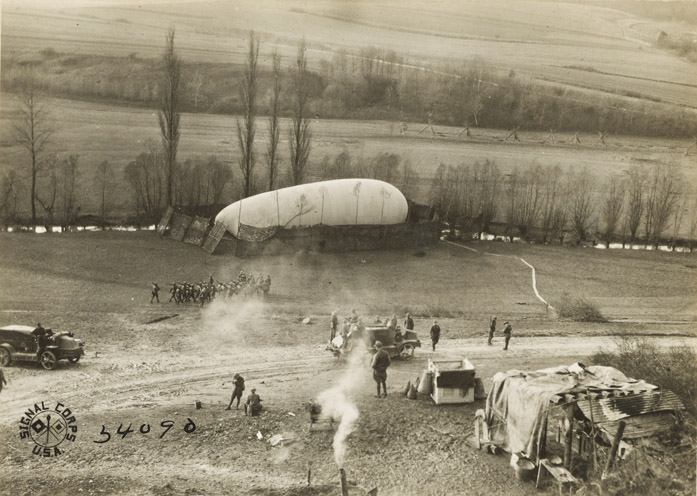 Maneuvering squad of 10th Balloon Company arriving at camouflaged balloon hanger, preparatory to sending up balloon for observation.


---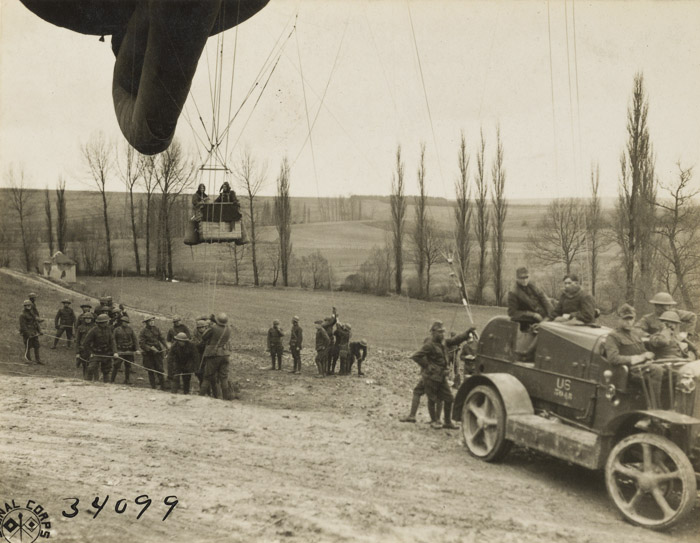 Grounding the balloon


---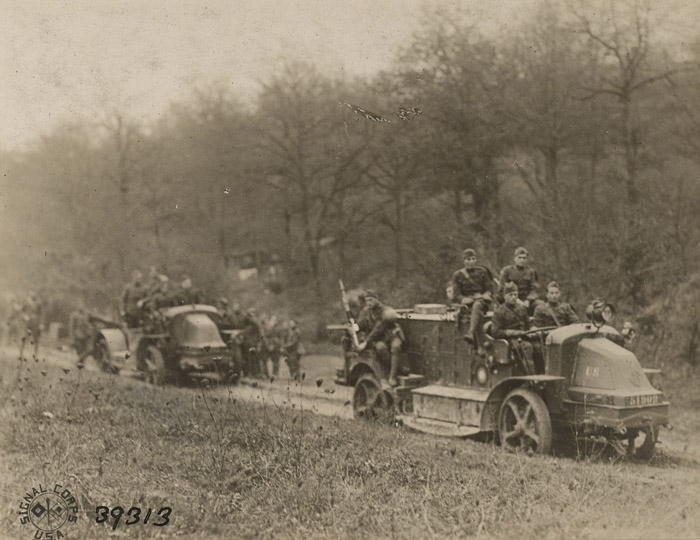 Operating maneuvering spider by means of which a burning balloon may be moved out of position, this prevents its falling on observers who might have jumped in parachutes.


---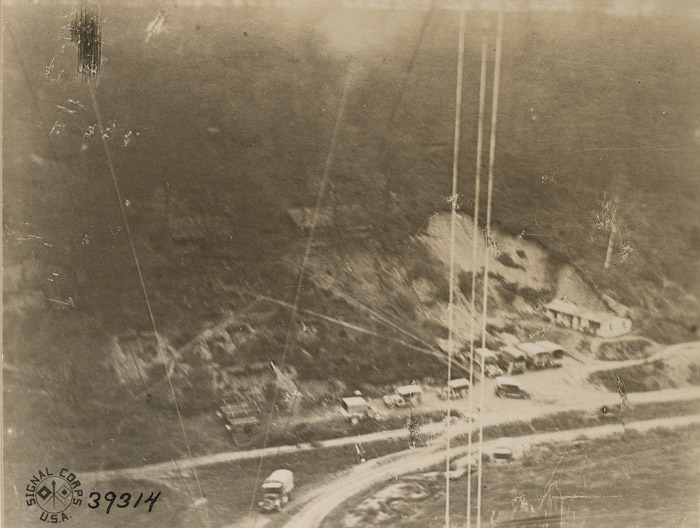 Operating maneuvering spider by means of which a burning balloon may be moved out of position, this prevents its falling on observers who might have jumped in parachutes.



---


Wearing German breast plates and helmets, with guns captured by the 80th Division. Mauser rifle, machine guns on left and big tank gun weighing 41 pounds on right.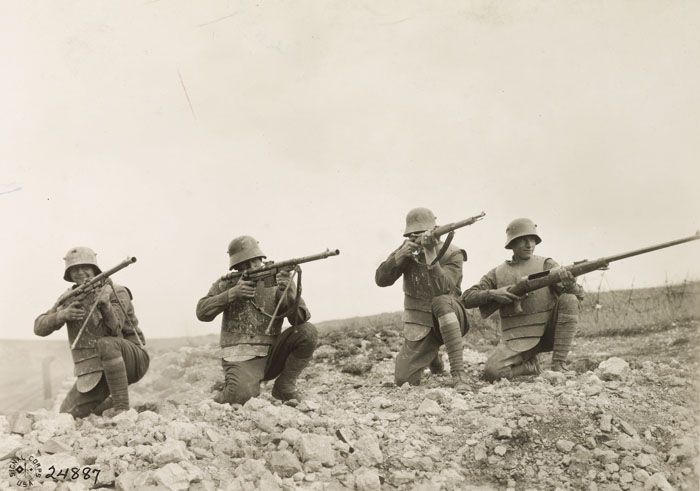 ---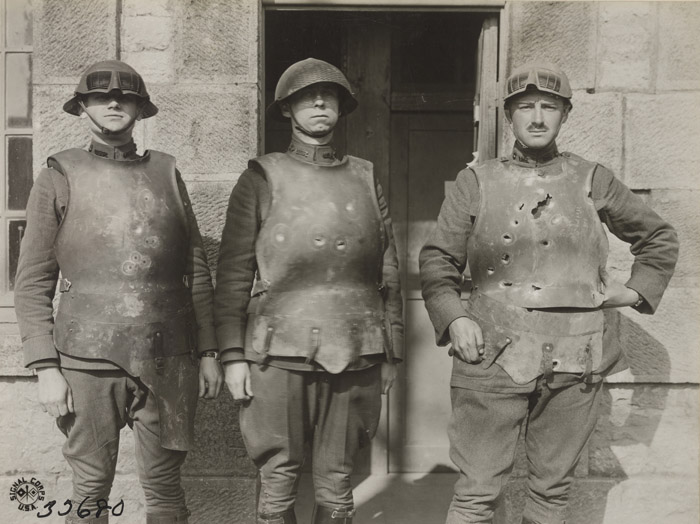 Result of body armor test. Heavy weight. Exhibit of body armor showing effect of pistol, rifle and machine gun fire. Ord. Dept. Fort de la Peigney, Langres, France.


---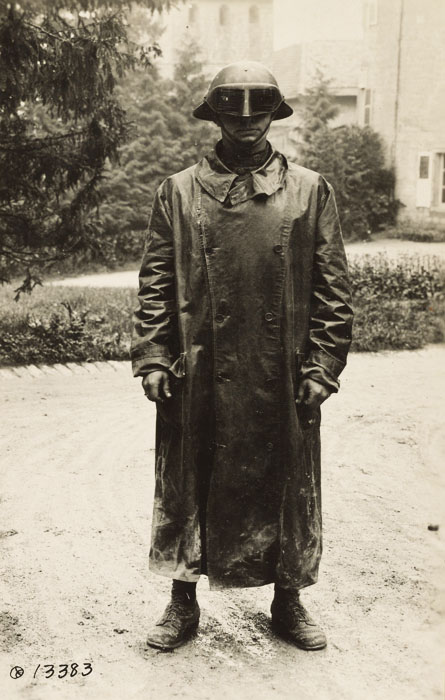 New style helmet with visor that protects the eyes - being submitted to the US Government, 26th Division, Boucq, France.



---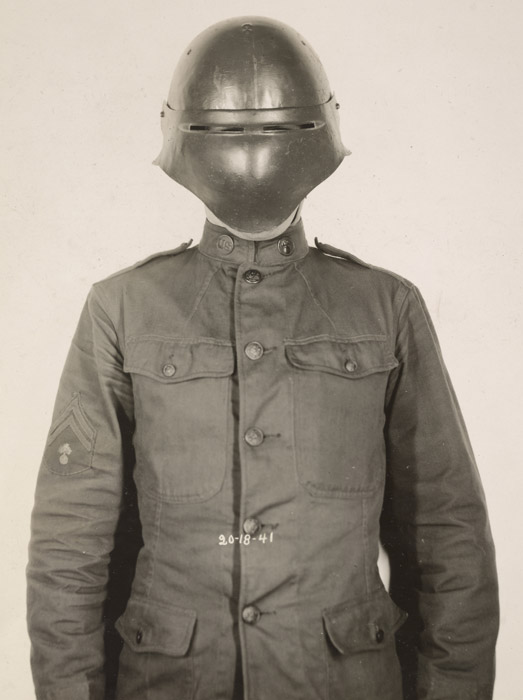 Experimental visored helmet for advanced positions.


---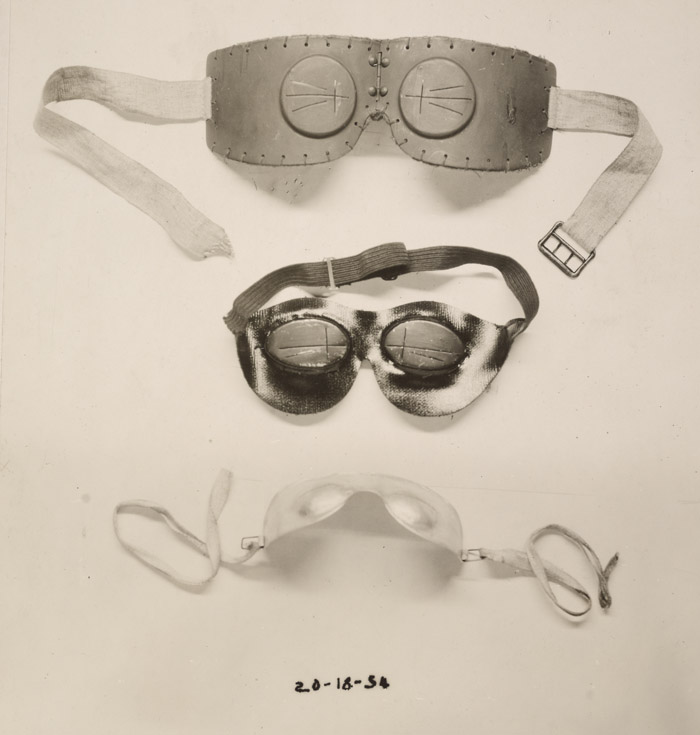 Goggles - splinter protector. From Eng. Div., Ord. Dept.


---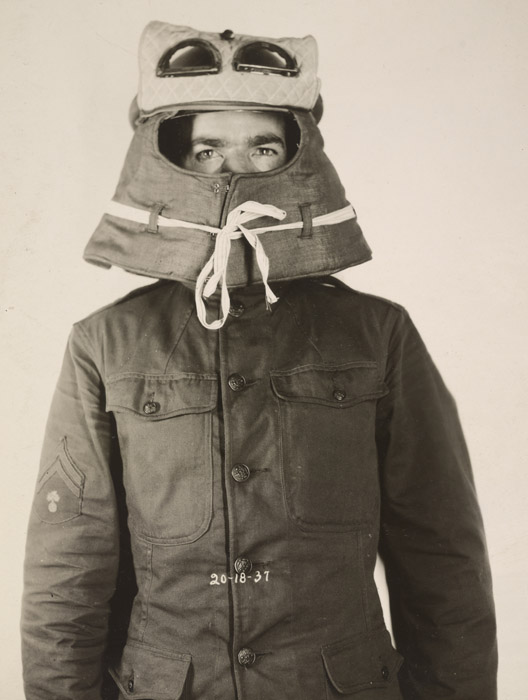 Armored tank helmet, model 15. From Eng. Div., Ord. Dept.



---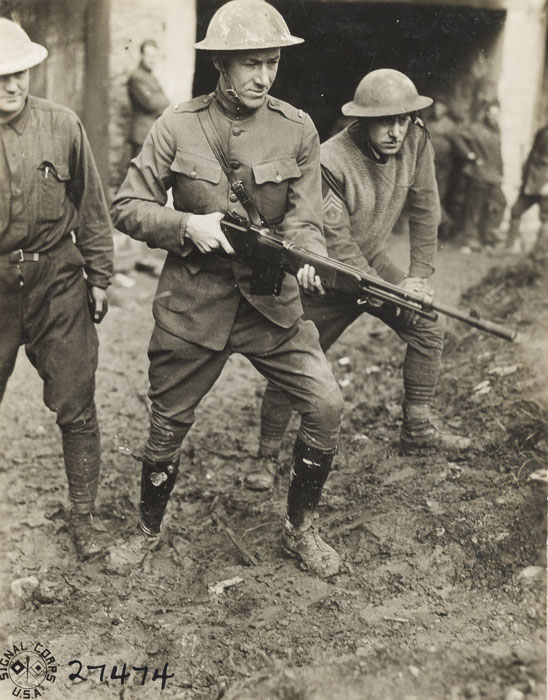 2nd Lt Val. A. Browning testing a Browning Automatic Rifle after being repaired by the 304th Mobile Ordnance Repair Shop, 79th Division.


---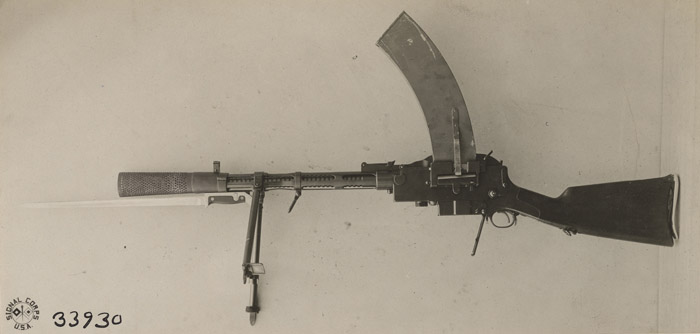 Semiautomatic rifle


---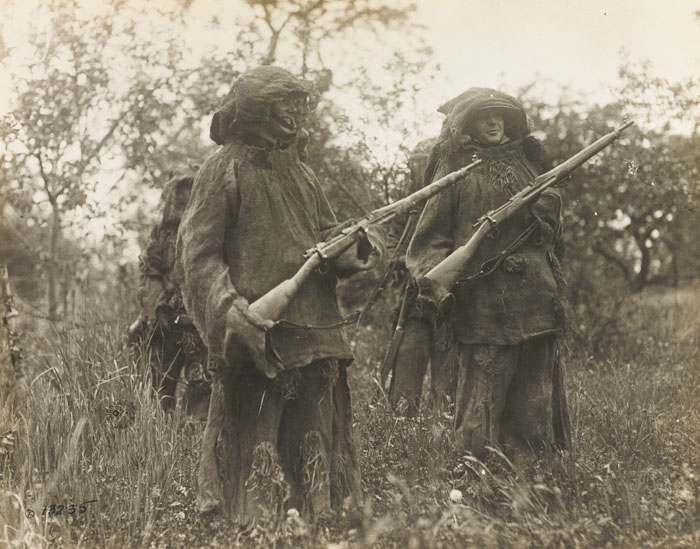 Snipers in camoflaged suits with camoflaged rifles.




---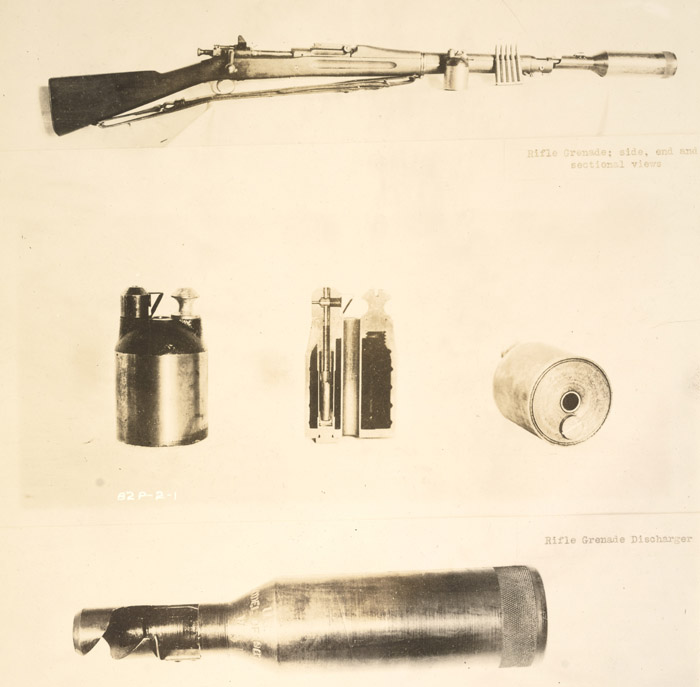 Riflegrenades. Top to bottom: rifle showing grenade discharger together with grenade and cartridge side, end and sectional views of rifle grenade; discharger.


---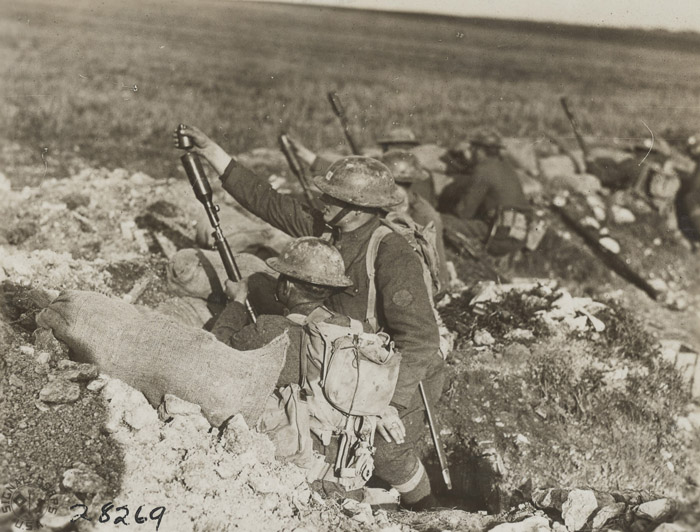 Americans inserting grenade into rifle.


---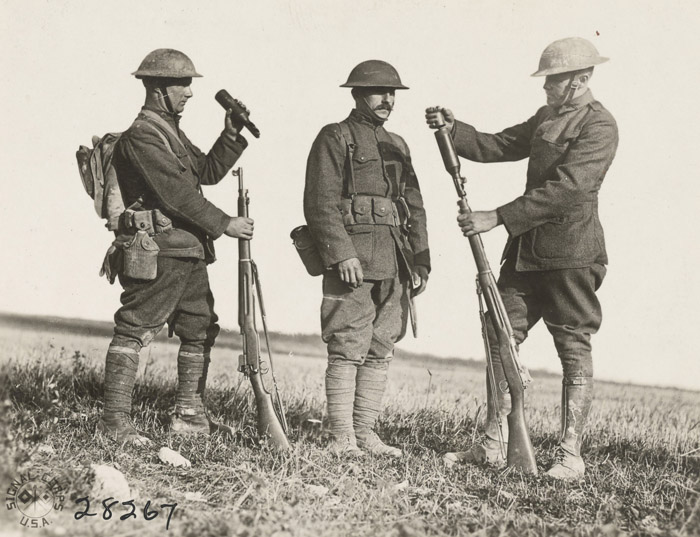 Attaching tromblons to the rifles.


---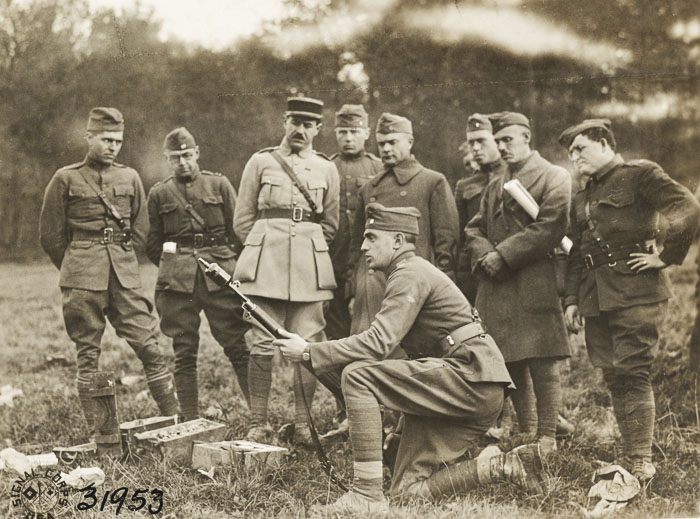 Cpt EC Popp of the Chemical Warfare Service, 1st Army Corps, showing the position of a rifle grenade when it is ready to fire.


---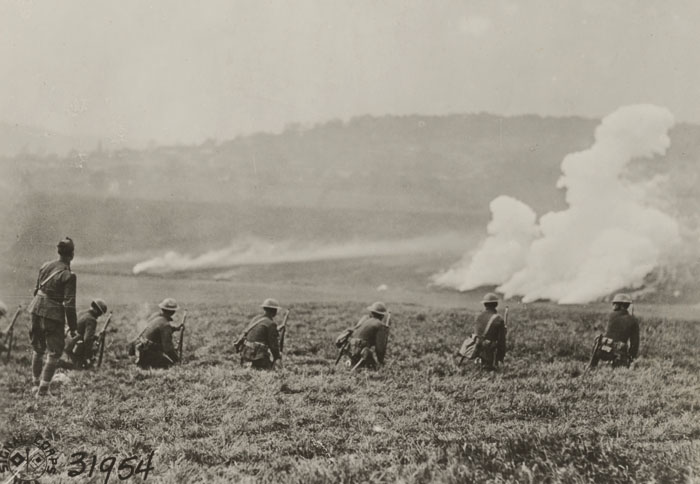 The phosphorous grenade is also used as a hand grenade. It is hit on the shoe and then thrown.


---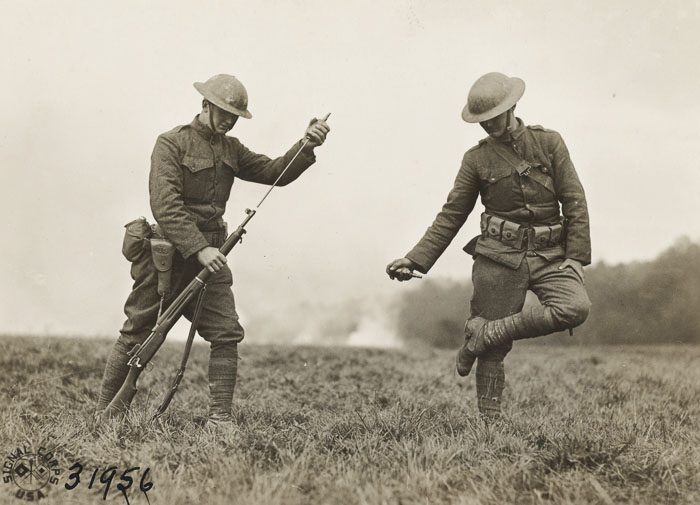 At left inserting a phosphorous grenade in rifle. At right shows how grenades are used by striking on the heel before throwing.


---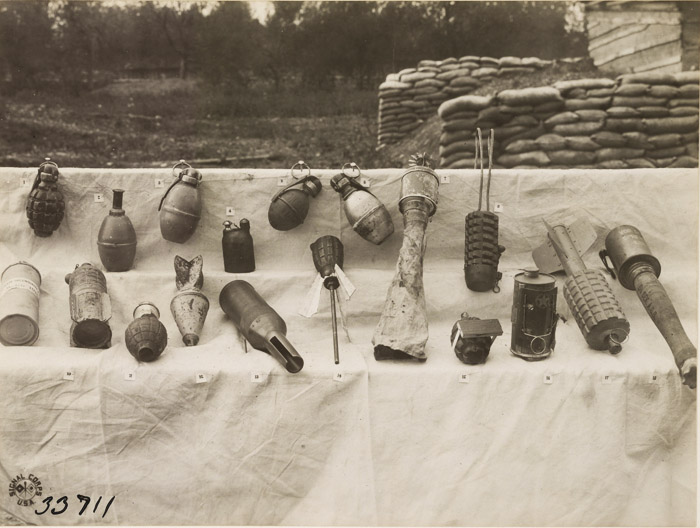 Grenades


---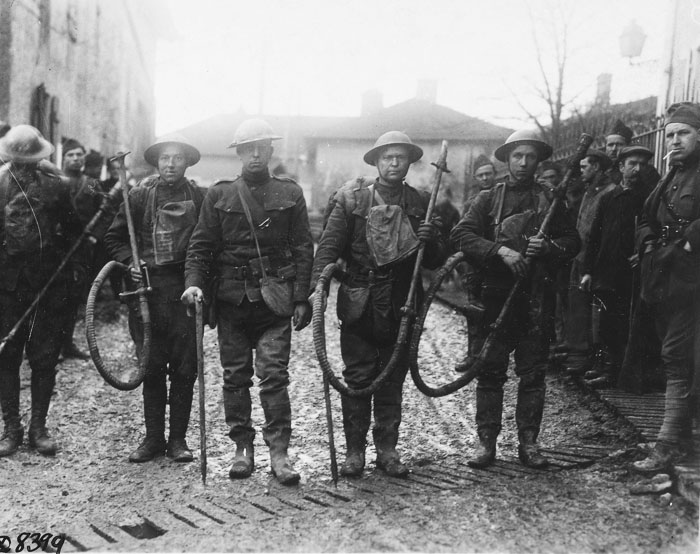 Liquid fire equipment captured from the Germans and brought back from No Man's Land by members of the US 18th Infantry after a raid on March 6, 1918, Menil-la-Tour.


---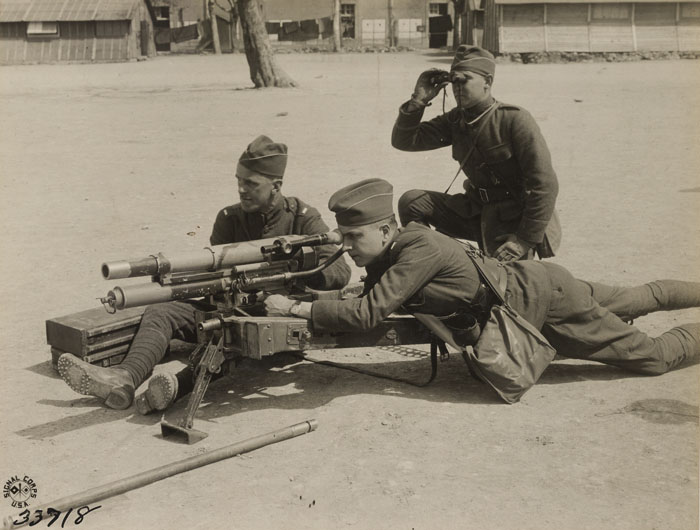 Firing position of 37mm cannon squad.



---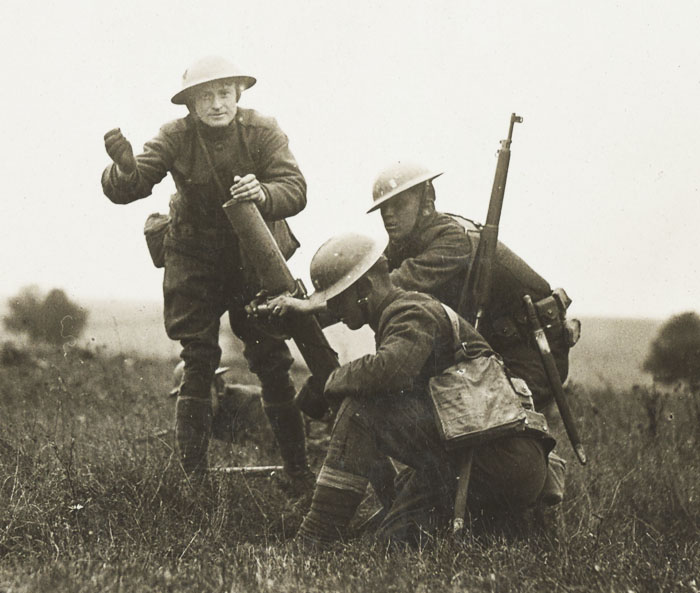 Stokes mortar in action in manoeuvers, loading. 318th HQ Co 80th Div.


---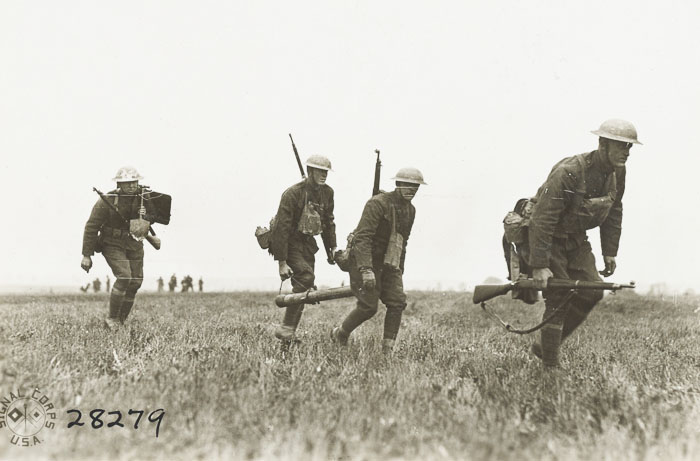 Advancing with Stokes mortar in Maneuvers. 318th HQ Co 80th Div.




---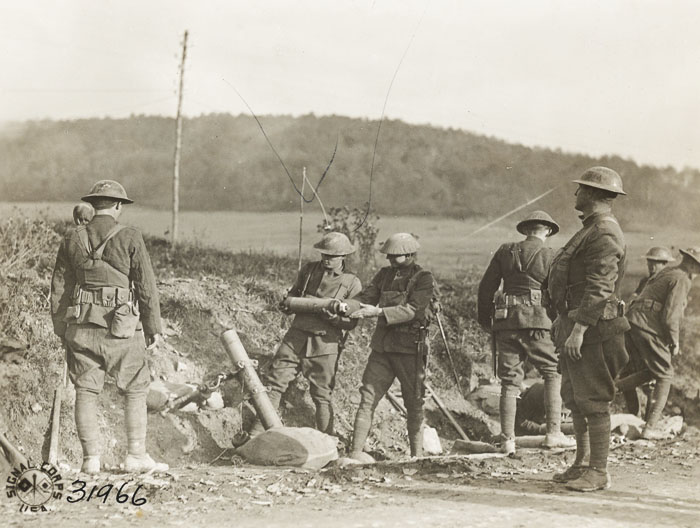 The loading and firing of phosphorus and Thermite shells by a trench mortar battery, manned by members of Co C, 1st Gas Regt, 80th Div.




---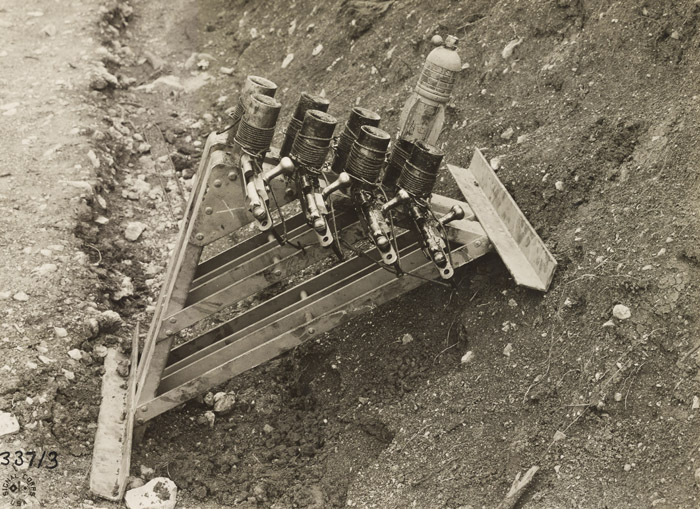 French C.R. Bombarder. D.R. grenade in position.


---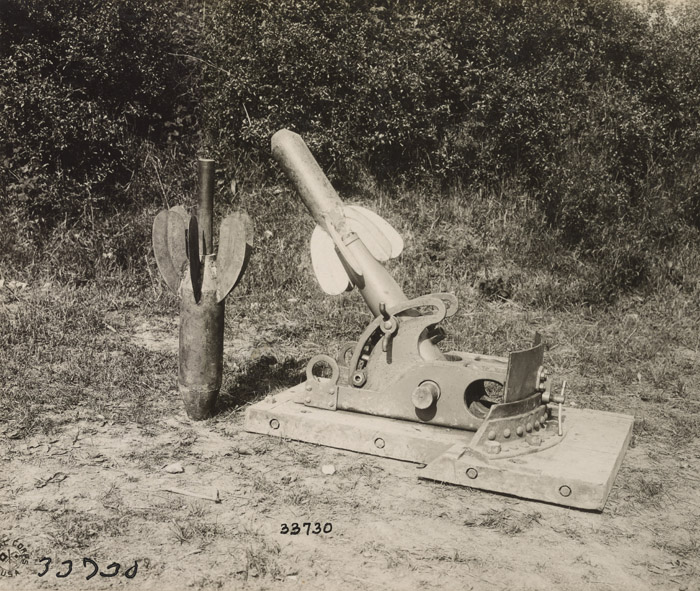 55mm trench mortar #2.


---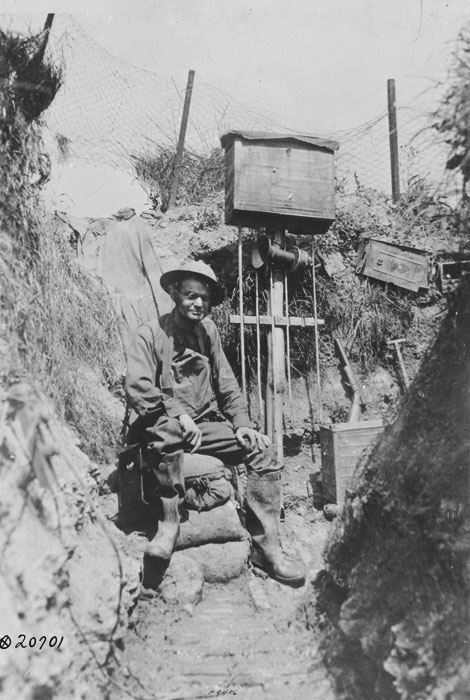 American soldiers on watch in the trench on the American front ready to give the signal in case of a gas attack.



---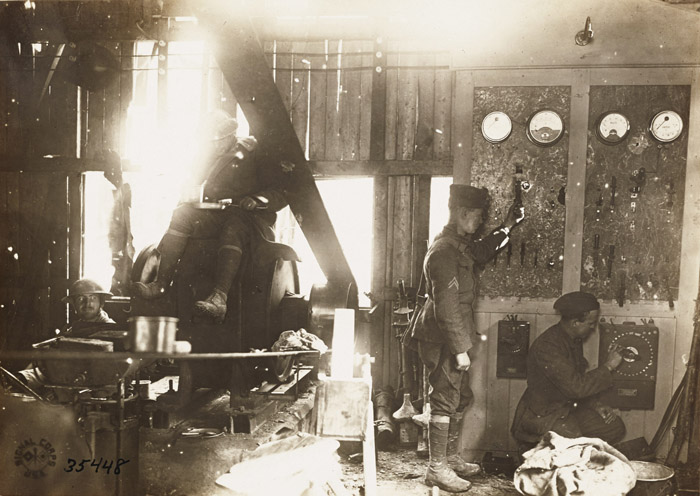 Generator and switchboard which were run by engine captured from the Germans. Stone quarry near Cunel


---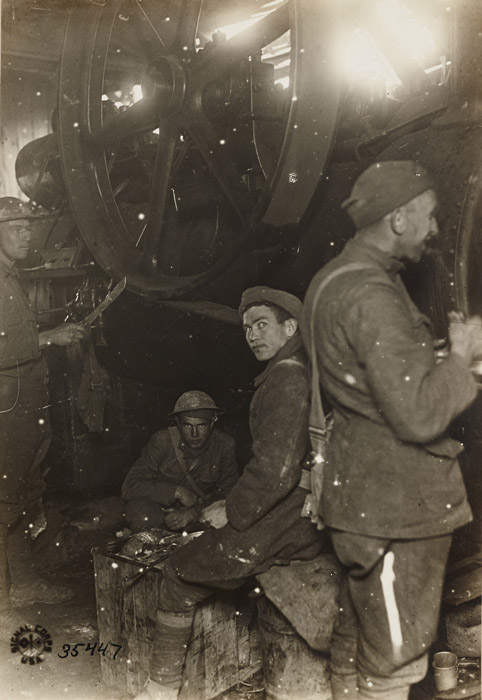 German engine used by the Germans for running a dynamo and members of Co D, 14th Machine Gun Bn. Stone quarry near Cunel.


---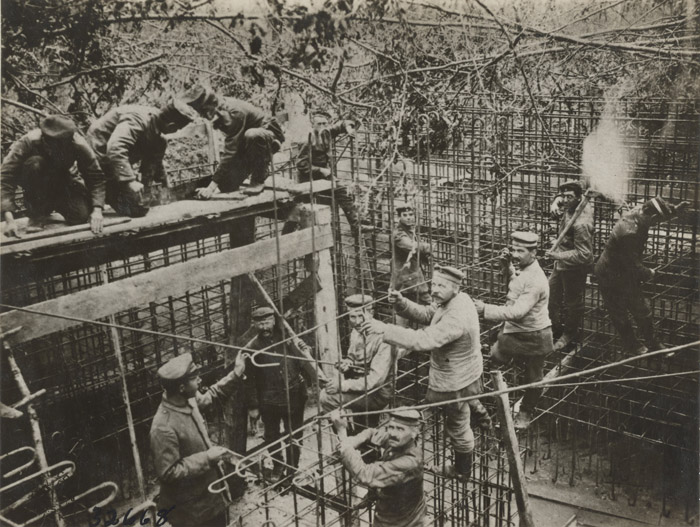 German soldiers constructing a building in Vaux, just inside the German lines.



---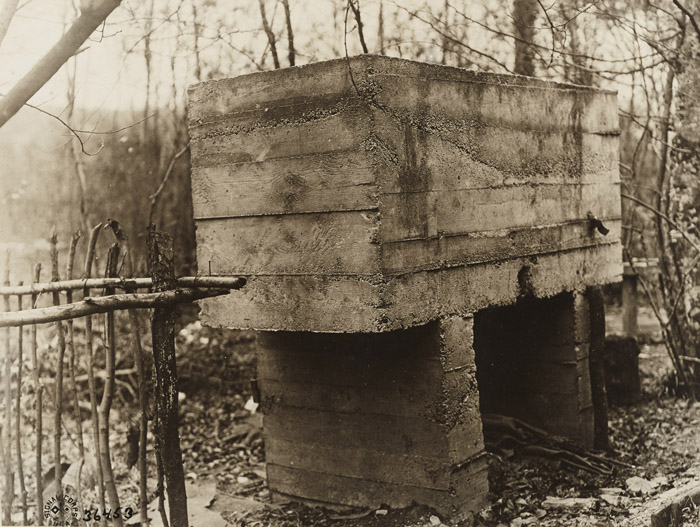 Cement tank about 8 ft high and square, erected by Germans for heating water.




---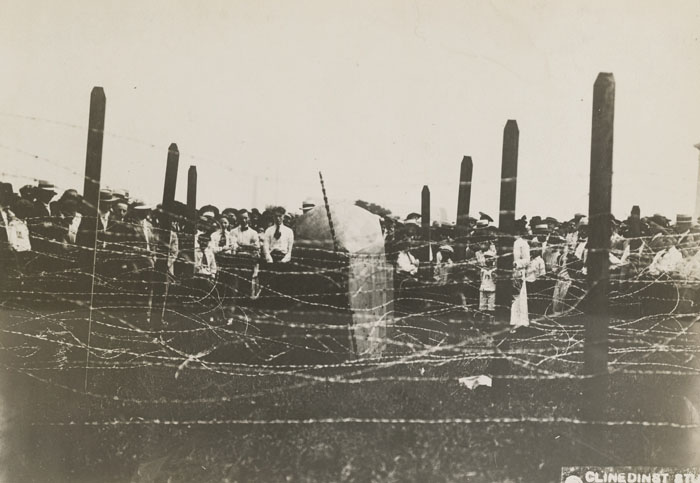 New wire entanglement cutting machine demonstrated before national legislators. A miniature tank wire entanglement cutting machine in demonstration before senators and represntatives on Congress made its way through the obstacles with little trouble. John E Logan is the inventor.



---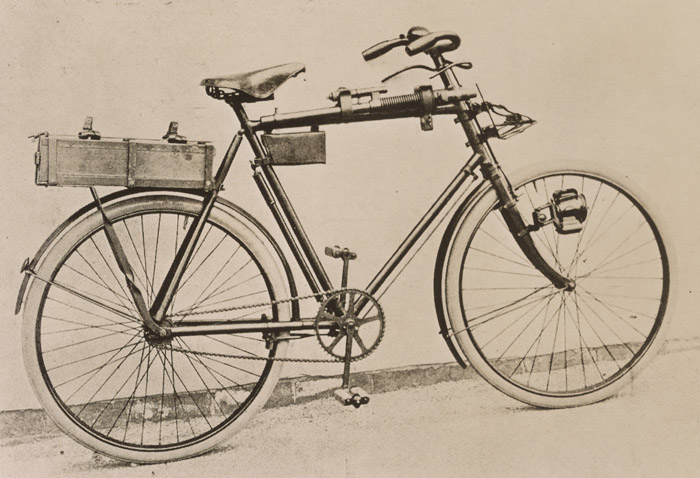 Bicycle with spare Hotchkiss gun barrel and ammunition box.


---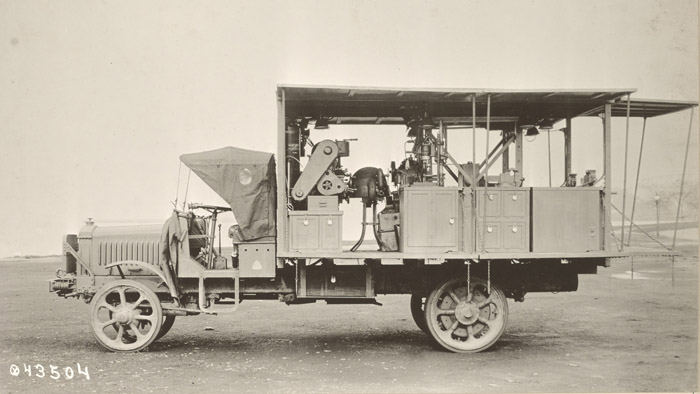 Portable blacksmith shop.


---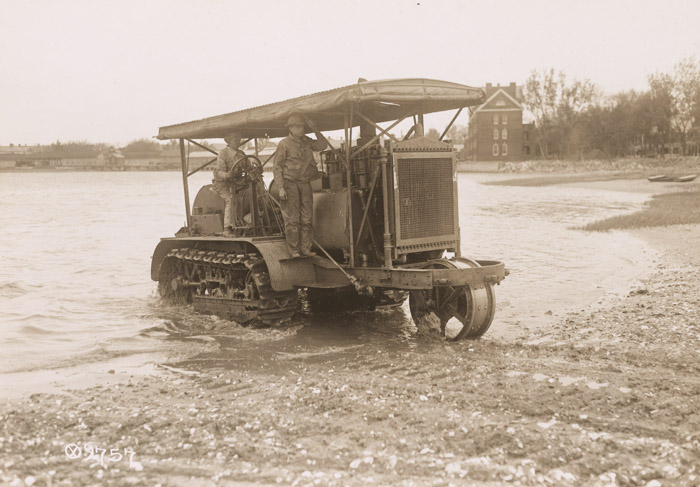 Caterpillar tractors employed at Fortress Monroe. Tractor fording a stream.


---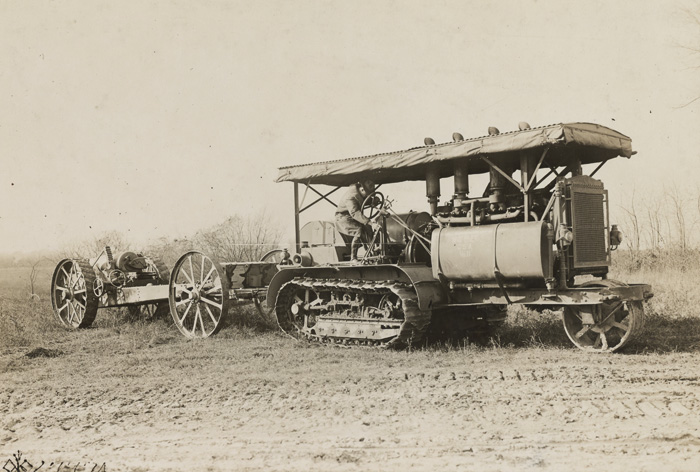 Aberdeen Proving Grounds. 8 inch howitzer being hauled by Caterpillar tractor.


---


Caterpillar tractor manufactured by Holt Mfg Co, Peoria IL and Stockton CA. Hauling supplies across roadless country, Big Bend District, TX, 1917. QMC.


---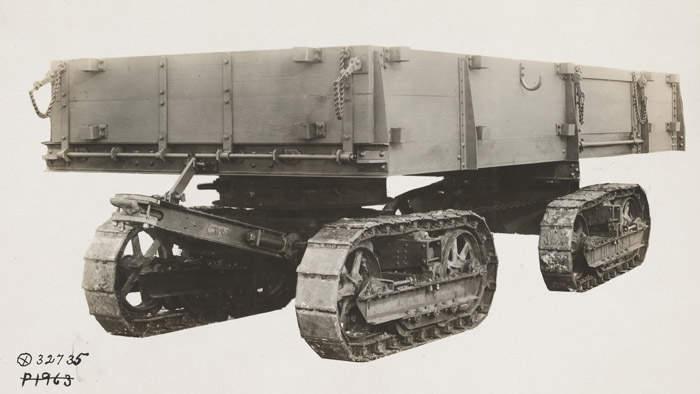 Caterpillar tractors manufactured by Holt Mfg Co. 16 ton Caterpillar trailer especially designed for QMC.


---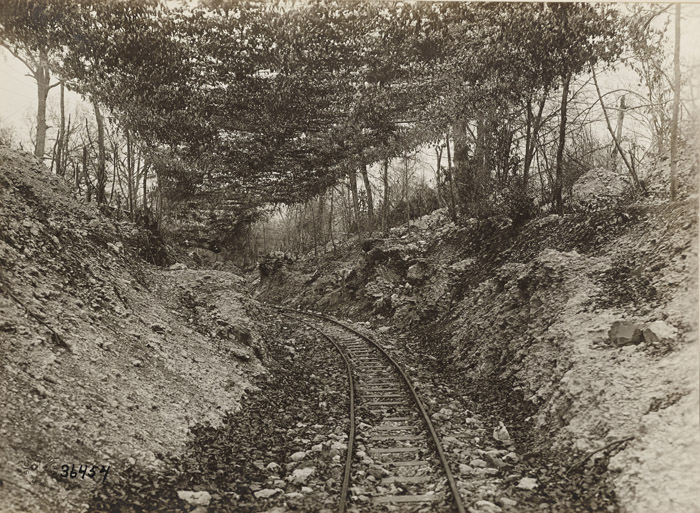 Narrow guage railroad, cut through solid rock. Note peculiar method of camoflage.


---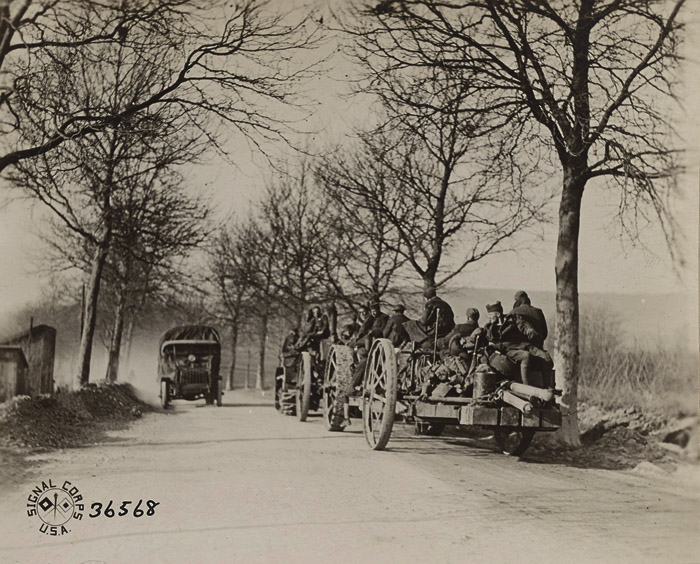 120 hp Holt tractors, 8 inch Howitzers in charge of 108th Supply Train (formerly dets. 7th Ill. Inf.) and Battery E, 58th Coast Artillery Corps, 33rd Div.


---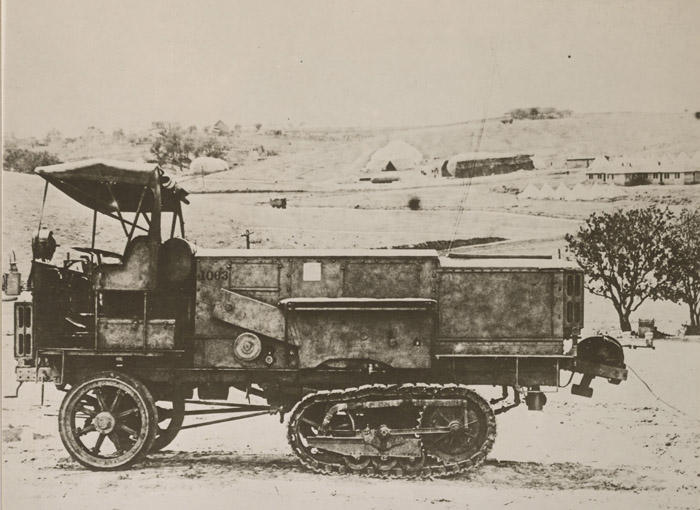 Types of equipment used by Motor Transport Corps. Left side view of Burton Winch with caterpillar adapter.


---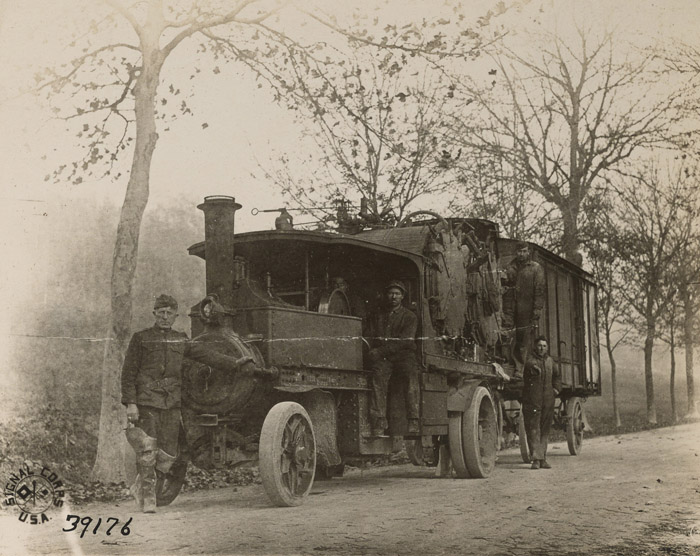 Delousing machine and laundry.



---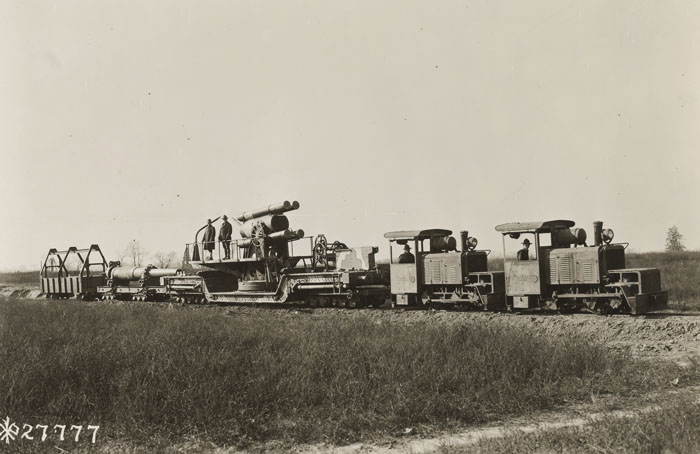 Aberdeen Proving Ground. 8 inch narrow guage armament train, complete with engines.



---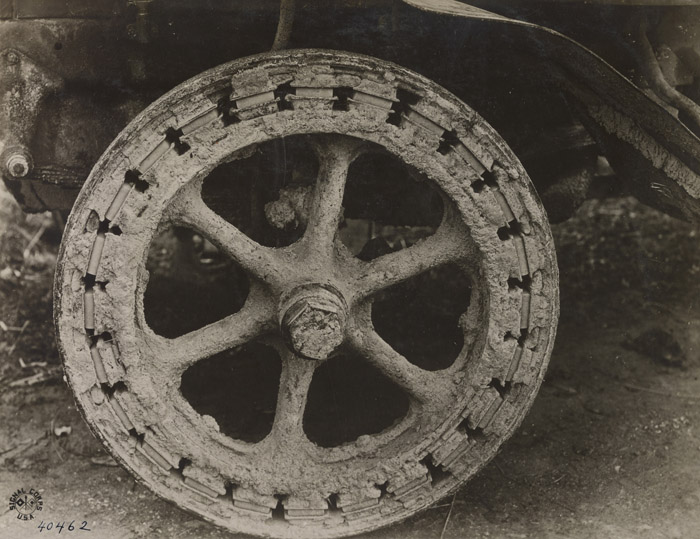 Close up of wheel that was much used on German trucks in order to conserve rubber. Rim is made of steel and pads between steel rim and wheel are of rubber.


---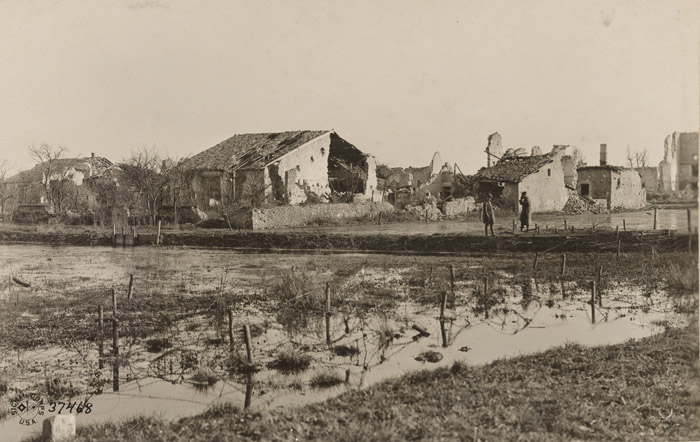 Dam which was used by Germans for flooding town of St Hilaire. this dam was mined but in the rush of American troops, Germans were unable to complete inundation of town.



---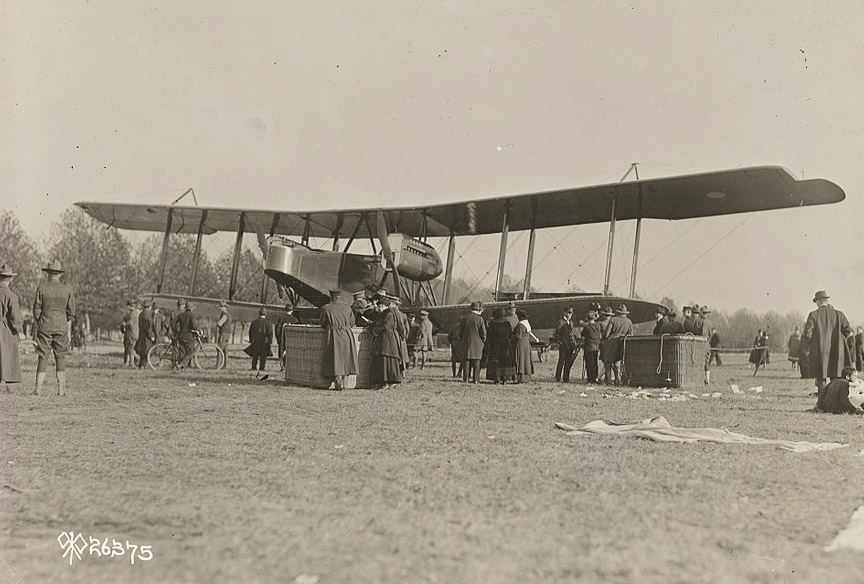 President inspects Handley Page bombing plane. The Handley-Page bombing plane as it landed on the polo field, Potomac Park, Washington, DC.


---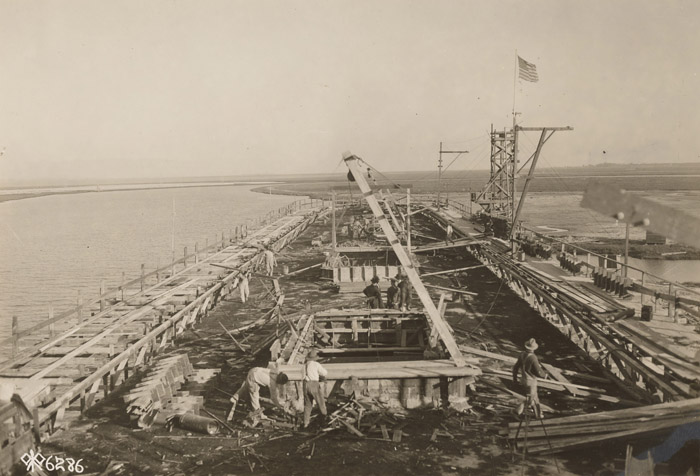 Construction of a 4500 ton reinforced concrete ship at Redwood, CA. This concrete vessel will be launched March 14, 1918.



---