9th Field Bn. Artillery Position
This area was occupied by tour member Mr. George McGinn and his artillery unit, the 9th Field Artillery Battalion late in the war. Unlike the other three artillery battalions in the 3rd Division, the 9th was equipped with 155mm howitzers instead of 105mm howitzers. Even when the rest of the division withdrew, the 9th FA remained to support the ROK troops. This area is in the vicinity of map coordinates 570360. For Mr. McGinn's wartime photos of the area, click here.
As we were walking up the valley we met a minister who was taking a van full of children to his church. The minister stopped and expressed sincere graditude to the veterans for their service. He lost six family members in the war, two presumably murdered by the communists. He served in a tank unit in Vietnam and later became a minister.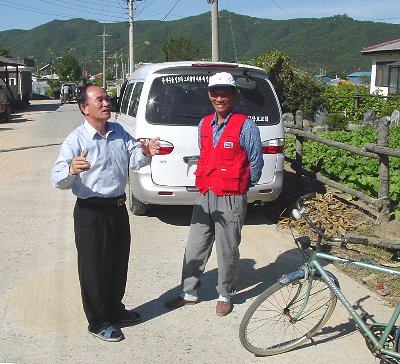 The minister is on the left.
---

This is a panoramic view of the artillery position. The artillerymen slept in tents until they built their own bunkers, usually dug into, or at the foot of, the ridge. The howitzers were in the valley to hide their position. Some artillery units during the war occupied ridgetops, but this was risky. The left of the picture is looking north. The right is looking east. The orange tarps in the road are for drying rice.
---