Illustrated Travelogue and Travel Advice
I had planned to travel around Britain on the train and by bicycle, but on arrival I soon abandoned all thought of bicycling and walked instead. Nottingham, my base city, is of a comparable sized to my hometown, and it appeared bicycle friendly on the internet. In actuality it was more like Washington DC than Roanoke, and this combined with the awkwardness of driving on the left was enough to make up my mind. Oddly, it appeared as though starting a bike tour from Heathrow was entirely practical as it is very close to the countryside. Bicycling in the countryside seemed practical, but I wouldn't want to venture into a town of much size. With the exception of the southeast (a bad place to have to ride the train), it appeared easy to bring your bicycle on the train if you have the courage to get to and from the station.
I'm happy to report that I did no driving, and that may explain why I'm still alive today. Someone with experience driving in a big city would probably be more suited to attempting to drive, and we found that my services as navigator were vital, if inadequate, in areas we were unfamiliar with. Although streets in the city are indicated by nearly invisible signs on buildings, more important roads are pointed out with markings written on the pavement indicating which lane to be in for a particular destination. Traffic circles are common but weren't as annoying as expected since there are stop lights all around them.
I also found that simply navigating on foot almost anywhere was a problem due to the complicated street layouts, the placement of street signs on buildings - and the near invisibility of the sun. If I return, I will bring better city maps and a compass. Crossing the street even took some getting used to, especially in Nottingham where pedestrian signals blinking green actually mean it is unsafe to cross! On the bright side, all the walking combined with the mediocre food and skipping lunch meant that I lost a good bit of body fat.
My two week off-season rail pass was only $304 on sale, and it proved very useful. It would have been much more expensive to buy tickets for individual journeys. One problem I foresee for the future is the reserving of seats on the train. It could interfere with the loose schedule of the tourist. Since I visited in off season, a number of tourist sights were closed, but there was still plenty to see within walking distance of the train stations, plus I got to see Britain as it is on a regular basis without a lot of other tourists getting in the way. The train is a decent place to meet people. I even talked with an Oxford history professor on his way back home from London. And since British train travelers are always reading something, you can get their used magazines and newspapers for free when they leave.
Not surprisingly I found the British people were wonderful. Everyone was helpful and polite, and I was pleasantly surprised that the women looked happy for absolutely no reason. (Of course there is plenty of reason to be happy, but it is easy to take these things for granted.) Younger people like using the f-word and are more difficult to understand as there is an attempt now to return to regional dialects, and as a result even the British people sometimes have difficulty understanding each other. The only person who had a great deal of difficulty understanding me was a Spanish immigrant lady working at the pizza place. She thought that I was British and had some odd accent she wasn't familiar with yet. I was in London when Dubya was visiting, and the locals on the Underground seemed annoyed with it all, although they remained polite. They did seem to have an irrational fear of being shot by secret service agents, and one man discussed with me the movie "Bowling for Columbine", which he must not have seen as being leftist propaganda. I have no idea what the typical Brit thought, but there were "Stop Bush" signs up all over the place even though the wacko-peace demonstrations in London that I saw were not well attended.
My first evening in Britain I had a small order of noodles and a coke with a lemon for around $10. It was served by an efficient and excessively perky waitress. It wasn't bad, but it was enough for me to become a regular patron of Burger King. Since the sights are open for only so long, I regularly skipped lunch and instead made use of BK's super sized menu options, which provide enough food for two sedentary people. I did try a Cornish Pastry and a Ploughman's Lunch, and they weren't bad. A white sausage I had on my last day in Britain had an explosive effect by the time I got to the airport, and an episode of Leno I saw after I got back led me to believe I had eaten pig brains! The all-you-can-eat pizza buffet was disappointing because like most restaurants there are no drink refills, and the pizza had little in the way of sauce or toppings. The food at the grocery store wasn't especially good either. The Brits have managed to make a mediocre spaghetti TV dinner and a completely tasteless ranch dressing. How can anyone possibly mess them up? Well, you don't go to Britain for the food.
Most nights I stayed with my friend in the luxury serviced apartment, but for the weekend we traveled to Portsmouth and stayed at a bed and breakfast. Compared to hotels, B and B's are the affordable lodging option, and they served us fine. Finding them was a definite problem, so if I return I'll make better advanced preparations. When my friend returned to Nottingham, I set out by myself to Dover on the train. It ended up being the hardest day of the trip. It was raining, and I had to find a B and B with a wet map of an incomprehensible road layout. Eventually I did find a place, but it was so small only a skinny person could squeeze into the shower.
For November, the weather was good. I remember only a couple of days throughout the two weeks in which it rained to any degree, but I'm told that this changed to a more normal condition after I left. Most days I could get around without any sort of sweater or coat, and the temperature was in the 50s. By the end of my vacation, it seemed like it was starting to get dark around 3pm.
---

For what it's worth for your planning, here is the travelogue of my epic marathon tour.
Sunday-Monday - Drove from Roanoke to DC. Driven to Dulles. Took British Airways to Heathrow then went through long lines at immigration. Met Dr. K, and he rented a Range Rover. Ate a small overpriced breakfast at McDonalds outside the airport. Driven to Nottingham with a short stop at the Naseby battlefield. Travel on country roads wasn't bad, and the battlefield was a good visit despite being a single stop. We found it very difficult and frustrating to first find the area of the serviced apartments in Nottingham then the apartments themselves, this despite asking several people, including an employee in the post office, a pedestrian, and the owner of an antique shop that ended up being just down the street. The parking permit machine didn't work, and a parking policeman was nearby. After much frustration, we finally found the place. After getting unpacked, I walked around town getting completely lost, finding my way back only through luck and the help of others despite having a good street map. I was surprised to see graffiti and litter and later found out that this meant it was a bad neighborhood. We ate at an Italian place across the street then walked around town again into a bad neighborhood to a small grocery store. We saw a crime scene with police tape and flowers, a strip club, some wildly expensive stereo equipment in a business window, and some pretty unimpressive people in the bad neighborhood. We had been awake almost an entire day, and we felt like it.
---
Tuesday - Had breakfast of cereal, peanut butter crackers, and Dr. Pepper. We explored the city in the Range Rover, finding and shopping in the Victoria Shopping Center. Changed money at a travel agency and bought an atlas, which ended up being very useful, at the bookstore. I found it somewhat difficult to understand the clerk. I was dropped off at the train station and took the train to Leeds through Sheffield. I learned to ask for the quickest train to the destination after taking a slow train into Leeds with many small town stops. I found the Royal Armouries with surprising ease considering previous experiences and spent the afternoon there. There was plenty to see in the armouries, but much of the armour was repetitive, and the 18th century section was a disappointment as it was small. I didn't have time to see the oriental section or the hunting section, but I had a good time seeing the sort of thing we don't have in America, including the Siborne model of Waterloo. For your touring advice, upon visiting the other two Royal Armouries sites later in the trip, at least to my tastes the Leeds site was the weakest of the three, but I like artillery. Since I skipped lunched, I had a large value meal at Burger King in Leeds and took the train back.
---
Wednesday - Had spaghetti TV dinner for breakfast. Took the train to London's interesting but diesel fume infested St. Pancras station. I was intimidated by the prospect of using the Underground, so I walked about two miles to Westminster and found the Banqueting House closed but visited the Jewel House, a moderately interesting exhibit on the history of Parliament. Westminster Abbey was smaller than it looked on TV and visitors have to pay to be herded through narrow passages chocked full of dead people. Pictures were not allowed. This would be common in many places, and I eventually determined that it is all about money. For a military history buff, Lord Ligonier and Stringer Lawrence were conveniently near the beginning of the tour. I can't help but wonder what small percentage of visitors have any idea who they were. The War Cabinet Offices were not that impressive and were my introduction to the annoying handsets with recorded tour info that seem so common in Britain. I then walked to Guards Museum which was closed, then walked past Buckingham Palace, visited Apsley House, one of the few places open in the late afternoon. The place is chocked full of military history art and Wellington items. Amazingly, they did allow photos. I stopped at a little shop to buy trinkets of London buildings from a middle eastern immigrant then ate at Burger King in Piccadilly Circus. This BK charged to get into the bathroom, but I conveniently had my rubbing alcohol in bag along with probably too many other things, including coats. Numerous people got entangled in the bathroom entrance cage to my mild amusement. I continued walking to the wrong train station, wondering why it looked so different until I asked the ticket man, then walked to St. Pancras station for the train to Nottingham. I talked history with a retired Oxford history professor on the train. His specialty was Japan and he talked about Gen. MacArthur but was unaware of some of his major foibles. We had both been to Korea near the DMZ. It was a very difficult day, and I was sore from the miles of walking. I resolved to have an easier day tomorrow.
| | |
| --- | --- |
| Diesel fume infested St. Pancras Station, an architectural landmark. | The beginning of a truly fruitful conversation. |
---
Thursday - Had a spaghetti TV dinner for breakfast. Went with Dr. K to Sainsbury's grocery store to buy bad food and was dropped off at the train station. I took the train to Sheffield then Leeds. I had intended to visit York but decided to stay on the fast Virgin Voyager train when I found it was going to Berwick. I walked into town passing army recruiters at the city walls. I then visited Berwick barracks and its history museums. The barracks exhibits were decent, focusing on the soldier's life in the 18th and 19th centuries but didn't tell me much more than what I'd read before. There was a good miniature regiment on display and a diorama of Minden. I walked some of the city walls and made my way back to the station. I ate "bacon" (ham) on a bun, a granola bar, and Cornish Pastry in Berwick station for dinner then took the GNER train back to Nottingham and visited a pub with Dr. K. Since I don't drink, I had an awful lemon flavored non-alcoholic drink. It was a relatively easy day in order to rest from the day before, and the pleasant train ride took up most of the day.
---
Friday - Had a spaghetti TV dinner for breakfast then dropped off at station. Took train to London. From my last London visit, I was well motivated to learn how to buy an all day pass for the Underground. I took the Underground to Aldgate, and the trip was delayed and cut short by a strike on account of track safety. I visited the Tower of London for 3-4 hours which apparently impressed a Beefeater. I asked him some questions to see if I'd seen everything, and he remembered me coming in hours before. November was a good time to visit. As it was, visitors were herded like cattle, but fortunately there were a fairly reasonable number of us. I even had the opportunity to linger at the more interesting ordnance exhibits. Since the lines were short, I saw the crown jewels. Visitors are herded through lines watching TV shows about the royal family. I walked right through them straight to the bling bling. I wasn't too impressed as they are just shiny rocks and valuable only because people think that they are. Maybe it's just me and my priorities, but I was more impressed by the cannon. I then visited Tower Bridge as it was getting dark, and I was running out of time. The exhibits on bridge operation were only mildly interesting and were greatly overshadowed by the view. I walked along the south bank of the Thames, which had a surprisingly strong current and stopped inside a building with a large indoor palm tree. I crossed London Bridge and ate dinner at Burger King, then walked to get a night time view of St. Paul's then took the Underground to Westminster then St. Pancras station (delayed by strike). The train was delayed to Nottingham.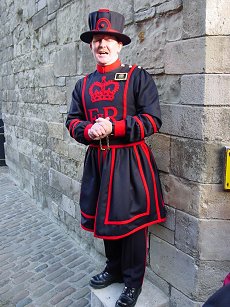 Mr. Beefeaterman
---
Saturday - Had spaghetti TV dinner for breakfast. I was driven down to Portsmouth by Dr. K for our weekend outing. He was somewhat unconvinced that Portsmouth was the place to spend the weekend because all his co-workers wondered what was there. By Sunday he was entirely convinced. We were delayed and detoured by a traffic accident near the Royal Armouries but found the location after a somewhat frustrating roundabout country route. We toured the Royal Armouries at Ft. Nelson. I was especially impressed by the artillery and thought it was a definite highlight of the trip. It seemed like hundreds of pieces were on display, all of them impressive in some way. Even Dr. K enjoyed it! We ate lunch at the cafe in the fort, toured some more then drove into downtown Portsmouth and parked. We walked to tourist center near old dockyards entrance and got info on bed and breakfasts. I should have known that the brick wall we walked along was the dockyard wall but didn't. A hotel we visited had no vacancies, and we had great difficulty navigating and finding the B and B locations. It was very frustrating - on a par with our first day in Nottingham. We had dinner at Ken's Kabob's and Pizza. A middle eastern employee had visited Washington DC and was very friendly, although Dr. K thought another middle easterner was giving us the skunk eye. We briefly entered a youth oriented pub, and I was pleasantly surprised to see a "South Park" video game or ad. We walked to and along the Channel Coast beach in the dark past Southsea Castle and went through a gambling facility. A popular game seemed to involve putting in a coin in the hopes of tipping others down to the payout slot. We stopped at a hotel bathroom and discovered that British tradition is to eat out on Christmas Day.
| | |
| --- | --- |
| An Armouries employee wasn't too happy about this kid's behavior, nearly "going Higgins", but it sure made a good picture. | Why are the ladies at Ft. Nelson happy? Because they're British, that's why! |
---
Sunday - Breakfast at B and B. We walked the entire Millennium Walk along the Channel coast, old forts, and the old port areas to the dockyards, so it was late morning when we arrived. (A probable mistake.) We visited the Mary Rose museum and barely made it on time to the 12 or 12:30 tour of HMS Victory - which was the only time we were allotted to see it. Like many places in Britain, photos weren't allowed on board. We visited the Mary Rose remains, but since it was so dark and wet, and since the windows were dirty, it was hard to see much. We had lunch at the pub just outside the dockyard gates and thought we were a slight annoyance since we didn't know how things were done. We returned and visited HMS Warrior. In its own way, the Warrior is almost as interesting as the Victory, especially for the mechanically minded. We visited the other museums, and I took quite a few pictures before an employee politely told me that photos aren't allowed. It wasn't quite enough time to see everything, but the dockyard exhibits were a definite highlight of the trip. The two days of the weekend were probably the best of the trip, and we didn't even have time to see all the area attractions. (Like Buckler's Hard.) Dr. K left for Nottingham, and I ate dinner at Ken's Kabob's and Pizza then stayed the night at the same B and B.
---
Monday - I walked to the train station and took the train to Havant. The Havant to Brighton train was cancelled, and I lost at least an hour. I took the train to St. Leonard's Warrior Square then Battle and saw the Wilmington Man on a chalky hillside on the way. I walked to the Hastings battlefield and managed to get lost. I toured the battlefield in the rain in front of a group of school children. The gift shop was running over with kids so I decided against getting info or a B and B reservation there. The train to Hastings was delayed so I ate a Ploughman's Lunch at Hastings station. The train was delayed to Ashdown. It was very old, had no connection between cars, and required lowering the window to open the door - a real railroad antique. I passed through some interesting areas but was unable to stop due to time constraints. The train to Dover was delayed due to wet leaves on the track, and I was unable to see the cliff areas from the train due to darkness and rain. It was raining and getting dark in Dover. I was confused by a homeless looking Frenchman asking where the train station was, but I finally understood what he was saying and directed him there. A brochure at the station showed B and B locations, but it got soggy and almost useless in the rain. I passed up a 50 pound place near the station. (Maybe. I sometimes found it hard to differentiate between Brits saying 15 and 50.) I got hopelessly lost in town and wandered aimlessly, eating at the KFC in the center of town which was also patronized by some foreigners who must have just come across the Channel. I got lost again and turned down a fancy and expensive B and B, but the lady referred me to a place not far away below the castle. It was so small that a fat person would be unable to squeeze by the sink into the shower, but it was all that was required for a few hours. By far this was the most frustrating day of the trip.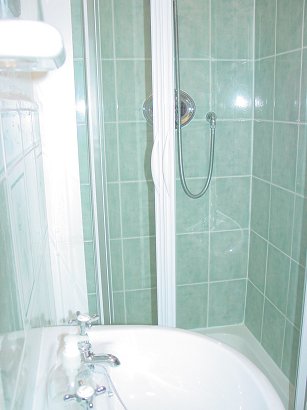 It's difficult to see here, but this place is only for skinny people.
---
Tuesday - Had breakfast at the B and B. I made the long walk to cliffs along a narrow road with no walkway. I couldn't see all that much, but I'm glad I went. I walked back to Dover Castle and toured. A group of school children were also there. The place was somewhat complicated, and I suspect I didn't see everything I 'd wanted to, including the inside of the keep. I decided to forego the guided tour of the underground facilities because it was a 45 minute to an hour wait, and the tour itself would probably last that long. It was a somewhat risky decision, but in my mind it paid off. I walked back to the Dover station and took a train to Chatham then walked down through the old town and along the river to the dockyards without getting lost. The exhibits were closed, but I took some pictures and talked to the half-Indian parking attendant, an interesting fellow. He liked America and Britain but said most Indians don't - mainly out of jealousy. He had tried to immigrate to America but couldn't and settled in Britain instead. He had a small government pension, and like many others his age had to work to get by. I walked back to the station and saw a policeman briefly confront a drunk, then took the train to Woolwich. It was just a short walk to old arsenal area, which was under construction. The Firepower museum was closed, but the new addition looked very impressive and the grounds were very interesting. Just seeing the grounds, formerly a vital center of British power, was a highlight of the whole trip. I took the train to Greenwich and walked to the tourist info center near the Cutty Sark arriving just before closing time to get B and B info. Most places were too expensive for my tastes, and I checked out the bargain St. Christopher's which was also more expensive than I liked. So I decided to go back to Nottingham for the free accommodations. So I took the train to London Bridge, then the Underground to St. Pancras, and finally the 6:50 train to Nottingham. I ate a late but reasonably priced meal at McDonalds in Nottingham then had 3 slices of leftover pizza at the apartment.
---
Wednesday - Had a breakfast of two pop tarts and peanut butter crackers. Took the train and Underground to Hampton Court Palace. I made a mistake with train selection from London, so I lost some time changing trains, but I did pass through Wimbledon and saw from the train a working model train used to pull around children. Toured Hampton Court, which was very impressive, but photos weren't allowed inside and the indoor tennis court was closed. I would imagine that the big crowds of summer would have diminished the experience. There were plenty of employees standing around protecting the bling-bling. Had a "lunch" of two granola bars and a Pepsi waiting for the departing train. Took the train and Underground to the National Army Museum in Chelsea. My expectations for the museum were high, and they were not met. Photos were not allowed and a surly (by British standards) soldier kept my bag and camera while I was there. Most impressive were the paintings on the wall, but other than that there was little of interest except some grenadiers' hats and the Siborne Waterloo model. (I thought it was at the Leeds Armouries!?) I walked by the Chelsea pensioners' hospital but didn't stop in for a visit and instead walked north to Kensington Palace through the typical maze of streets. This was riskier than I thought as I ended up arriving at the palace just five minutes before the last entry. ( I think 4pm) The palace is impressive, especially if you like the 18th Century. Predictably no photos were allowed, and a significant portion of the palace is devoted to the worship of Princess Diana. Although the furnishings weren't bad, I found out the next day that there are better elsewhere. Although I got there just in time to be admitted, it didn't take me anything like an hour to see the place, but this was without having one of the phonelike speaker systems. I ate supper at a pizza buffet with no drink refills, paid the Spanish lady, then made my way to the Underground. On my Underground trip to the Eye, there was trouble, maybe related to Dubya's visit, and since I had a system map, I met a fancy rich lady on her way to the theatre (She doesn't usually take the Underground.) and a regular guy who didn't like guns. There was no wait at the Eye and decent views of a night-time London. I walked by the Egyptian obelisk on my way to the Underground and train station for the trip back to Nottingham.
| | |
| --- | --- |
| | |
| The pizza lady - a Spanish immigrant who thought that I was British.. | The Underground guys - living proof that Londoners are good people, even if they are a little leftist. |
---
Thursday - Had a breakfast of two pop tarts, a salad, and a Pepsi and was dropped off at the train station. Took the train to York. Although I had some difficulty navigating York, it was small and had directional signs for pedestrians and some streets closed off to traffic. Visited the Fairfax House, a very good site for 18th century buffs like me. Although impressive on the outside, the furnishing are as good as anything I saw in England, and they like to brag that they have been rated better than Kensington Palace. (I concur.) After purchasing a little decorative container, I toured a regimental museum which had a kettle drum captured at Dettingen. Across the street was Clifford's Tower which was a short visit with good views of the town but of moderate historical interest. Having second thoughts, I returned to the Fairfax House and bought another container. I made my way to the Merchant Adventurers' Hall with its interesting medieval architecture, then to York Minster, an enormous medieval cathedral. Although an admittance fee is charged with extra for a trip to the top, photos were allowed except in the crypt, with its displays of the ancient Roman history of the place. I found it considerably less morbid than Westminster Abbey and at least equal to St. Paul's, which didn't meet expectations. The walk to the top was strenuous and involved low and narrow passages, and an unusually tall Brit and I were wondering how they weed out the overweight tourists! Finishing up at the cathedral, I followed the city walls for a time including a stretch at the top with no guard rail to prevent people from falling off. The National Railway Museum was free, and that always puts me in a good mood, and it was open later than most attractions. Despite this and my being from a railroad town, I was just too tired to fully appreciate the place with its numerous and well preserved items. I got something at the Burger King in the train station, ate it in the lobby, then took the train back to Nottingham. By this time, I had a standard walking route back to the apartment and I always saw a beggar strategically positioned at the exit to the shopping mall. In Britain, even the beggars are polite.
---
Friday - Had breakfast of pop tarts and granola bars then walked to the train station and took the train to London, then the Underground to St. Paul's Cathedral. An admittance fee was charged and photos were prohibited. An employee even chased down a visitor to make sure they had paid, then checked me for good measure. This didn't create a warm and fuzzy feeling deep inside me. I asked if there was an extra charge to climb the steps to the top, and amazingly there wasn't. I saw some people sneak some pictures, and I don't blame them. By this point, it was clear and obvious to me that despite the talk of respecting a house of worship or other allegedly legitimate reasons, policies like this were all about the money. The cathedral's reputation preceded me, and I had even heard a man back home say that the place moved him to tears. At least for me and my priorities, the place didn't come anywhere near to living up to the hype. I took the Underground and train to Greenwich and had a lunch of two granola bars then toured Greenwich, walking through the tunnel to get the view from the north side of the Thames then walked up between the old hospital buildings. Even just from the outside, this was better than St. Paul's, a very impressive piece of architecture. The National Maritime Museum was free but prohibited pictures. It wasn't bad, but it wasn't a highlight of the trip either. There was a good model of a dockyard and some excellent 18th century warship models, but on the whole, Portsmouth is a better naval destination if you have to choose between the two. I only had time to rush through the museum at the observatory, but I wasn't as impressed as I thought I might have been, but once again, it may just be my historical tastes. I walked through the park noting the large number of cans for dog doo-doo relative to human rubbish, and made my way through a neighborhood back to the train station. Took the train and Underground back to St. Pancras station for my final train trip back to Nottingham. To the horror of the lady across from him and to the disdain of the quiet stiff upper lipped businessman across from me, a drunken African immigrant barfed his Stella Artios on the carpet, then in a drunken stupor missed his station.
---
Saturday - Breakfast. Time to go home. Dr. K needed to get to the airport also for a trip to Greece, so he drove us there. We stopped for lunch near Oxford, and I eat a previously mentioned white sausage, which did not agree with me. We had some trouble finding Blenheim Palace and stopped to inspect a nearby canal. When we arrived at the palace, we found that my heritage pass didn't cover out of season special events. Twenty three pounds in the hole, we toured the palace, making sure not to walk on the specially marked off-limits gravel. The palace was at least as impressive as the royal palaces I'd visited and ended up being a highlight of the trip for both of us. The Churchill section wasn't especially interesting, maybe because the history hasn't aged enough, but the tapestries and overall decor were excellent. The butler had even polished the fruit, but since photos weren't allowed, I can't show you that. We were a little pressed for time but made it to Heathrow on time. Fortunately the sausage made its violent way through me before I got on the plane. British Airways seemed better on the way back, but maybe it was because I had three seats to myself by a window. I had a little trouble finding my pick-up man at Dulles, but it was my fault entirely. I made the mistake of not taking Dr. K up on his offer to stay at his house and instead drove home with very little sleep. I was lucky I didn't fall asleep at the wheel and kill myself or someone else. That's too much travel for one day, and I'll know better next time, if there is a next time. It's hard for me to believe it, but after an excellent two week vacation, I had come close to over-dosing on historical sites.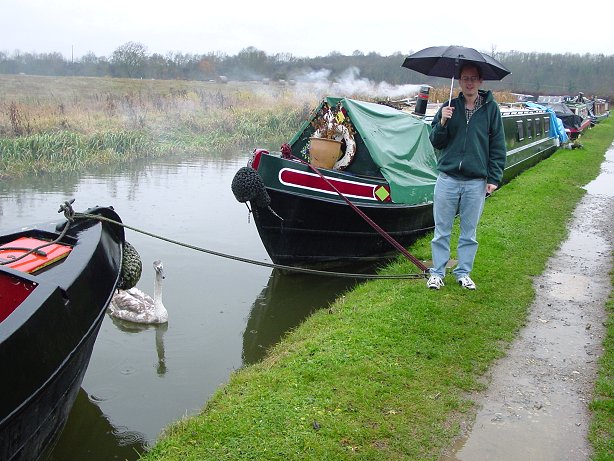 Your humble and obedient servant with the evolutionary oddity known as water fowl.
---