Saratoga
September 19 to October 7, 1777
With the failure of the Canada invasion climaxing at Quebec, Carleton attempted to advance down Lake Champlain. Benedict Arnold lost the battle of Valcour Island in the fall of 1776 but delayed the British invasion until 1777. The invading British army of 1777 was commanded by John Burgoyne, who gained the command because of his political connections. Along with Burgoyne's advance down the Lake Champlain-Hudson Valley, a force under Barry St. Leger was to advance east from the Great Lakes. A British force would also advance north from New York City. All these forces would meet in Albany, and New England would be isolated.
Burgoyne took Ticonderoga, but failed to capture the large American garrison. He then chose a slow overland route to the Hudson River Valley. St. Leger's column besieged Ft. Stanwix but withdrew when Benedict Arnold approached, and because of confusion or incompetence, only a diversion was made from New York City while the main army moved by sea to Philadelphia. To relieve supply problems, Burgoyne sent out a force to gather horses, but it was destroyed at Bennington. Despite these difficulties, Burgoyne foolishly continued his advance as a large American army under Horatio Gates began assembling in the Hudson Valley.
---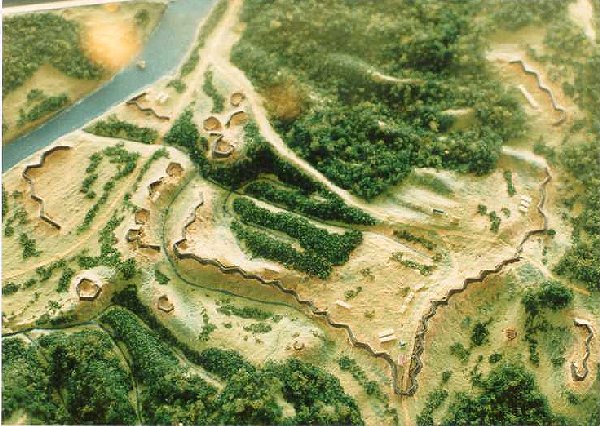 Diorama of American Position Looking South
From American Batteries Overlooking the Hudson River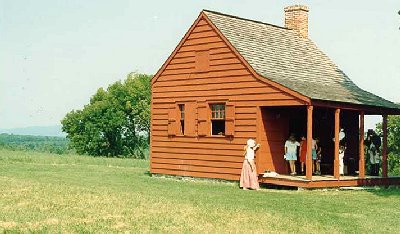 Neilson House

American Line Near Neilson House
By September 12th, Gates' army was entrenched on Bemis Heights, a naturally strong position. On his right, near the river, artillery dominated all approaches. Extending to the left flank, fortifications protected troops and allowed good fields of fire along gentle slopes.
---
Back to Revolutionary War Virtual Battlefield Tours