Saratoga Part 4

The Front of Breymann's Redoubt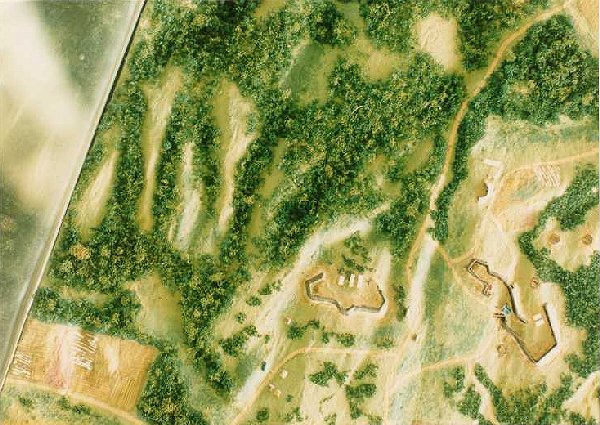 Diorama - Balcarres Redoubt on Right, Breymann's on Left
With light coming in from the side, you can see what appears to be dead ground to right of Breymann's Redoubt.
---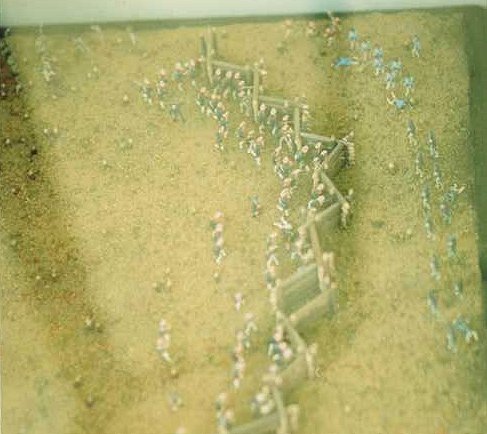 Diorama of Attack on Breymann's Left Flank

From Left of Breymann's Redoubt Toward Canadian Cabins
Arnold found the British western, or right, flank protected by Breymann's Redoubt. Between this fort and Balcarres Redoubt were fortified cabins held by Canadians, and Arnold quickly took them, exposing the left flank and rear of the exposed fort. Using dead ground hidden from the view of their German adversaries, American troops took the fort in front and rear, and Breyman was killed by his own men as he ruthlessly tried to keep them in the fight. Arnold was wounded in the leg, but his actions had been decisive. The Americans had lost 150 men in the Battle of Bemis Heights. The British lost 873 men and ten guns, but more importantly, with Breymann's Redoubt taken, the whole British position was untenable.
---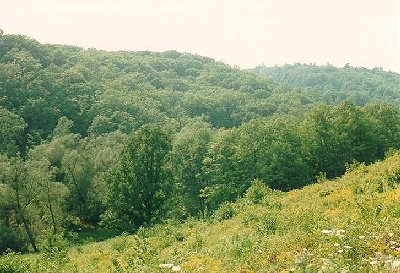 Great Ravine
The British force collected at the Great Redoubt overlooking the Hudson River. The next day, Gen. Simon Fraser was buried in the fort, and the British began the retreat northward, leaving behind 500 wounded in the fort. Gates sent 1,300 militiamen north to cut off Burgoyne's retreat. Gates followed on October 10th, and surrounded Burgoyne near the town of Saratoga. On October 17th, Burgoyne surrendered his army. Perhaps because of the fear of Clinton's advance north from New York City, terms of the convention allowed Burgoyne's troops to return to Britain and not fight again in North America. Congress was displeased with the agreement and found cause to repudiate it. Burgoyne's men were sent to prisoner of war camps. The campaign had been decisive. A major British army was eliminated. France realized that the rebelling colonists could win, and entered the war in 1778. Although initially disappointing, French aid would be decisive at Yorktown.
---
topo map The Barber's Wheatfield picture is looking west from the Barber's Wheatfield overlook. Balcarres Redoubt is to the east of its overlook. The Great Redoubt is the easternmost overlook just beneath "PARK."
---
Back to Revolutionary War Virtual Battlefield Tours