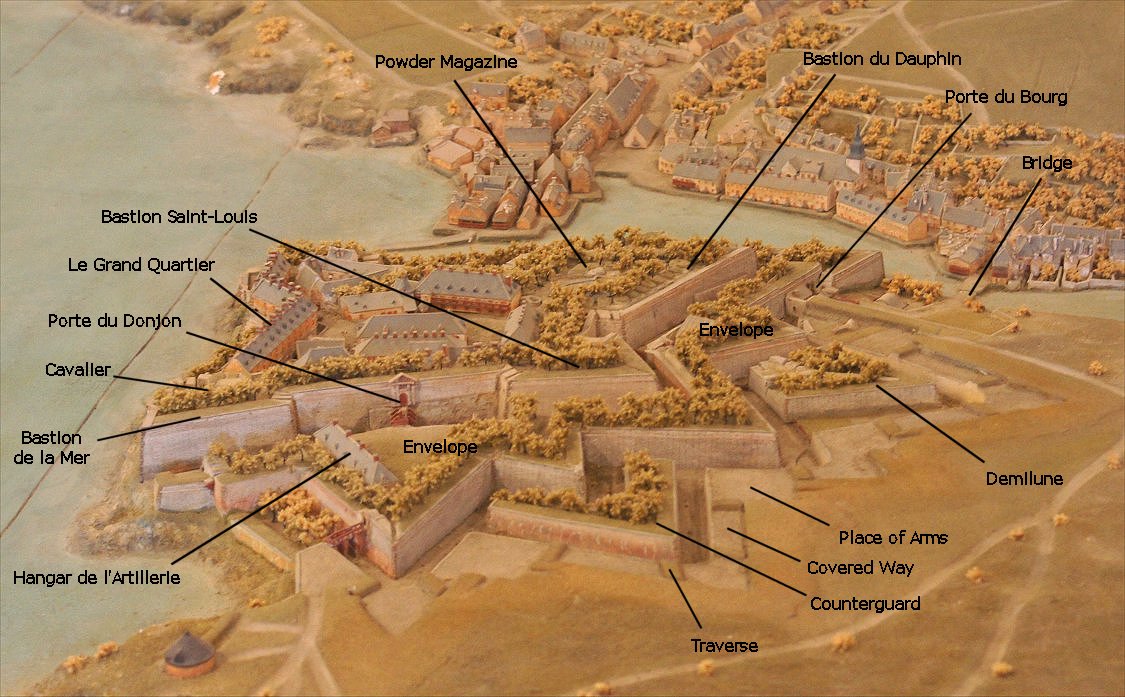 Copy of 1704 Model of the citadel
A beautiful isle off the Brittany coast, the main port of Palais was fortified by Vauban in the late 1600s as well as potential landing sites. Enemy possession of the island could help supply an enemy fleet with drinking water and food and provide a base for raiding the French coast and harassing French commerce. The island had been fortified for centuries, most recently by Nicholas Fouquet, the finance minister, who planned to use the island as refuge in case hostilities began with the king, Louis XIV. Instead, Fouquet was arrested and incarcerated.

Vauban was not happy with the existing citadel, thinking the interior too cramped and the walls too low, so he modified the citadel more to his liking. The walls were raised so that there were higher than the envelope, and cavaliers were added to the three land facing bastions, providing a fall back position in case the bastion walls were breached. The envelope is an unusual feature not found in many forts. Encompassing the citadel's entire land face, it allowed easy communication along the whole of the outwork. The downside to this design is that an enemy lodgment on the envelope makes the entire envelope untenable. In contrast, a series of closely spaced outworks could be connected with small bridges that could be demolished to prevent further enemy advances.

Traverses were added to the envelope, and the covered way was redesigned and rebuilt. The land face was the citadel's strongest aspect.