A Litany of Incompetence - Staff and the Civil War

"... I cannot have my orders carried out!" Robert E Lee




C-Cubed and Staffs

Civil War generals, especially Lee, are often criticized for having inadequate and inefficient staffs, and these criticisms have good justification, especially for the first half of the war. Unfortunately, many authors mention the staff issue only in passing without expounding upon the issue, and many authors make no comparison with European armies. There are few books dedicated to the subject, with J Boone Bartholomees' "Buff Facings and Gilt Buttons" among them. Bartolomees concludes that Lee's staff, larger than it appeared, was large but at the same time not large enough. Because of varying accounting methods, numbers are difficult to gauge, but Confederate HQ staff strength at First Manassas was 30-40, being a combination of Johnston and Beauregard's staff. Lee's staff, often described as 14 general staff officers, may have been just part of a much larger HQ group of up to 695 total. This figure was around 390 in 1863-64 and around 80 at Appomattox. That being said, what these numbers actually count is not clear, but they seem to include numerous support personnel such as clerks and couriers in addition to actual staff officers. Major Taylor had five clerks, for example, and 25 couriers were used in the Second Manassas campaign to send messages between Lee and Jackson, and couriers were also used to send messages to and from signal flag and semaphore stations. Lee sometimes rode with 2-3 members of his staff, sometimes he rode alone. He was even known to borrow officers from other units when all his staff was occupied! (Bartholomees 7-12, 203, 206, 213)

An in depth investigation of command, control, and communications explains a great deal about the need for an efficient staff - examples abound of mistakes rooted in poor staff work.

So exactly what functions did the staff serve? Some staff officers worked as administrators, others served more direct military functions. The administrative officers included functions like the quartermaster, commissary, and medical director. The military staff included the chief of staff, the adjutant, branch chiefs, and aides-de-camp. It is the military staff that we will focus on as they had a direct impact on how battles were fought. In "The Science of War", GFR Henderson gives good coverage of staffs duties and their importance, including reconnaissance, routing of troops, and communication between a commander and his subordinates. From page 221:


"Lack of reconnaissance was a fruitful source of indecisive successes and unnecessary loss. Movements were projected and carried out without previous exploration of the ground or selection of the most effective line of advance. Little care was taken to discover the weak points of the enemy's position. The influence of topography upon tactics was unappreciated and the Confederate divisions attacked exactly where the adversary wished them to attack, instead of being directed by staff officers who, riding with the advanced scouts, had already made themselves acquainted with the ground, to the approaches most favorable to the assailant. We may also notice, that, owing to the simple expedient of placing finger-posts at crossroads, or leaving an orderly to point out the route, being neglected, on several occasions - amongst others at (Gaines Mill), South Mountain, and Gettysburg - the Confederate brigades came into action either at wide intervals from the rest of the division, or when the opportunity had passed, or in some cases, not at all."

The Prince of Joinville, a Frenchman serving with McClellan's army, discussed at length staff issues during the Battle of Williamsburg (p52):

"There is no special branch of the service whose duty it is to regulate, centralize and direct the movements of the army. In such a case as this of which we are speaking, we should have seen the General Staff Officers of a French army taking care that nothing should impede the advance of the troops, stopping a file of wagons here and ordering it out of the road to clear the way, sending on a detail of men there to repair the roadway or to draw cannon out of the mire, in order to communicate to every corps commander the orders of the General -in-Chief.

Here nothing of the sort is done. The functions of the adjutant-general are limited to the transmission of the orders of the general. He has nothing to do with seeing that they are executed. The general has no one to bear his orders but aides-de-camp who have the best intentions in the world, and are excellent at repeating mechanically a verbal order, but to whomnobody pays much attention if they undertake to exercise any initiative whatever. Down to the present moment although this want of a General Staff has often been felt, its consequences had not been serious. We had telegraph, which followed the army everywhere and kept communications between the different corps; the generals could converse together and inform each other of anything that was important to know. But once on the march this resource was lost to us, and so farewell to our communictions!

The want of a General Staff was not less severely felt in obtaining and transmitting the information necessary at the moment of an impending action. No one knew the country; the maps were so defective that they were useless. Little was known about the fortified battlefield on which the army was about to be engaged. Yet this battlefield had been seen and reconnoitred the day before by troops which had taken part in Stoneman's skirmish. Enough was surely known of it for us to combine a plan of attack and assign to every commander his own part in the work. No, this was not so. Every one kept his observations to himself, not from illwill, but because it was nobody's special duty to do this general work. It was a defect in the organization, and with the best elements in the world an army which is not organized cannot expect great success. It is fortunate if it escape great disaster."

Confederate artillerist Edward Porter Alexander had this to say on the number of staff officers used during the war,

"Scarcely any of our generals had half of what they needed to keep a constant and close supervision on the execution of important orders. And that ought always to be done. An army is like a great machine, and in putting it into battle it is not enough for its commander to merely issue the necessary orders. He should have a staff ample to supervise the execution of each step, and to promptly report any difficulty or misunderstanding."

An authority on Napoleonic warfare, Scott Bowden in "Last Chance for Victory", a book on Gettysburg co-authored with Bill Ward, state that Napoleon had more staff officers in a division than Lee did in his entire army at Gettysburg. At Austerlitz, Napoleon had nearly 200 men in his headquarters staff. Each of Napoleon's corps had thirty or more staff officers, and each division had 20 or more. Napoleon was supported by a staff roughly ten times the size of Lee's staff. For the Seven Days, Lee's staff consisted of just 12 officers plus couriers. With time, the size and efficiency of the staff was increased only slightly. Bowden argues that an inadequate staff made it impossible for Lee to coordinate the army effectively. On July 2nd Lee launched an en echelon attack, a favorite technique of Frederick the Great, perhaps because it was impossible to coordinate anything else - each division would attack at an interval after the division to it right. To get all of his divisions to attack simultaneously, for example, would not have been possible. So when division commander Gen. Pender was hit by enemy fire, the attack broke down as it was approaching Cemetery Hill, perhaps saving the Union army.

Gettysburg provides a number of additional examples of staff failures with serious consequences. Longstreet's march on the second day was delayed when it encountered an area observable from Little Round Top, and much time was lost when the troops were redirected. Why was this area not discovered before? A larger and better staff might have prevented this incident and gained valuable hours. R.H. Anderson commanding a division of Hill's corps was ordered to attack with short notice after Longstreet had begun his attack, but he was not told the object of the attack or that the original plan to attack up the Emitsburg Road had been modified. The attack on Cemetery Hill was repulsed in no small part because of the lack of coordination between the divisions of Early and Rodes. The Union side also suffered from staff problems. Despite visits from Meade's staff, Dan Sickles was never sure where Meade wanted his corps to be, which contributed to his decision to move forward. When attacked, Sickles required reinforcements. When Geary's division of the XII Corps was sent to assist, it marched from Culps Hill not long before the Confederates attacked, and the move was marred by poor staff work. Geary's division was to follow Williams' division, which had not been given specific direction. Geary explained, "When ordered to leave my entrenchments, I received no specific instructions as to the object of the move, the direction to be taken, or the point to be reached, beyond the order to move, by the right flank and to follow the First Division. The First Division, having gone out of sight or hearing, I directed the head of my column by the course of some of the men of that division who appeared to be following it." Geary's division became lost and was not able to reinforce the endangered Union left flank. It participated in neither protecting Culps Hill nor saving the endangered left flank. Cole's "Command and Communication Frictions" on p54 quotes Union Col. Thomas Rafferty, an officer in Sickles' corps who was not happy with the army's staff. His assessment of his army's staff system was damning.

"My own opinion has always been that the staff of a general commanding the army should be something more than mere clerks to draw up papers and carry messages... They should have known all about our line of battle; have made themselves familiar with its salient points, its capabilities for defense or its facilities for offensive operations. They should have directed and controlled the positions of the various corps; should have been the eyes of General Meade, the brains to plan and, under his direction, the hands to execute; should have seen all the enemy proposed to do, and so prepared their own plans as to checkmate and overwhelm him, as with the proper dispositions they might easily have done. But they did none of these things."


GFR Henderson points out that poor communications on the battlefield could make prompt decision making almost impossible. At Williamsburg, McClellan sent two aides to the front lines at around 7am to provide him information, but it was only at 1pm that he knew that his troops were in contact with the enemy. At Seven Pines, for several hours Joe Johnston did not know that one of his divisions had taken a wrong turn and that the attack that he had ordered had not yet been made. The Seven Days Campaign was rife with staff and command problems, starting with the failure of Jackson and AP Hill to coordinate at Mechanicsville followed by Jackson's getting confused with the road network before Gaines Mill. At Glendale, the Confederates faced an opportunity to potentially win the war, but a good plan miscarried, and the battle began only by accident late in the day without the necessary pinning attacks to keep the Union army from shifting reinforcements to the decisive point. At Malvern Hill, communications were so difficult that the costly Confederate attack occurred once again by accident - a misunderstanding. In the Second Manassas Campaign, Union signal troops spotted Jackson's turning movement, but no cavalry or scouts were sent to learn more. As a result, Jackson arrived deep in the Union rear areas - at Pope's supply depot, between the Union army and Washington. Second Manassas also saw Lee's army use an en echelon attack like at Gettysburg, possibly because of the difficulty of coordinating anything else. Jackson and Longstreet did not co-ordinate the attacks of their two wings, and a precious opportunity to destroy a Union army was lost. McClellan's attacks at Antietam are another example of poor coordination. Possibly planned as an en echelon attack for similar reasons, the Union army was instead committed piecemeal, one corps at a time, and each corps was defeated in turn. One form of communication, signal flags, were used sucessfully by the Confederates on the battlefield at Second Manassas and later in coordinating the encirclement of Harpers Ferry.

Some historians believe that at Shiloh, the Confederates intended to attack the Union army from the west and into their flank from west to east, but lack of maps and local knowledge prevented this. How very differently that battle might have turned out without a frontal attack and the resultant bloodbath. Grant's staff can also be blamed for inadequate reconnaissance that made the Confederate surprise attack possible. Hooker's army was surprised at Chancellorsville for the same reason. Jackson's performance in the Seven Days may have suffered because Hotchkiss, his mapmaker, was still in the Shenandoah Valley - as Freeman wrote, "with Hotchkiss away, Jackson was not blinded, but his vision was dimmed." In contrast, successful engineer reconnaissance benefited the Confederates at Chancellorsville, verifying the feasiblity of the route around the Union army, and at Cedar Creek, where observation from the northern tip of the Massanutten found the Union flank vulnerable. In the summer of 1862, the Confederates established a map reproduction facility and were early adopters of using photography in the process. (Bartholomees 106-8)

Paddy Griffith (p55-56) gives an example of bad staff work at the October 1862 Battle of Corinth. Hoping for a decisive flank attack against the attacking Confederates, William Rosecrans sent his chief of staff to an unengaged division on his flank, but the message was verbal and confused, and the staff officer was forced to return to Rosecrans for a written order. By the time it arrived, the opportunity was lost. During the war, verbal orders were typically followed by written ones, but Rosecrans had failed to do so. Poor staff work in Rosecrans' army would lead to disaster at Chickamauga in September 1863. Due to a misunderstanding, Rosecrans ordered a division out of the line in the worst possible place - the area that an enormous attack column under Longstreet was poised to strike. A well functioning staff would have kept proper track of unit positions. Elsewhere along the Confederate line at Chickamauga, staff officer Moxley Sorrel relates on page 201 of his "Recollections",



"While Thomas was heavily reinforcing his right, a column of fours was seen marching across Gen. A.P. Stewart's front. If attacked, its destruction was certain. I pointed out the opportunity to General Stewart, his position being admirable for the purpose. His answer was that he was there by orders and could not move until he got others. I explained that I was chief of staff to Longstreet and felt myself competent to give such an order as coming from my chief, and this was customary in our Virginia service. General Stewart, however, courteously insisted that he could not accept them unless assured the orders came direct from Longstreet."

Fortunately for the Confederate cause, Sorrel was able to find Longstreet and return with direct orders, and the opportunity was not lost. The system of staff and command philosophy in Bragg's army, however, was shown to be deeply flawed.

Although there seems to have been progress with staffs through the war, problems continued to the end. Before the Battle of White Oak Road in the spring of 1865, General Chamberlain received five orders from three sources - Grant, Meade, and Sheridan - and each order was incompatible with the others.

William Hazen, a Union general wrote on p423 of his Narrative:


"A spectacle more pitiable than a commander of an active army without a suitable military staff can scarcely be imagined. The want of it renders him timid and irresolute, because he is not in possession of the means to gain accurate and speedy knowledge of all parts of the field; nor can he with confidence and discretion devolve upon his staff the authority in the carrying out of orders so essential to success, when much depends upon conditions known only after the staff-officer has become separated from his chief. The chief may even be led, from want of information, to do nothing, when with it success would be within reach."

He goes on, discussing another ill coming from poor staff work,

"Many battles were little more than the posting of lines to give or receive the attack. The men then fought the matter out in their tracks, and the affair ended with a disorderly retreat or a broken and ineffective pursuit. This was in part due to the loose moulding of the regiments by drill and discipline,... but very largely to the lack of staff fully imbued with the military character, and clearly comprehending the situation and needs of the moment."



The cost of an inadequate staff could be high. Hazen cited Union failures at Chancellorsville, Chickamauga, and Red River as results from inadequate staffs, and he states that a Prussian style staff at Second Manassas could have kept Pope properly informed of the situation and perhaps prevented defeat. He states, "When a commander is his own chief of staff, and is lost in battle, from whatever cause, all is lost."

Phillip Cole, in "Command and Communications Frictions in the Gettysburg Campaign" quotes Maj Samuel Melton, a Confederate Assistant Adjutant, who wrote,

"The staff deserves earnest consideration. My limited experience in the service has been sufficient to convince me that the importance of an efficient staff has been much underestimated, and that it cannot be overestimated... (W)ell-nigh everything depends upon a competent, earnest, and laborious staff. The Army is childlike, utterly dependent. The general cannot be ubiquitous - is indeed but a man. The staff must make up the complement."

Not only was small staff size a problem, the quality of officers was also an issue. Melton thought that staff officers were too young and inexperienced and in general inadequate. In part, this was because,

"While promotion is rapid in the line, it comes scarcely at all in the staff; and if at all it is incident attending the promotion of the chief, and not the reward of merit. It is perhaps, in a contest like this, an instance of frailty that men of brains, of enlarged mental and business capacities, will not seek employment, however useful, where there are no rewards; and if they by mistake fall into such employment they are too prompt to leave it for more inviting and promising labors."

General Lee, in a letter to Jefferson Davis about a bill in the Confederate Congress wrote about filling staff positions,

"If you can fill these (staff) positions with proper officers - not relations and social friends of the commanders, who, however agreeable their company, are not always the most useful - you might hope to have the finest army in the world."

The Prussian General Staff system was very different. Intelligent, promising young officers were selected to serve as staff officers, but they were also rotated through line duty in various branches. In this system, staff officers gained experience in a wide variety of duties and were on track for higher command. Rather than being a dead-end job, staff work was a springboard for high command. This system would prove its worth - but only after the American Civil War.

Jackson's Staff - Where are the experienced pre-war officers?
They had become generals, so amateurs had staff positions.
Poorly written orders could be a problem, and this could explain Stuart's mysterious route to Gettysburg. Union General Sedgwick had a unique solution to this problem. Sedgwick is said to have had a member of his staff, a less mentally gifted member, whose job it was to ensure that orders were understandable. If he could understand the orders then they were clear. Perhaps the most egregious staff incident during the war was not poorly written orders but rather the complete loss orders, specifically Lee's orders near Frederick, Maryland in the autumn of 1862, the recovery of which by Union forces might easily have led to the destruction of Lee's army and an early end of the war.

Inexperience and ignorance could lead to other errors. In "Fighting For the Confederacy", Porter Alexander gave an example from the Gettysburg Campaign of how ignorance on the part of staff of the realities of marching a large army could result the waste of many hours.



"Of all the tiresome things to soldiers there are few more disagreeable than to be ordered to march, and gotten out to the road, and then to be held waiting indefinitely. And besides tiring the animals, by keeping them in harness, it loses time when they might be grazing... Orders came that Ewell's corps should march at 4am, Hill's at 6am, and Longstreet's at 8am. So at 8am, I had hitched up and had my battalion moved out to the pike by which we all were to travel. But each corps with its trains would occupy about 12 miles of road, and it took it nearly four hours to stretch out. Consequently, Hill could not march until about 8, nor our corps until near 12. I mention it only to illustrate how important in a big army is the detail, which only a large and well trained staff can supply."



Another example of poor staff work on the march can be found in Stonewall Jackson's command near Orange Courthouse on August 8, 1862. Jackson's staff sent orders to each of three divisions - Ewell's, AP Hill's, and Winder's - to begin marching in that order starting at dawn. Ewell began the march on time. Hill, not seeing Ewell's men pass through the intersection to his front as he was expecting, waited patiently for them to arrive. The trouble was that Ewell had been directed to go another way and Hill had not been told. When Jackson arrived at the intersection, he was disappointed to see that Hill had not moved, but rather than take up this issue with Hill, he instead ordered Winder's division to march. Only after Winder passed - and the wagon train - was Hill able to march. By about 5pm, Hill's division had marched only about a mile, and Ewell's division was far ahead - Jackson's force was now strung out. Although the fiasco was clearly the result of bad staff work, Jackson blamed Hill, stating that he lacked initiative in not investigating the situation. Jackson, although he thrived on the freedom given by his commander, demanded blind obedience in his subordinates, perhaps encouraging the lack of initiative that he complained of. Jackson's ways prepared his subordinates poorly to take his place.

Staff numbers can be difficult figures to find, but the information available is telling. At First Manassas, GFR Henderson points out, McDowell had only two aides-de-camp. When volunteers were later enlisted for staff work, they were completely ignorant of the duties involved. Staffs had to increase in size, but they nevertheless remained bare bones. Sherman, who argued against a large staff, expounded upon his ideas of a perfect staff system in his memoirs (p402). "I don't believe in a chief of staff at all...", he wrote. A brigade should have two aides-de-camp, an adjutant, a quartermaster, a commissary, and 2-3 medical officers. A division would have the same staff as a brigade - no more. A corps or army commander would be helped by same number of staff officers as a division or brigade commander but with the addition of two or more engineers. The adjutant should assume the duties of a chief of staff. In Sherman's mind, "A bulky staff implies a division of responsibility, slowness of action, and indecision, whereas a small staff implies activity and concentration of purpose." So while Napoleon had 200 men on his army staff and 30 men on the staff of each corps, Sherman had just 10 per army and 10 per corps. During the Overland Campaign, Grant's staff consisted of 20 men. (Wagner 35)

What would have made Civil War staffs useful and efficient? Simply having a staff composed of career officers educated at West Point would not have been enough. Stating that it took two years for either army to field a trustworthy staff (p226), GFR Henderson wrote that staff duties are best learned not in the classroom but in the field at large scale maneuvers, something the ante-bellum army simply didn't do. Wellington, Henderson states, believed that seven years experience in the field was required to make a good staff officer. (p398) In a letter to Jefferson Davis, Lee explained his staff issues and recommended a corps of officers to teach staff duties.


"Our armies are necessarily very large in comparison with those we have heretofore had to manage. Some of our divisions exceed the army General Scott entered the city of Mexico with, and our brigades are larger than his divisions. The greatest difficulty I find is in causing our orders and regulations to be obeyed. This arises not from a spirit of disobedience, but from ignorance. We therefore have need of a corps of officers to teach others their duty, see to the observance of orders, and to the regularity and precision of all movements."


Christopher Perello in "The Quest For Annihilation" points out that organization of staff and command structure were also issues. The adjutant's job was to issue orders. An operations officer like in the Prussian system did not exist. The Prussian operations officer kept in constant contact with subordinates and made sure that the commander understood the situation. The operations officer could also help the commander create plans and investigate alternatives. Civil War generals lacked of an executive officer (or second in command), or a chief of staff (of a general staff) like modern commanders have, and this was a problem when a commander was killed, wounded, or simply exhausted. At Glendale, Stonewall Jackson was so exhausted from lack of sleep that after investigating Union dispositions, he went to sleep. Subordinates found crossing points of the White Oak Swamp, but Jackson was so exhausted that he was unable to wake up and act. An executive officer or chief of staff might have been able to act on his behalf, allowing, at the minimum in this case, Jackson's force to pin the enemy to its front and prevent them from sending troops to face Longstreet's attack on the Glendale crossroads. McClellan, meanwhile, essentially abandoned his army in the field, an army with only a minimal staff to support it. Fortunately for the Union cause, the corps commanders cooperated in his absence. The loss of a commander to either wounds, illness, stress, or cowardice was a factor on other fields. At Chancellorsville, Hooker was wounded, and the command situation became blurred. At North Anna, an ailing General Lee was unable to get A.P. Hill, himself in ill health, to strike a blow when the opportunity existed to strike Grant's army and defeat it piecemeal. In all these cases, a better staff would have kept the command system functioning.


Ideology and Military Education



There is no doubt that deficiencies in staff, along with problems with command, control, and communication, greatly hindered Civil War generals. These problems remained throughout the war without being completely solved. Obreen wrote that although many officers were weeded out during the war,



"This phenomenon didn't fully take place among the generals of which many in the designing of grand operations, and the leading of great masses of soldiers, still didn't understand the consequences of a lack in preparative study and work which were required. The lack of proper staff-officers also led many well conceived plans to be doomed to failure, simply because the army commander can't take the task of focusing on all the details, as has been discussed already."



One example of this is from Grant's plan for the 1864 campaign in which, ignorant of the topography and conditions of West Virginia, Grant himself proposed and ordered an advance from there on Stauton, only learning later from the commander on site, EOC Ord, that it was impractical. A competent general staff might have investigated these possibilities but there was none. Although it often argued that there were only few examples at the time of a general staff, namely Prussia, this is arguable - Austria and France had staffs tasked with war planning. Ward, in "Wellington's Headquarters" shows that during the Napoleonic Wars even the British quartermaster department came to provide advice, theoretical and practical, to the army and government, much like the Prussian General Staff. But the British and Prussians evolved independently, and British staff officers were chosen by the government, not by the commander. (p30-31, 41, 131)

The reasons America lacked such a staff are not entirely clear, but they appear to be political and ideological. America inherited Britain's distrust of a standing army, and America had never waged a large war of European proportion. The British army, always smaller than its Continental rivals, lagged in the development of staff, and it was the British system that the revolting American colonists adopted by default. While the British developed their staff system in the Napoleonic Wars (see "Wellington's Headquarters" by SGP Ward), the US Army made few changes with its staff system. In the mid-1800s, the French army influenced on the American army (see Michael Bonura's "Under the Shadow of Napoleon") when Winfield Scott adopted French manuals and methods for the army. Despite the translation of French drill manuals, there was little or no attention given to foreign techniques for the management of large armies. McClellan's study of the Crimean War, for example, made mention of minutia but nothing of staffs. Henry Halleck's book spent little time with staff duties and instead referred the reader to a number of other books. Why should there have been this neglect? Only the Mexican army was a threat, and they had been easily thrashed! Edward Hagerman, in "The American Civil War and the Origins of Modern Warfare" argues that ideology explains the stunted staff development. A standing army was distrusted in the English-speaking world, and a Prussian style general staff, or even a French style staff, was seen as another step toward a militaristic and anti-democratic state. William T Sherman, on page 405 of his memoirs confirms this, writing, "(Staff officers) too commonly construe themselves into the elite, as made of better clay than the common soldier... This is all wrong; utterly at variance with our democratic form of government..." Despite this prejudice against a general staff, after the war, General William Hazen recommended a Prussian style general staff and a school to go along with it, stating that although West Point and its cadets were good, the academy was not adequate for the purpose of preparing staff officers. But real staff reform would only come decades later.

Ideology affected military education as well as staffs. Historian Carol Reardon points to an American Romantic era mentality that was sympathetic to the genius concept in which formal education actually hindered the development of a natural genius. George Washington and Andrew Jackson had been successful commanders without formal military education, after all. Although a few schools for post West Point education were established, they did not last long. For that matter, many historians doubt whether a West Point education provided Civil War commanders much in the way of theoretical background. Engineering curriculum at West Point, many believe, hampered a cadet's ability to understand war and stifled creativity, making officers poorly prepared for a large war. Winfield Scott doubted the wisdom of West Point's extreme focus on math, and faculty even suggested more attention on the arts. In 1819, General Wool stated that great victories, "were not achieved by the 'rule and compass' or measurement of angles. They were the product of enlarged minds, highly cultivated and improved by a constant and accurate survey of human events." (Hope 72) None other than Henry Halleck wrote about the ante-bellum army, "Our standing army is but a bad and ill-organized militia, and our militia not better than a mob. Nor have defects in these been supplied by Lycees, Prytanees, and Polytechnic schools. The morbid patriotism of some, and the false economy of others, have nearly obliterated every thing like military knowledge among us." Field service did little to improve the situation. Richard Ewell stated that during his service in the West, he learned everything about commanding fifty dragoons and forgot everything else - not exactly a ringing endorsement of officers' preparation for high command. None other than Ulysses Grant, a veteran of the Mexican War, had never seen a battalion drill together and only came across a copy of Hardee's tactics manual early in the Civil War.

In "A Scientific Way of War", Ian Hope differs with the negative assessment of American military education, arguing that West Point was designed contrary to the genius system, that its purpose was to make all officers competent rather than rely on the genius of a few, and he believes that it largely succeeded in this. The curriculum, Hope believes, although heavy on science and math and engineering, incorporated enough study of military principles and military history, to make a reasonably well rounded officer. Student papers submitted to the voluntary Napoleon Club could be 30-60 pages in length or even longer. (Hope 179) Additionally, cadets were trained to be members of any and all of the branches. The philosophy underlying West Point was that war should be studied scientifically - that it could be completely understood through science. In 1893, JB Wheeler suggested that through the application of scientific principles, chance in war might be eliminated. Although Hope doesn't say so, this is obviously an improper use of science - scientism - the belief in the universal applicability of science to the exclusion of all other viewpoints. We can only wonder what harm has been caused by this deluded philosophy over the decades. Dennis Hart Mahan wanted officers to use good judgment in the field, and he hoped to teach cadets how to think. But Mahan, at least regarding engineering matters, although he did not want students to slavishly follow prescribed methods, he discouraged debate and encouraged learning by rote, thinking that debate would lessen time spent on gaining knowledge and would compromise faith in principles. This type of thinking solidified doctrine, potentially to the point of making it dogma. (Hope 197-9)

This so called 'scientific way of war' was inspired by Enlightenment ideals. Enlightenment military theory focused on maneuver strategy, elevating strategy to a science while believing that tactics were an art. It taught that strict regulations on commanders were necessary and that the chaos of battle should be avoided in favor of 'predictable' maneuver. Prussian theorist Heinrich von Bulow went so far as to state that battle was the result of mistakes. Enlightenment theorists sought universal concepts; to them, the rules of war were mechanical and could be taught. Archduke Carl of Austria wanted obedience to orders rather than subordinates take initiative or use creativity. He believed that a focus on tactics rather than strategy invariably led to a long, indecisive conflict - his objective was to force peace terms on the enemy rather than destroy his army.

These Enlightenment views contrasted with the newer Romantic view, exemplified by Carl von Clausewitz, that war was inherently chaotic - a view embraced by the Prussian army that met with great success in the years following the American Civil War. Clausewitz and the Prussian way came about only after the disastrous 1806 campaign in which Napoleon crushed the militaristic Prussian state. Although Clausewitz was highly theoretical, the Romantic view placed more attention on the specifics of a situation rather than slavishly following theory, and it allowed for subjective judgments - it allowed initiative to subordinates. Theory, to the Romantics, must take into account things like psychology, morale, and the political situation - things that geometry and math cannot explain. Army command, in Clausewitz's mind should go to the creative, and the commander should be guided by theory but not see it as something that told him exactly what to do. Clausewitz and the more realistic Romantic way of thinking gained renown and credence only after Prussian successes in 1866 and 1870; Civil War era Americans had been exposed to Prussian ways, but the Prussian system had not yet proven its superiority.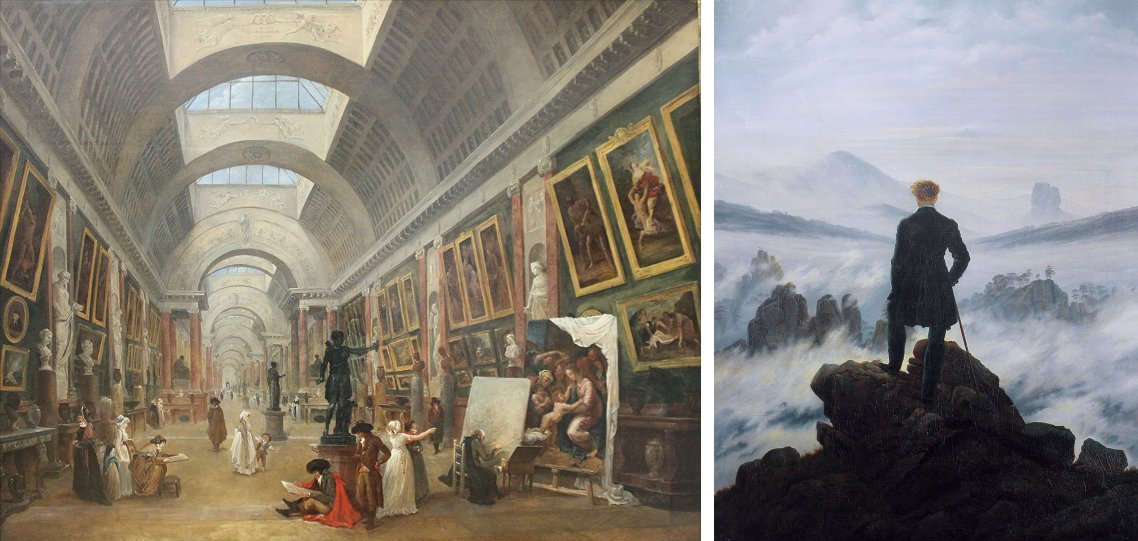 Pictures can be worth a thousand words - Enlightenment art at left; Romantic art at right



West Point, Ian Hope argues, although it was based on Enlightenment ideals and focused on math and science, provided a much better preparation for high command than it is often given credit for, and, he argues, prepared the cadets well for both staff work and for serving as general officers. True or not, the Union and Confederate armies shared the same background. Wayne Hsieh points out that many of the decisive battles of world history were fought between radically different armies, giving one side a clear advantage. In contrast, the commanders of Civil War armies had the exact same military backgrounds so that neither side had a clear advantage in terms of doctrine or system of command. This, Hsieh argues, contributed to the indecisive nature of Civil War combat, and there is much truth to this argument.

There was little staff tradition in the army, and when civil war broke out, few people had the insight or knowledge to see a better way - or perhaps more importantly, the desire to challenge the status quo. Faulty staff work all too often ruined good plans with the potential for decisive results. Former West Point cadets, raised to the highest levels of command during the Civil War, left barely trained volunteer officers to serve on staffs. Even Lee, the greatest commander that the war produced, despite increasing the number of couriers to transmit orders, sought to economize on his staff. So for the dubious benefit of having a few more officers in the ranks, perhaps thousands of men died unnecessarily.
Command Style
Obreen had this to say about Americans and orders:



"The civilian pride of keeping individual liberty and independence, which is so disastrous in the military sphere, can be found in the American army in all ranks. In the higher ranks it manifests itself in too many deliberations and discussions over operations, which led to the undermining of the initiative and the decision making of the commander in chief. Besides that the orders given too often miss that decisive tone of authority which are essential. Often orders are not being followed but argued and commented against. When instructions and official orders have the character of diplomatic dispatches then it leads to the tendency of negotiating instead of being ordered and obeying those orders."

Lee is frequently criticized for using discretionary orders, but this was necessary due to circumstances, and it was actually one of the great strengths of his army. Particularly considering the terrain, his inadequate staff, and the difficulty of getting timely and accurate information, Lee giving his subordinates latitude was to his advantage. Ewell is often condemned for failing to take Cemetery Hill and Culps Hill on the first day of Gettysburg, which, it is said, Jackson surely would have done. The effects of this failure are clear - 140 years later. But Ewell had good reasons for his actions. His corps was disorganized, and a large Union force was on his flank, right at the foot of Benner's Hill. Had he been attacked in his flank, the wisdom of his decision wouldn't be questioned. The Prussian observer Scheibert quotes Lee as saying, "You have to realize how things stand with us. Recognize that my orders then would do more harm than good. I rely on my division and brigade commanders. How terrible if I could not. I plan and work as hard as I can to bring my troops to the right place at the right time. I have done my duty then. The moment I order them forward, I put the battle and the fate of my army in the hands of God." (Scheibert 42) GFR Henderson, on page 342 of his Jackson book states,

"The natural initiative of the American, the general fearlessness of responsibility, were as conspicuous among the soldiers as in the nation at large. To those familiar with the Official Records, where the doings of regiments and even companies are preserved, it is perfectly apparent that, so soon as the officers gained experience, the smaller units were as boldly and efficiently handled as in the army of Germany under Moltke."

In addition to trusting his subordinates on the battlefield, Lee also sought the advice of his subordinates. Speaking to Henry Heth about criticism in newspapers, Lee confirms this, saying, "After it is all over, as stupid a fellow as I am can see that mistakes were made. I notice, however, that my mistakes are never told me until it is too late, and you, and all my officers, know that I am always ready and anxious to have their suggestions." (Freeman's R. E. Lee : A Biography, Vol. 3 (1935) ) In "Conquering the Valley", Robert Krick states that Ewell also sought input from his subordinates. Lee and the Confederates in the East were using something like what is now known as 'mission command', a doctrine most often associated with the Prussian army. Americans of that time, however, were more often inspired by French methods, which were similar. Christopher Perello in "The Quest For Annihilation" states that activity by subordinates was vital to success with this command system. As an example, he states that at Glendale, as Longstreet was attacking the Union center at the Glendale crossroads, inactivity by Jackson at White Oak Swamp and by Huger to the north, as well as inactivity by Magruder at Malvern Hill to the south, allowed the Federals to shift troops and stop Longstreet's assault. Not all subordinates were happy with Lee's command system - and they may not have understood it. Having received orders to proceed to either Cashtown or Gettyburg according to circumstances, a confused Ewell, complaining of "indefinite phraseology" asked, "Why can't a commanding-general have someone of his staff who can write an intelligible order?" Before Pickett's Charge, Longstreet delegated to his artillery commander Porter Alexander to judge when the bombardment had been successful and to signal when to begin the attack. Instead, Alexander agreed to simply tell Pickett when the bombardment was at its most effective. In his book after the war, Alexander criticized Lee's use of discretionary orders. Although this criticism gets a great deal of attention, it is not necessarily valid.


Battlefields were large, theaters of war were larger.
A commander could not always meet his subordinates;
he had to trust them.
On the Union side, William T. Sherman also seems to have favored what is now called "mission command", having expressed, "When a detachment is made, the commander thereof should be informed of the object to be accomplished, and left as free as possible to execute it in his own way." In the Army of the Potomac, there were instance of commanders taking the initiative. At Gettysburg, Meade delegated to Hancock the decision whether to fight at Gettysburg after the first day's action. On the second day, in an abuse of the system, Sickles took the initiative - contrary to orders - to advance his line forward. Then Warren's staff officer, on his own initiative, diverted troops of another corps to Little Round Top. Despite examples like these, the Army of the Potomac was very different from its opponent. On pages 342 through 344 of his Stonewall Jackson book, GFR Henderson contrasts Lee's army with the Army of the Potomac:

"But while Lee and Jackson, by every means in their power, fostered the capacity for independent action, following therein the example of Napoleon, of Washington, of Nelson, and of Wellington, and aware that their strength would thus be doubled, McClellan and Pope did their best to stifle it; and in the higher ranks they succeeded. In the one case the generals were taught to wait for orders, in the other to anticipate them. In the one case, whether troops were supported or not depended on the word of the commanding general; in the other, every officer was taught that to sustain his colleagues was his first duty. It thus resulted that while the Confederate leaders were served by scores of zealous assistants, actively engaged in furthering the aim of their superiors, McClellan, Pope, and Fremont, jealous of power reduced their subordinates, with few exceptions, to the position of machines, content to obey the letter of their orders, oblivious of opportunity, and incapable of co-operation... In the Army of the Potomac, centralization was the rule. McClellan expected blind obedience from his corps commanders, and nothing more, and Pope brought Porter to trial for using his own judgment... Thus the Federal soldiers, through no fault of their own, laboured for the first two years of the war under a disadvantage from which the wisdom of Lee and Jackson had relieved the Confederates. The Army of the Potomac was an inert mass, the Army of Northern Virginia a living organism, endowed with irresistable vigour."
Character is key to the command system known as 'mission command', and character was a trait lacking in the Union generals that Henderson notes - McClellan, Pope, and Fremont. A commander must have the humility to see that he does not have all of the answers and humility to see that his subordinates know and understand things that he does not. A commander must have the character to trust his subordinates and support their decisions regardless of their results. All levels of command must work selflessly together as a team. After the battle of Bristoe Station, Lee was upset with the decisions of AP Hill, but rather than criticize him and discourage his initiative, Lee said to an apologetic Hill, "Well, well, general, bury these poor men and let us say no more about it." In the Union Army of the Potomac, in contrast, generals would bicker and undermine each other and even take their complaints to the President.
Political problems within the Army of the Potomac combined with its top-down command mentality made for a dysfunctional organization. Let's take a look at the Grant/Meade era, a time when the worst of the army's problem were in the past. Subordinates were still given specific instructions with little latitude to think for themselves. At the Wilderness, one of Warren's divisions was sent forward to Saunder's Field without support on its flanks despite Warren's protests. Another division with the opportunity to remain on the high ground at the Chewning Farm was ordered to pull back. At Spotsylvania, Warren was ordered to attack when this was an obvious waste of human life. Having not been given simple, common sense discretion, by the time of the battle at Cold Harbor, Union troops - from corps commander to private - were taking discretion. Instead of wasting lives in suicidal attacks, many units instead made only token attacks. This sabotaged any hopes of success that neighboring units had, resulting in yet more waste of human life. In Michael Bonura's "Under the Shadow of Napoleon" the author argues that Grant's orders for the failed June 3, 1864 attack Cold Harbor gave corps commanders the freedom to manage the attacks as they thought best. As admirable as this may be, these very corps commanders were deeply pessimistic of the attack, and their views were not sought or welcomed - they were ignored, and many men died in a fruitless attack.
Subordinates must be encouraged to think for themselves - told what to do, but not how to do it. Their input and ideas must be sought. This prepares them for higher command. This was Napoleon's way, and this would be the way of the German Army in World War II, which is the model for the current US Army system of "mission command" or "operational analysis". To deprive commanders of discretion invites the many failings of a top-down system, just like in a totalitarian government - or a business where the CEO doesn't want to hear bad news. Lee's Confederate army was far from perfect - but at least in terms of its system and philosophy of command, it was clearly superior.
Conclusion
As discussed in "Civil War Tactics in Perspective", regardless of the reasons - technology, tactics, terrain, command and control problems - or more likely a mixture of all these things - circumstances tended toward making Civil War combat less decisive than Napoleonic combat. Numerous are the examples of Civil War battles on the verge of decisiveness - but without that final step that would have annihilated the enemy - Shiloh, Second Manassas, Antietam, Gettysburg, Chickamauga. Perhaps this failure to achieve decisive results encouraged the late-war custom of entrenching. Only one side had to entrench in order to force their opponent to do so. To do otherwise was just too risky, and there was no turning back. The 1864 campaigns little resemble those of 1862 or 1863. Battle lines were stretched thinner, putting commanders even more out of touch with the situation, and making armies even more difficult to control than before. Perhaps the use of entrenchments was inevitable, with a bloody attritional struggle like the Overland and Petersburg Campaigns being the predictable result.
---
Sources and Suggested Reading:
Michael A. Bonura, Under the Shadow of Napoleon
J. Boone Bartholomees, Jr., Buff Facings and Gilt Buttons
Bowden and Ward, Last Chance For Victory
David Chandler, Art of Warfare in the Age of Marlborough, The Campaigns of Napoleon
Phillip Cole, Civil War Artillery at Gettysburg, Command and Communications Frictions in the Gettysburg Campaign
Jean Colin, Transformations of Warfare
Christopher Duffy, Instrument of War: The Austrian Army in the Seven Years War
Lee W. Eysturlid, The Formative Influences, Theories, and Campaigns of the Archduke Carl of Austria
Steven Fratt, The Guns of Gettysburg - North & South August 2004
Gates, David, The British Light Infantry Arm, c. 1790-1815
Paddy Griffith Battle Tactics of the Civil War, Forward Into Battle, Battle
Edward Hagerman, The Civil War and the Origin of Modern Warfare
William Hazen, A Narrative of Military Service
GFR Henderson, The Science of War
Earl Hess, Field Armies and Fortifications in the Civil War
Earl Hess, Civil War Infantry Tactics
Ian Hope, A Scientific Way of War
Wayne Hsieh, West Pointers and the Civil War
BP Hughes, Firepower
Prince de Joinville, The Army of the Potomac
Robert K Krick, Stonewall Jackson at Cedar Mountain
Brent Nosworthy Anatomy of Victory, With Cannon Musket and Sword, The Bloody Crucible of Courage
Lt. Jacques Arnould Obreen, De Noord-Amerikaansche oorlog van 1861-1865
Peter Paret, The Cognitive Challenge of War: Prussia 1806
Christopher Perello, The Quest for Annihilation
Robert Quimby, Background of Napoleonic Warfare
Fred Ray, Shock Troops of the Confederacy
Carol Reardon, With a Sword in One Hand and Jomini in the Other
Justus Scheibert, A Prussian Observes the American Civil War
Moxley Sorrel, Recollections of a Confederate Staff Officer
Jim Stempel, The Battle of Glendale
Arthur Wagner, Organisation and Tactics
SGP Ward, Wellington's Headquarters
Geoffrey Wawro, The Austro-Prussian War, The Franco-Prussian War
---
Copyright 2008-20, John Hamill
---
Back to Civil War Virtual Battlefield Tours