Castillo de San Marcos
The Spanish treasure and trade network included exotic goods from the Far East funneled through the Philippines to Mexico. These goods and Peruvian silver were transported across Mexico and sent to Havana along with Mexican silver for an annual voyage to Spain. The treasure route from Havana to Spain used the Gulf Stream along the coasts of Florida and North America. In 1564 the French settled Florida at Fort Caroline near modern day Jacksonville, a clear threat to the Spanish treasure ships. In response, the Spaniards settled at St. Augustine and slaughtered the French settlers. For over a century, wooden forts protected the town of St. Augustine. The settlement survived a burning in 1586 by Francis Drake and a pirate attack in 1668. This and the extension of British settlement to Charleston convinced the Spanish to build a permanent stone fort.
Castillo de San Marcos was completed in 1695. In 1702 during the War of Spanish Succession, British colonials occupied St. Augustine but failed to take the fort. In 1740, the town resisted another British/colonial siege. During the Seven Years War, British troops took Havana, the key to the Spanish empire. The peace treaty gave Florida to Britain in exchange for returning Havana. At the conclusion of the American Revolution, Florida was returned to Spain, and in 1821 the United States gained control of Florida.
---

From the Southwest Corner
Typical of smaller European styles, the square fort has diamond shaped bastions at each corner to enfilade any attack on the walls, called curtains. The outwork on the right side of the picture is the ravelin. It protects the gate into the fort, which is on the town side. A fort guarding an important European town would have more sides, or curtains, and more outworks, but the basic concept would be the same. Cannon mounted the walls which were protected by a ditch, in this case a wet ditch. The covered way is the grassy area outside the ditch. Infantry could occupy this area behind the cover of the low stone wall. Beyond this, the gently sloping glacis gave the defenders a clear field of fire. This type of fort was an evolution of forts originally designed in the late 1400s to protect against the new mobile artillery which could easily destroy tall, narrow medieval walls.
---

The Ravelin From Inside the Fort
Construction of the ravelin was not completed.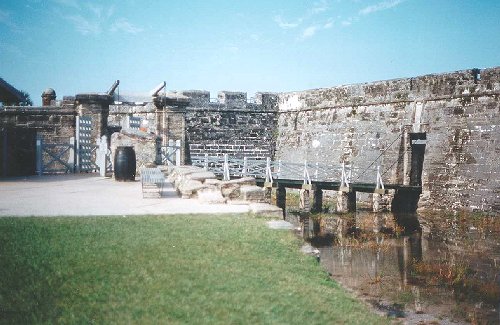 Bridge to the Wall
This is the area between the ravelin and the wall. To enter the fort, you first must pass over the ditch protecting the ravelin, through the ravelin which was exposed to fire from the fort, then the ditch protecting the main wall, or curtain.
---
Back to John's Military History Page