Ropery
The Rope Making Buildings
With many miles of rigging on each warship, rope making was a vital part of ship building and ship maintenance. Like masts, which were made from fir trees harvested in the Baltic, hemp for rope was obtained from Russia. Both raw materials affected the international relations and diplomacy of Britain and all of the major naval powers, including France, Spain, and Holland.
Like many dockyard buildings, the ropery was vulnerable to fire, and the present buildings date to 1786 and 1792. The ropehouse itself is patterned on the double ropehouse pioneered at the Plymouth Dockyard.
---
| | |
| --- | --- |
| | |
| View From the Hemp House Looking North | View From the Hemp House Looking South |
The Hemp House
Upon arrival from Russia, hemp was taken here to be stored in the hemp house, a building especially designed to be dark, cool, and dry, with walls made of wood.
---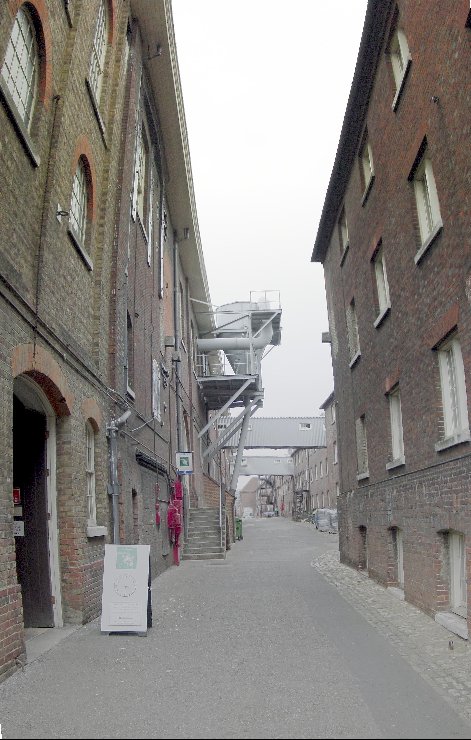 Hemp House to the Hatchelling House
Hemp was taken from the Hemp House on left of the picture to the Hatchelling House on right on the right. On north end of Ropehouse, in the Hatchelling House, hemp fibers were straightened by being pulled across spikes, then spun into yarn.
Yarn was then taken to the white yarn house where it was pulled through a tar kettle at a precise temperature and duration by a horse powered capstan. The yarns were then hung in the black yarn house to dry, then put on spools.
---
| | |
| --- | --- |
| | |
| Model on display at the Chatham Dockyard Historical Society Museum. | At 1,100 feet long, the Ropery is such a long building there is a tunnel through it in order to save dockyard employees from walking entirely around it! |
The Rope House
At the Rope House, the spools were placed at one end of the building, and the yarns were spun down the 1,100 foot length of the building. For a larger rope, the threads were spun a number of times, and the direction of the twist was changed after each twisting to prevent unraveling. Because of fear of fire, steam power was not used at the Chatham ropery until 1836. In later years a bicycle was used for transportation inside of the building.
---
Back to Chatham - The Royal Dockyard