Aldie, Middleburg, and Upperville - Part3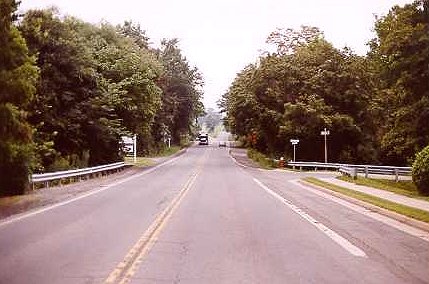 Middleburg - Mount Defiance from Middleburg
While Union cavalry clashed with Munford at Aldie, the 1st Rhode Island Cavalry of Duffie's brigade had slipped past Thoroughfare Gap and advanced on Middleburg in Munford's rear. That night, Robertson's and Chambliss's brigades united and smashed the 1st Rhode Island, taking 200 prisoners.
On June 19th, the Union cavalry division of Gregg moved into the town of Middleburg. They deployed along both sides of Ashby's Gap Turnpike to attack the brigades of Chambliss and Robertson under Gen. Stuart. To their right, the 13th Va. Cavalry occupied a small hill in front of the main Confederate position about a mile in length near the ridge top. These Confederates were able to enfilade the attacking Federals. Directly to their front were two horse artillery batteries, which immediately opened up on Yankees.
---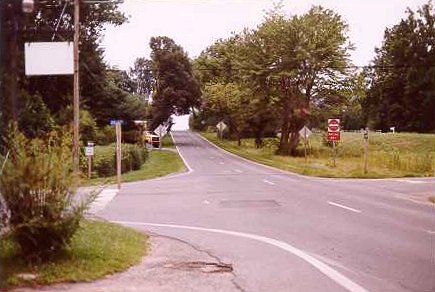 Middleburg - Fight for the Guns
Union dismounted cavalry assaulted the Confederate position. The 1st Maine Cavalry advanced directly up the road in a mounted assault in column of fours. Although they were met by fire from the 2nd NC Cav., the guns near the hilltop, and by the 13th Va. Cav. from their right, they reached the guns. As they reached the crest, the 9th Va. Cav. attacked their right flank and forced the Yankees back. The Virginians continued into the Union lines and were themselves thrown back. Stuart decided to withdraw his guns to safety. Another attack by the 10th NY Cav now reached the hilltop, but the Federals saw a strong new Rebel line further down the road and withdrew. Stuart ordered his men from the field and withdrew west.
---

From Goose Creek Bridge to Confederate Position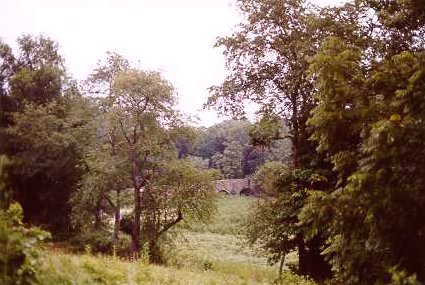 Goose Creek Bridge
Pleasonton's cavalry was reinforced by the V Corps infantry brigade of Col. Strong Vincent. On June 21st, the reinforced Yankees flanked a new Confederate line, forcing the Rebels to fall back to position behind Goose Creek. Stuart defended the crossing with his two batteries near the hilltop and with the brigades of Hampton and Robertson 3-400 yards from the bridge.
Union guns were soon in action, and a two hour artillery duel ensued. The Union attack opened with a mounted charge by the 4th NY Cav., but was easily repelled. Now, Vincent's infantry attacked, with the 16th Michigan advancing over the bridge while the rest of the brigade waded the creek to their left. Stuart did not wish to be drawn into battle and continued the withdrawal to Upperville.
---
Back to Civil War Virtual Battlefield Tours