South Mountain
September 14, 1862
Following his successful Seven Days campaign, Lee marched north. Before it joined McClellan's army returning from the Peninsula, Lee defeated another Union army under John Pope at Second Manassas. In order to keep the initiative, help Maryland secessionists, influence the coming Congressional elections, and hopefully gain foreign recognition for the Confederacy, Lee crossed the Potomac into Maryland from September 4th through 6th. He planned on reaching Harrisburg, Pennsylvania, and if things were going well, strike anywhere from Washington to Philadelphia.
Lee had expected that the vulnerable Union garrison of Harper's Ferry would evacuate, which would allow for more secure Confederate communications through the Shenandoah and Cumberland Valleys. But the Union troops didn't evacuate. Lee saw this as an opportunity and separated his army into five columns. Three columns under Stonewall Jackson would bag the roughly 12,000 man Harper's Ferry garrison. While Longstreet in Hagerstown would face a presumed, but in reality non-existent threat from the north, D.H. Hill's division at Boonsboro and Stuart's cavalry beyond South Mountain would be closest to McClellan's 67,000 man army. Although it was an easily defended barrier, the passes of South Mountain were not held in any significant numbers.
Lee knew that McClellan's army was nearby, but if the pompous Yankee behaved in his usual slow manner, there would be little to worry about. But on the morning of September 13th, outside of Frederick, on land which two years later would be known as the Monocacy battlefield, Union soldiers found a copy of Lee's plan, Special Order 191, wrapped around cigars. Now it was clear that a quick move by the Union army would brush aside Hill and divide Jackson from Longstreet, making it possible to defeat them in detail. As always, McClellan felt that he was vastly outnumbered, but he declared that he knew exactly what to do - but characteristically he waited until tomorrow to start.
---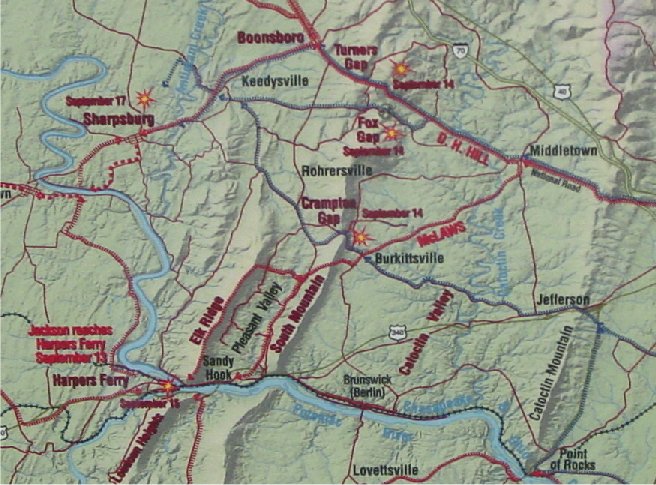 Map
Most of McClellan's army was near Frederick, at least fifteen miles from South Mountain, and off this map to the east. East of Frederick was Hooker's I Corps, and additional Union troops were nearby. William B Franklin's VI Corps was at Buckeystown south of Frederick, and Couch's attached division was at Licksville five miles further south. Both of these units were between ten and fifteen miles from South Mountain. None of these units were ordered to march on the 13th when McClellan received his copy of Lee's plan. Only on the 14th were they sent forward.
Closest to the enemy, Jacob Cox's Kanawha Division, normally deployed in what was the future state of West Virginia, was now part of Reno's IX Corps, and was in Middletown, only about five miles from Turner's Gap, where the National Pike crossed South Mountain. Cox's division and the rest of the nearby IX Corps had been ordered to Middletown even before McClellan's stroke of luck. Ordered forward on the 14th, the IX Corps would be on its own until support would arrive.
---

Union Approach to Fox's Gap
Late on September 13th, Lee learned that McClellan was advancing. D.H. Hill and his division were sent to defend Turner's Gap. Advancing toward Turner's Gap, Cox met Col. Augustus Moor, who was returning to Union lines on parole. In violation of his parole agreement, Moor blurted out to be careful, an obvious warning that the enemy was ahead. So Cox decided to outflank the position to the south, at Fox's Gap, a mile distant. Advancing up this road, from left to right, Cox deployed his division into line near here and continued the climb up to Fox's Gap.
---

Fox's Gap
With only around 1,000 men, and outnumbered three to one, Garland's brigade had been rushed to here to defend Fox's Gap. In action generally on the opposite side of the road, on the far right and beyond view, the Confederates broke, and Rutherford B Hayes was wounded during the attack. Trying to rally his men, the promising General Samuel Garland of Lynchburg, Virginia was killed. On the far right you can see a small white monument to him. A few Confederates remained, however, and they along with some artillerymen convinced the Yankees to halt.
G.B. Anderson's and Ripley's brigades reinforced the defenders, followed by G.T. Anderson and Drayton of Longstreet's corps. By around 4pm, the whole Union IX Corps was becoming involved in the attack. The attack succeeded. The 17th Michigan attacked Confederate infantry and artillery positioned near where this photo was taken, and took the position. Because the Confederates had been behind a stone wall, the 17th Michigan became known as the "Stonewall Regiment". Sustaining 136 casualties, the 45th Pa. on the other side of the road also captured the crest, charging the rebels behind a stone wall next to the Wise cabin (off the picture to the right), while crossing a sunken road between the modern Garland monument and the Reno monument, the one enclosed by the wall.
As the battle was ending, and Hood's brigade was making a final Confederate attack, Reno himself was killed near the skirmish line, the site of which is marked by the monument. The battle here ended at around 11pm, the Confederates having left the gap to the Yankees. It is said that when Mr. Wise saw Confederate bodies being dumped down his well, he decided that his water supply was already ruined, and he charged for any additional corpses disposed of in his well.
---
Back to Civil War Virtual Battlefield Tours